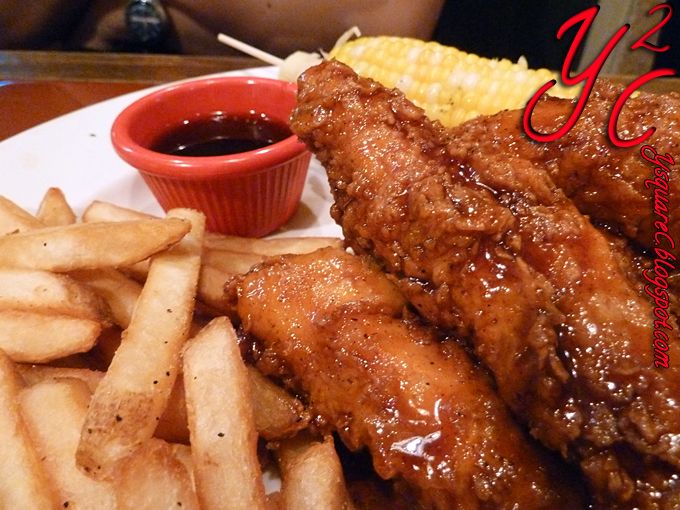 I know this is not my 1st visit to Chili's. I ordered steak and deary had burger. I keep digging but I can't find where was my last visit's review >.< If you are the typical KL girl or KL guy, you might OS: Wtf is this, I went to Chili's once or twice a month, whats so special about it?
Well, your Chili's might be my KFC in this case. Other than Klang value area, I rarely see Chili's in anywhere else. Penang only have 1 branch and Melaka have non.
Everything seems to be the same.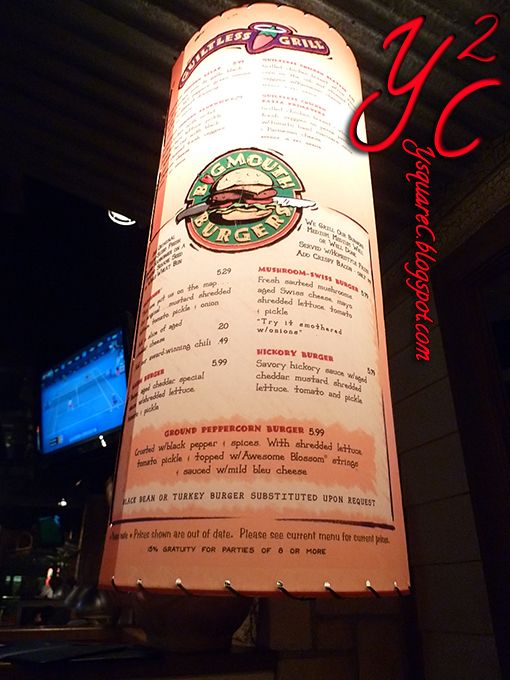 Deco,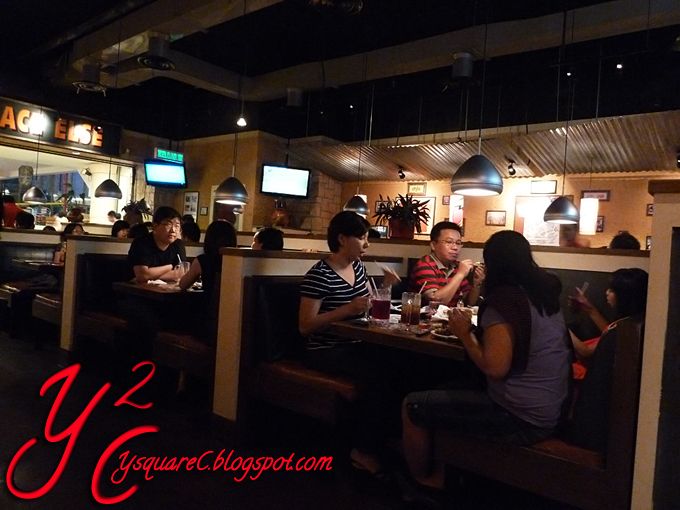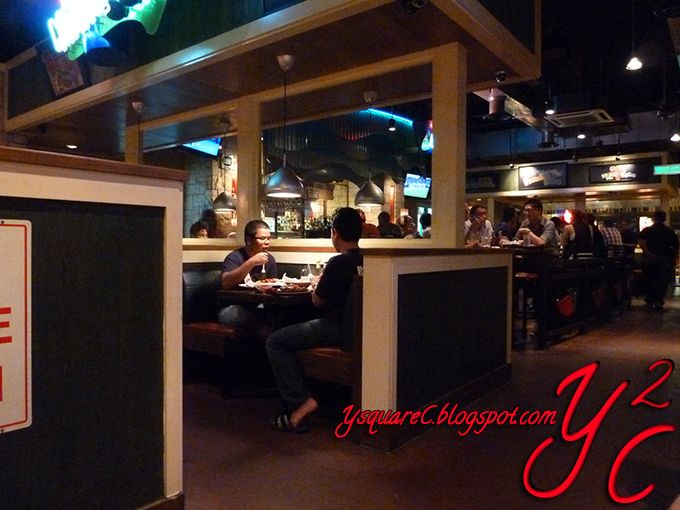 sears, atmosphere... oh wait.. maybe not the human.
The only same human iz uz!
Oh mai~ You saw that?
Who's the Chubby Bunny?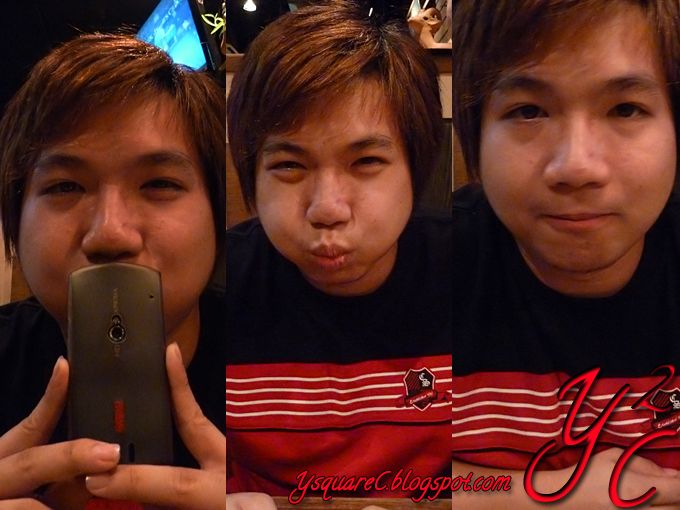 You Are!
Courtesy to jackieloi.com
Crispy Honey-Chipotle Chicken Rm25.90
Back to front: corn, Crispy Honey-Chipotle Chicken, Honey-Chipotle sauce, chips(fries)
The chicken was fried before covered with the honey chipotle sauce. The meat is tender, not succulent but not dry either.The sauce is spicy, not the kind of pepper, chili, or spice's kind of hot. The spiciness was build from chipotle. I don't enjoy chipotle but the combination was not bad. Deary like it very much but I think it's just ok, not too much to compliment. The fries are ok, still crispy on outside and soft in inside.It was lightly seasoned but salt and pepper are ready on each table.
Country Fried Chicken RM 26.95
Back to front: Corn, fried chicken with gravy, mashed potato, garlic toast.
The official website's menu said that it's pepper gravy, but I think it's more like some creamy mushroom sauce =.=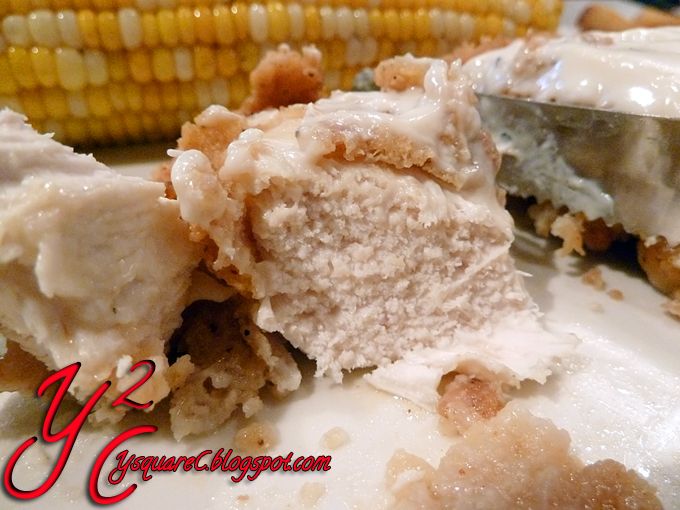 The chicken breast is crispy but I think it needs more seasoned before it was fried. Not sure how they fry it to be tender but not having enough season is deadly >.<.The mashed potato was dry with some skins in it. I am not hating it, just that I expect my mash potato to be smooth creamy and savory. However the gravy and seasoning on top balanced it out, not too bad. The better garlic bread toast is only toast for 1 side and the bottom side were soggy and salty. I know most of you don't like soggy bread, bit I do :3
Did you notice that something was missing?
The corn! Yeah right!
The corn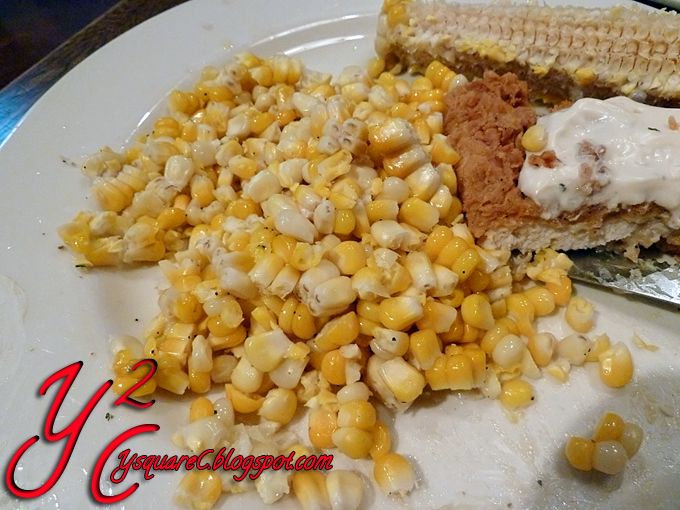 The actual portion after I extracted it while I am waiting my chicken breast to digest. A bit too much for me. Frankly I didn't finish it. The corn wasn't too hard to made but some butter and salt before the grill or steam will enhance it more. Hope they can take this suggestion.
Overall: 7/10 [I don't quite understand why ppl like Chili's, big in portion? Yes, 2 girl can share a set with some dessert. But taste wise, I had better choices =)]
Taste bud indulgence: 6/10
[Deary liked it, but it's not as good as I expected. Compare with Italiannies,
Tony Roma's
and
TGIF
, it is consider the weakest. I probably would enjoy a
Nandos'
chicken more]
Purse Saver: 8/10 [Compare to other american and western franchise restaurant, I think Chili's are cheap but not value wise]
Atmosphere: 7/10 [Nice ambient for a candle light dinner but a the temperature is rising as more people are seated. Probably due to the light bub that produces heat]
Location: 10/10 [6 outlet in Klang valley and are all in the major mall in town]
Service: 8/10 [I tried to ask for my bill for a few times before I get to pay =(, hope this is an exception]