Put down your stereotype, tell me what you think of when I mentioned Thai food?
Now, shut up!
Tom Yam drift through your mind, did it?
Nah, I don't blame your for your lack of creativeness.
I did the same.
There are so many nice Thai food around, why do we only know Tom Yam.
If you don't even know Tom Yam....then I can onyl #facepalm.
What am I crapping...
Ouch... All I wanna say is, we might be proud of our own cuisine, being our neighbor, Thailand, how much do you know about them or their food?
I started knowing more about Thai food when a friend of mine start doing delivering service. These are some of the food she offer.


Fried Pork Rice with Egg, RM 5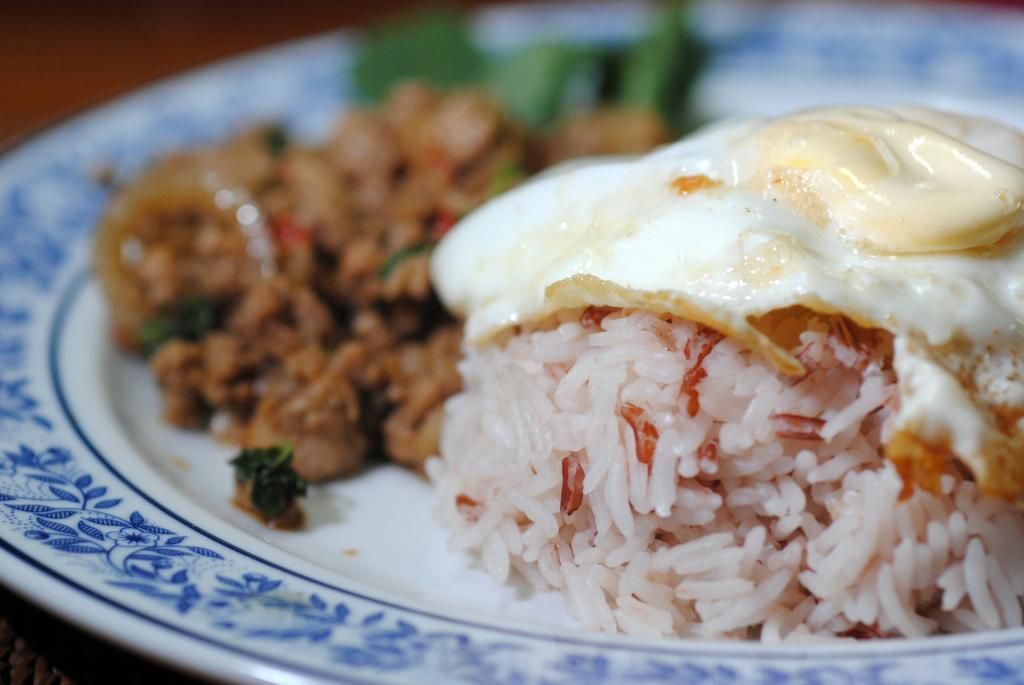 Front: brown rice with egg


Back: Fried mince pork
The minced pork were really spicy and flavorful. How come Chinese never come out with such similar dish though we ate so much pork. Day in day out, we put soy sauce in everything we ate. This minced pork was saute with onion, herbs and chilies. It might have no sauce, but don't underestimate it's rich flavour embraced by the mined pork. The spicy pork goes very well with the brown rice and sunny side up. This one dish meal might not have much vegies but brown rice can compensate a bit more fiber even without vegetables.


Thai Fish Cake, RM 7 for 6 pieces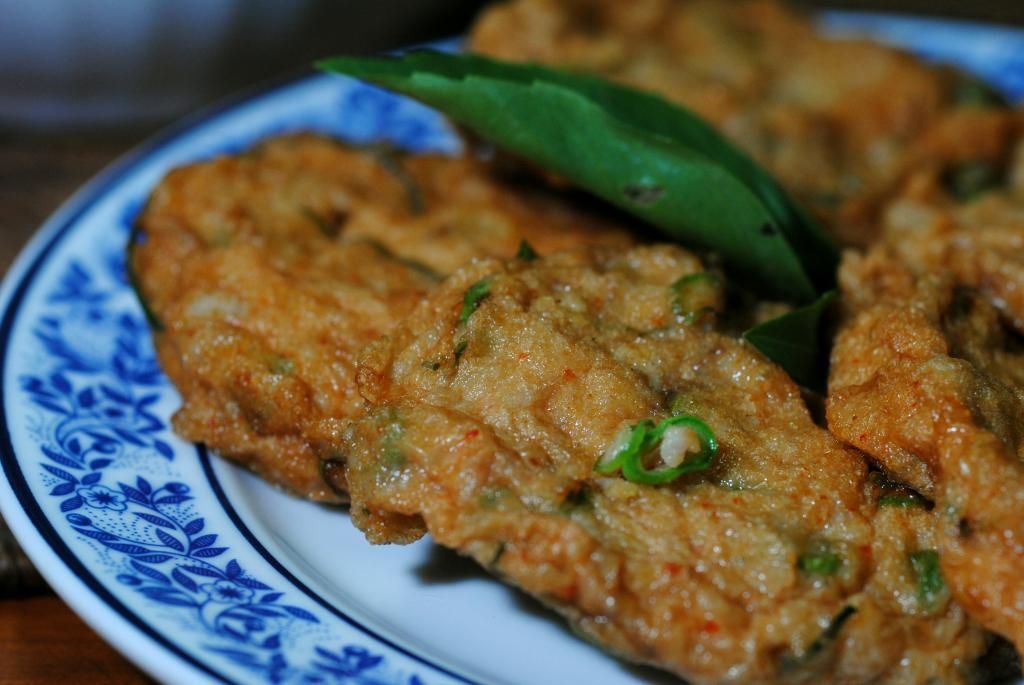 We Chinese has our own kind of oily artificial fish cake while Malay have their authentic Keropok. How about I tell you there is another version of rich, flavorful, solid & healthier fish cake out there?
Yes, Thai fish cake is enrich with chili, lemon grass & garlic.


It goes so well with the sweet and sour Thai sauce we are familiar with, except this one is home made!


Mango Chobi, RM 5
Chobi means sticky rice in Thailand. It has noting to do with chubby, except they are both elastic, spongy, lovely, cute, adorable, sweet.... and.... that's all
This Mango chobi comes in 2 color, which is the white color original (with coconut milk), and blue color (which was color from blue-pea/butterfly-pea/Clitoria ternatea, not from artificial colors)


Not to forget, it came in a very big portion. Hahaha.. I think you can't miss that huge & fresh mango at the back too, right?


Green Curry Noodle, RM 5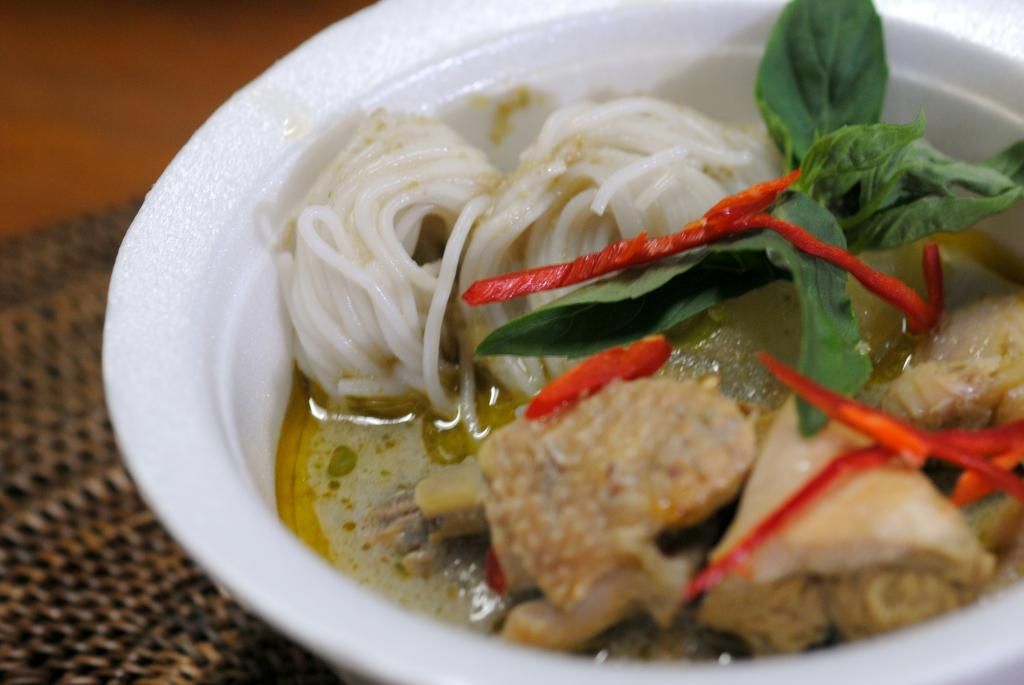 Surely, you had your regular red/orange color curry before, either from our Indian or Malay friend. How about Green Curry? Have you even heard the name green curry before?
Nah.... I am not a witch that substitute a red apple with the poisonous green one. In fact, green curry is very popular in Thailand, Asean or even in the States.


And those noodles! Not your regular mee siam thought. You have to try it to know it. I can guarantee, you will go "
WOW
"
Tab Kim Krob, RM 5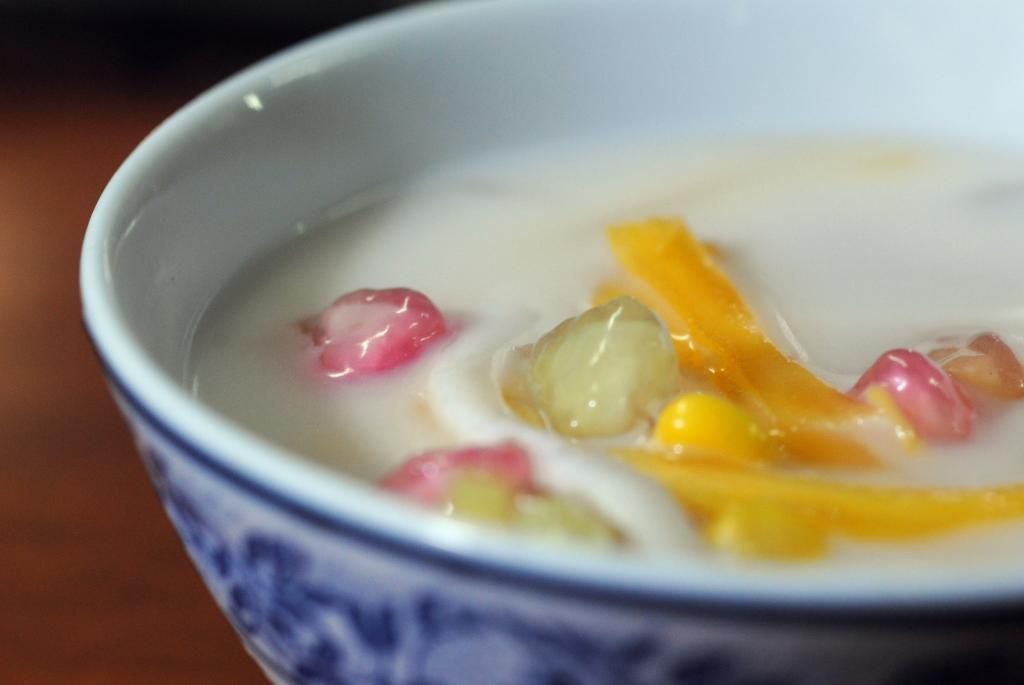 When I first bite into that pink and yellow ball, it gave me a surprise. The water chestnut wrapped in a gooey, springy texture stuff! How can nobody think of this amazing thing ever except Thai? Those balls are soaked in a liquid of cold coconut milk with Jack fruit and corns too. Totally addictive.
So, what do you think about these Thai dishes that I introduced? Tempted? Well, you can always tried it our yourself too. My friend Chutipond is doing delivery service of these dishes, within Sungai Buloh, Kepong and PJ on anytime of the day with the condition to pre-book 2 days in advance, withi RM 1 delivery charge on everry delivery
(eg: if you order 2 dish and deliver to your place on the same time, you will only charged RM 1 delivery for those 2 dishes)
So, please email or Facebook this girl:
Chutipond
@ chutipond@facebook.com. Please state that you wanted Thai food deliver too!