Fist of Dragon, not the kind of movie that I would anticipate when I watch the trailer neither get excited after the movie.
1 word:
Sucks
.
If I buy my tickets to the movie, I will feel cheated and never blog about the movie. But since i got the tickets for free and attended the Gala premier screening as VIP and meet load of celebrity that I didn't expect and not in interested in, so yeah, just a premier screening that I need to blog
else they wouldn't call me for premier screening next time XP
to tell you how sucky it is.
http://www.asiaone.com/News/Latest%2BNews/Showbiz/Story/A1Story20110804-292651.html
Jiayeen claim that those kelefeh (supporting actor) is a laughing stock of the movie. They doing nothing looking they are shuffling~
For me, they keep on fighting with no reason. I have to admit some of the moves are quite cool. BUT, the moves has to be compliment by the right camera angle to tells the story. Other than the camera, the audio also fails to bring up the hype of the climax, which they don't have in this sucky plot. All the details in the movie doesn't make sense. No development, no story telling, no moral value, no transformation, NOTHING!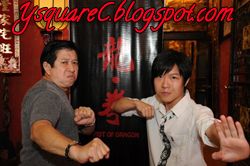 You might think that I am comparing a local production to a Hong Kong movie.
http://www.asiatorrents.com/index.php?page=torrent-details&id=c98544ec857d61f8913cbbd9c698f04c2b2242e7
No, I didn't. I didn't even watch the movie a bout which coincidentally have the same title (which I believe was shown even before I was born)
Well, maybe I can give some compliment too. The best part of the movie is all in the trailer.
How sad is that, all the part in the movie seems interesting in the trailer but not in the movie, the tempo sucks big time.
I lost count how many thing i sucked today!
Sigh... points is down below:
Overall: 4/10 [I am not sure I will even rate this low in my life again. Sorry Henry, Sorry Fiona Xie, it's not personal, it's just movie XD]
3D/CG: -non applicable, very little and non significant-
Story: 1/10 [All I can say is like: What the Hell just happen?]
Cast: 6/10
[OMG, the main character like kayu (stick man). I heard he was suppose to be just the director and not the actor until the actor can't make it to the movie at last minute. Come, this is not an excuse. WHen you accept the job, please perform!]
Disclaimer: Ysquarec.blogspot.com does not own any right on the photo posted in this blog post. The source of the photo is under each photo.