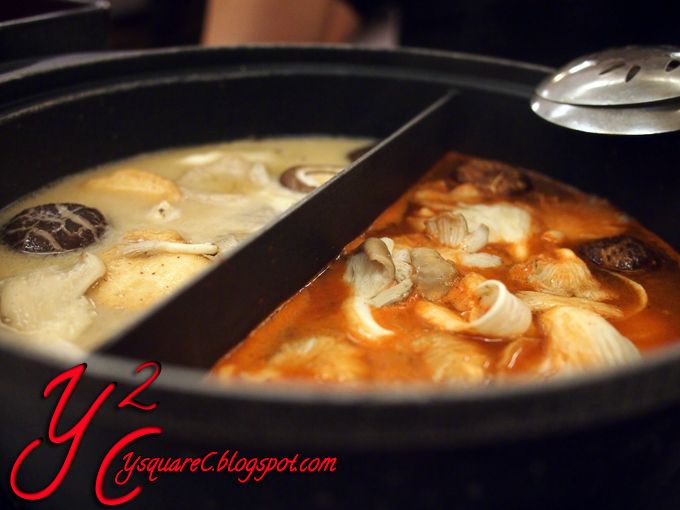 Tada! Another Japanese Food Review. You mad?

Some times I feel terrible for you guys that reading this coz I get to eat luxurious food and you didn't.
Troll.jpg

OK, maybe you have better meal than me on average, it's just than I like to have a better feat once in a blue moon and tends to share it out.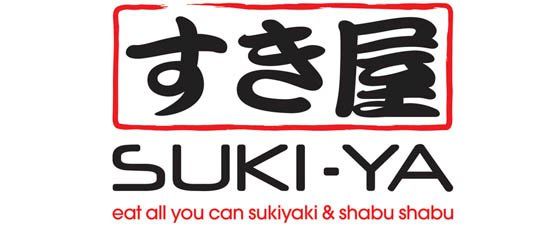 Long story short, Suki-ya, A place for Sukiyaki and Shabu-Shabu in Pavillion Tokyo street.
Don't ask me why Tokyo street, Shabu-Shabu and Sukiyaki didn't originate from Tokyo.
Lunch: RM 29.80 [11am-5pm]
Dinner: RM39.80 [5pm-10pm]
Children 5-12 years old = half price
Children below 5 = FOC
A little knowledge about the food if you are interested:
Nabemono (Japanese Hot plate) :
Generally, Japanese hot plate are called Nabemono (鍋物). The common nabemono in Malysia is Shabu-Shabu and Sukiya. I also did a food review that consist of Chankonabe (sumo wrestler's meal) HERE.
Meat (usually beef in thin slices) slowly simmer on the table during dining. 2 ways preparation, either stew the ingredients in a mixed sauce/soup OR grill the meat first, then throw in the ingredient and sauce/soup later. Either way, Japanese likes to dip the meat or other ingredient in a beaten egg before eating.
The word shabu-shabu come from the swinging motion made when cooking meat shabu-shabu style. Sukiyaki are easily confused with Shabu-Shabu because both uses thinly slice beef, but it's worth to note that Shabu-shabu has different soup based and the meat is also cook by the consumer themselves, instead of precook. Hence, you can control how you want our beef to be. The meat is usually dipped in ponzu(ポン酢), vinegar and soy sauce.
Now, back to our food review in the restaurant. Sukiyaki does not serve buffet only, they have Ala Carte too. Since, buffet is the most value worth meal in the restaurant (at least that's what I think), my partner and I take of the shabu-shabu challenge.
There are
instruction
on the table to guide you on how can you enjoy your shabu-shabu or sukiyaki.
But I really can't bother more the instructions reading, I proceed to the "Healthy Bar". LOL eating buffet, how healthy can it be?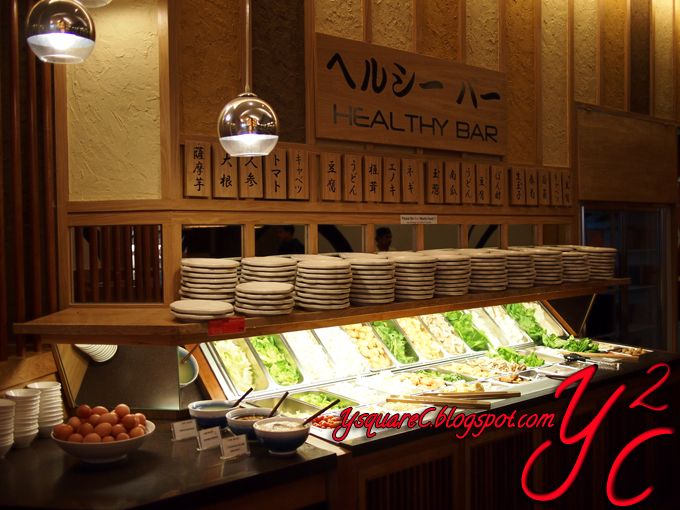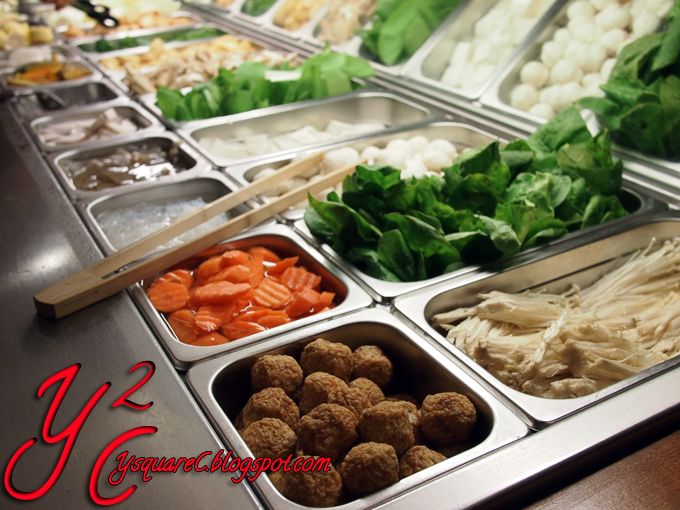 No, it's not a salad bar.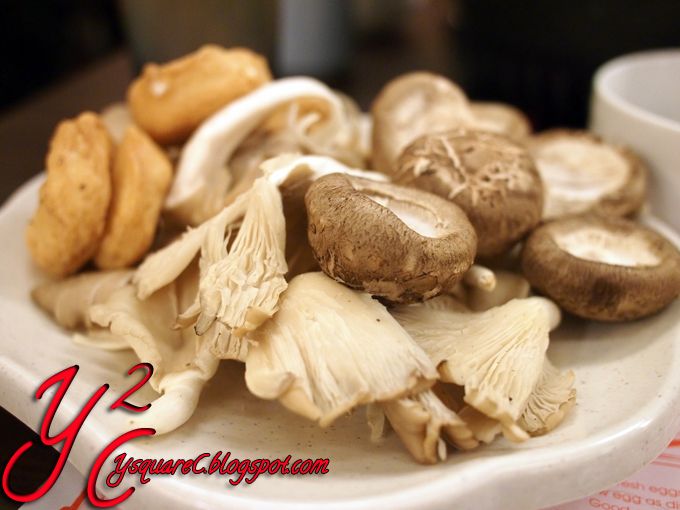 We had mushrooms (shiitake and abalone mushroom), cheese seafood toufu,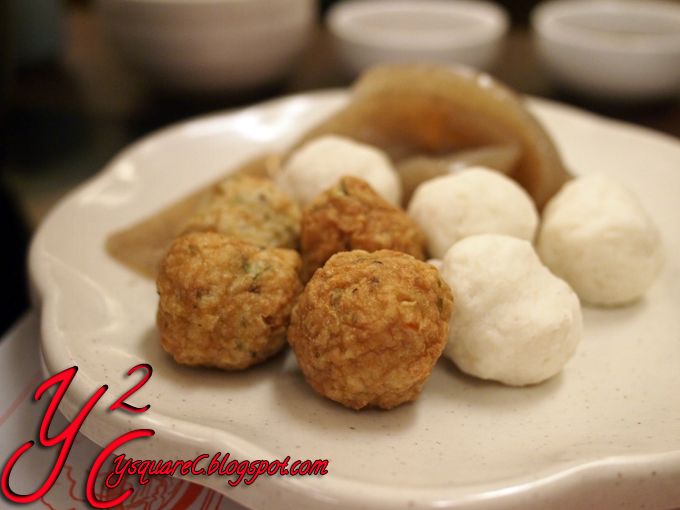 Vege fish ball
,
cuttlefish ball
,
devil's tongue
(konjac) and more.
OH, didn't I mention there are
3 types of meat and of 4 type of soup
based you can choose from?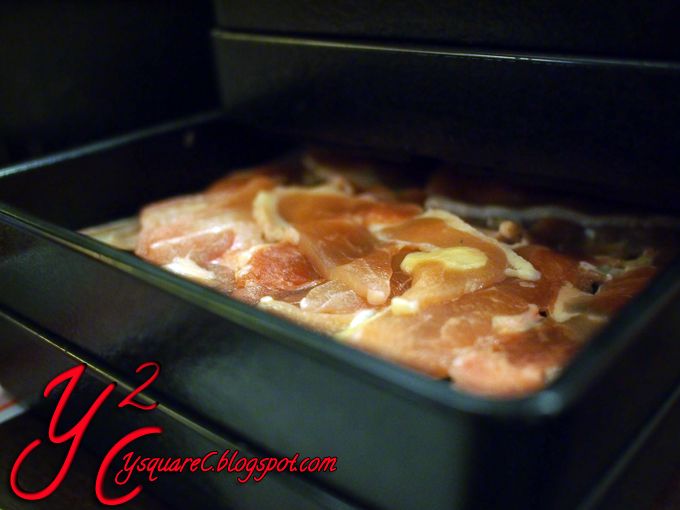 Chicken slice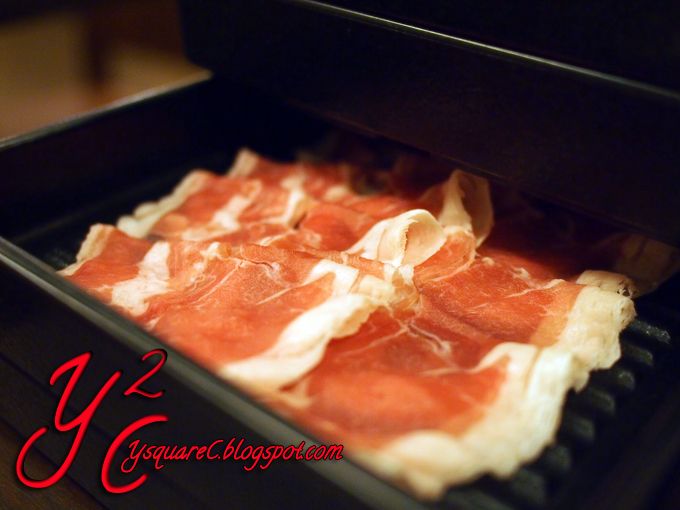 Lamb slice


Beef slice
My partner claim that they have very good quality of beef on his last visit but it kinda degraded this time. The lamb is a bit dry but the chicken is superb. The chicken strip was not frozen before hand, probably slaughter on the morning itself and deliver fresh to our table before storing in the kitchen a while. Since I rarely consume lamb and beef, so F*** that, I enjoy my chicks a lot.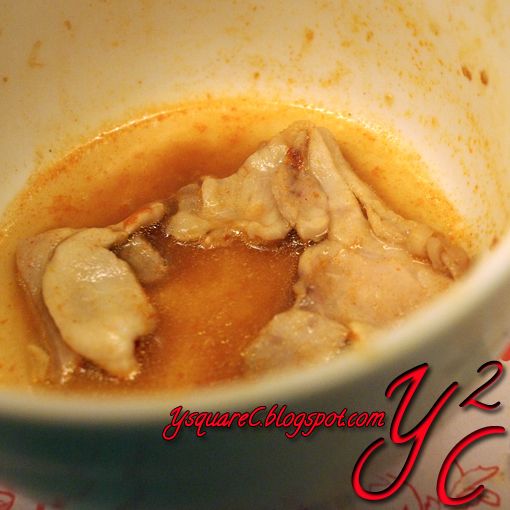 See the yellowishs skin and white meat? When the bouncy skin touches your tounge, you just know it's good. My tongue never lied.
4 type of soup base: Shabu-Shabu, Sukiyaki, Miso and Kimuchi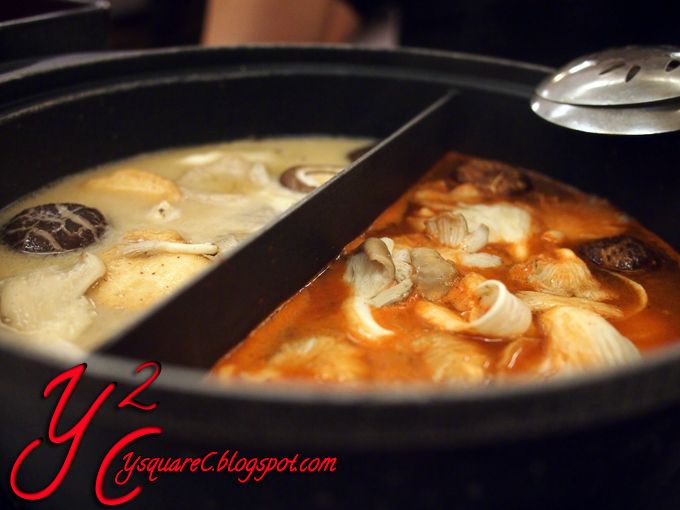 Left:
Miso
. Right
Kimuci
I am a bit regret that I was so mainstream choosing Miso and Kimuchi instead of Sukiyaki and shabu-shabu, the real stuff. Don't miss understood what I mean, those were REALLY good too. Literally.
Even more, the dip sauce compliments the taste. Next level foodgasm LOL~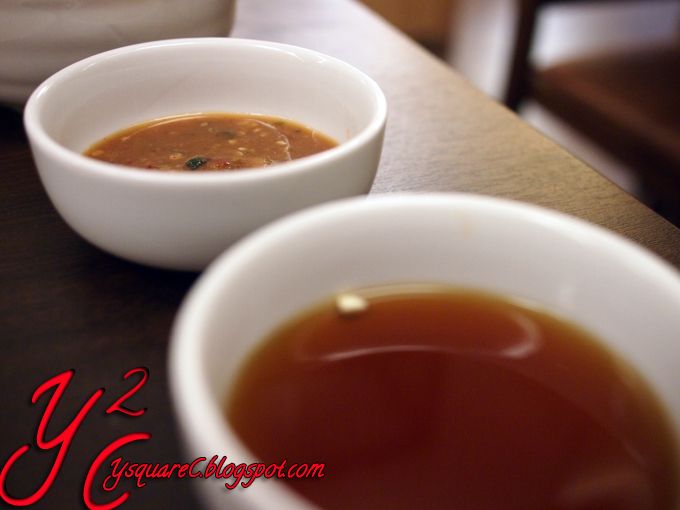 Back: Misotare
It is suppose to go with meat, but I think the spicy level coveres the original fresh flavor from the meat, so I used it to dip vegies that are comparably less tatse. It needs a boost of flavor and the paste does it well.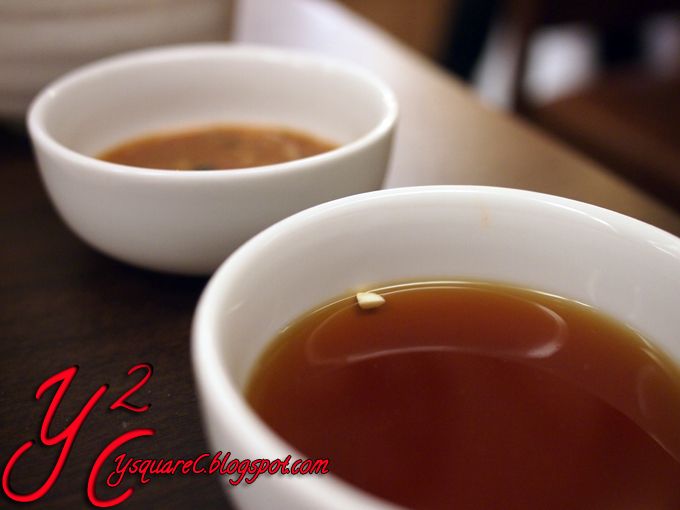 Front: Ponzu
Ponzu is suitable for vegies ingredient dip. You can add radish or spring onion to increase the flavor. Again, I used it for meat XD. It kinda reminds me of a squeeze of lemon juice on your steak. The vinegar works exactly like lemon.
No feast will complete w/o a dessert.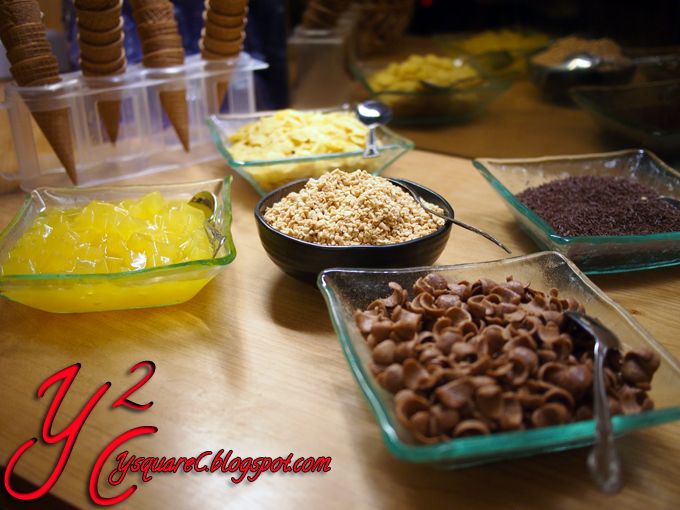 At the dessert bar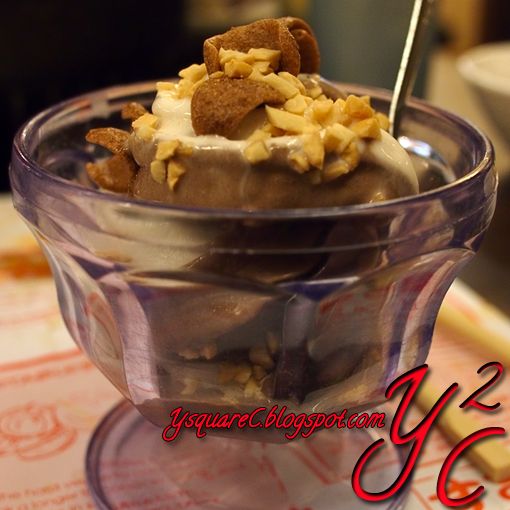 Tada~ my creation. I am sure you can do better than that!
A little comment, not sure they wanna remain healty or it's an epic fail creation? The ice-creams dos not taste sweet at all =(
Overall: 8/10 [Money wise, I will choose Carry-On steamboat in Melaka, but offering steamboat at such price in Pavilion is consider not bad.]
Taste bud indulgence: 7.5/10 [It may deserve higher point if they didn't screw up the meat and ice-cream, but overall, it's still a quality place to go.]
Purse Saver: 7.5/10 [Slightly expensive than other steamboat, probably because they are JAPANESE. Reason to overprice]
Atmosphere: 10/10 [I like the feel of dining with my partner quietly with an occasion small chat. The place is also suitable for big group)
Location: 9.5/10 [Only 1 branch at the moment? You need to speed up!]
Service: 9/10 [Not too much to comment since it is a serve yourself style dining and the waiter and pretty easy to reach]