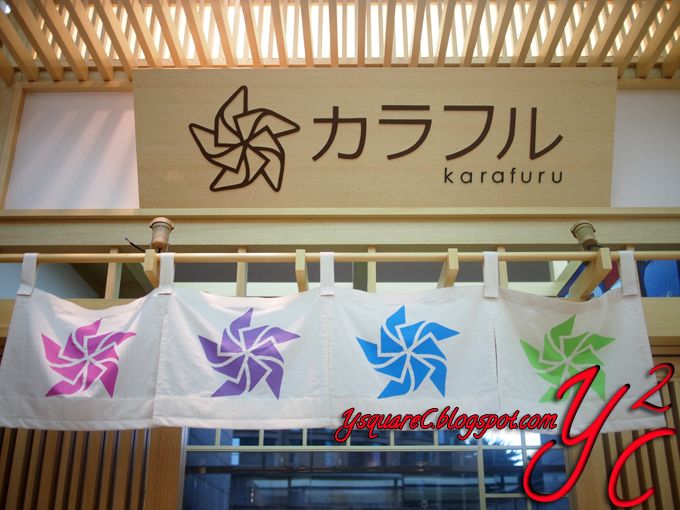 Do you remember, not long ago, I have blog a teaser post about
Karafuru
?
I was so emo that I was entitled for their voucher but I didn't have chance to take it because I was not in K.L. Lucky me,
Yeeing
help me to collect the voucher and I was able to redeem it last week before the due.
Like what I have mentioned in my last post, they have a variety or tarts, such as Mixed Fruit Tart, Banana Oreo Tart, Strawberry Tar, Meringue Mango Tart, Raspberry Peach Tart and Grape Tart.
Other than fruit tart, the small shop is selling lots of other stuff such as
Meow?
Nah... just decorations...
Such as power puff girls
Truffles, mocha finger, Marjolaine etc.
Note that the small shop do not have any place to sit, so you can either take away or must take away XD
So, at first I took Meringue Mango Tart. The appearance is quite impressive especially the burned Meringue design on top of the pie.
Beneath the Meringue is the muffin/cake like layer, another layer of meringue, mango jam, crust.
The meringue is awesome, the muffin has not much taste since it was overwhelm by the mango jam's sweetness. The worse might be the hard crust on the bottom. The shop only provide plastic spoon but the spoon can only scoop off until the jam layer while the crust remain intacted =.=
I am not sure is this an exceptional or all Meringue Mango Tart is like that because when I tried the Banana Oreo tart,the crust was quite soft, while the blogger that taste the other 3 tarts, some of them comment the same thing but some say it's ok. So I wonder is it a quality control issue?


Then my guess has Banana Oreo Tart. I love bananas (literary, duh~) but I am not willing to choose this tart because (take a at the banana on top) ewwwww~ what is that banana? (puke). I don't LOVE banana to such an extend but my guess did, so he choose this. When I tried the tart, the banana strips are quite dry. I can still sense the unique banana scent despite of the terrible condition. I wonder what technique they used to preserve the banana until it turns into such condition and is it still hygiene and edible? :S


Back to the tart, 1st layer of preserved banana slice, muffin/cake, chocolate chip cake, tart.
Not as sweet as the Meringue Mango tart, quite acceptable in taste.
1 piece of tart is really fulling, so I bring over the 3 other piece of tart for my beloved bloggers at the
blogger gathering later at Andes Byo
.
Strawberry Tar
Not relaly impressive. Now only I know hoe thin the strawberry slides are =.=


Raspberry Peach Tart
Before you bomb me the question "Where is the peach?" I should reveal that the peach is in the cake! LOL Quit a surprise isn't it?


Mixed Fruit Tart
No comment... just so-so~
Overall: 6/10 [If it wasn't the voucher, I think I will never try the tarts. I mean, it's attractive, other than that, what else can they offer?]
Taste bud indulgence: 7/10 [It's hard to justifice this, some of the tarts are good some are mediocre. Doubt it is the quality control problem :/ ]
Purse Saver: 5/10 [I can't of a reason why I should choose to buy a fruit tart instead of cakes or donuts or cupcakes. It isn't that special and it's not cheap either]
Atmosphere: 4/10 [Weh... U kidding me? No seat how to eat? I walk down to the food republic canteen on the under ground to take pictures =(]
Location: 8.5/10 [It's in Pavillion's Tokyo street, near to 1 of the entrance. Only 1 branch at the moment]
Service: 8/10 [yeah, it was ok, not too much to complain since the shop has like no ppl =.=]