DO you want to know what this cute, appealing, appetizing little heart shaped rice balls are?
You got no choice, you have to keep on reading XD
This week, I am going to introduce a familiar name of Japanese franchise restaurant in Malaysia.
Coutesy to Sushi Tei for inviting us for the food review session in Sushi Tei Tropicana Mall.
Sushi Tei Tropicana City Mall
Lot G-16, Ground Floor,
Jalan SS20/27,
Petaling Jaya 47400 Malaysia
Telephone +603 7728 9299
Facsimile +603 7728 4299
Website:
http://www.sushitei.com
Facebook:
Sushi Tei Malaysia
Sushi Tei Tropicana City Mall
If you even been in Sushi Tei, you must be very familar with the next few photo, if you have not been there, here is how it looks like.
Classy Menu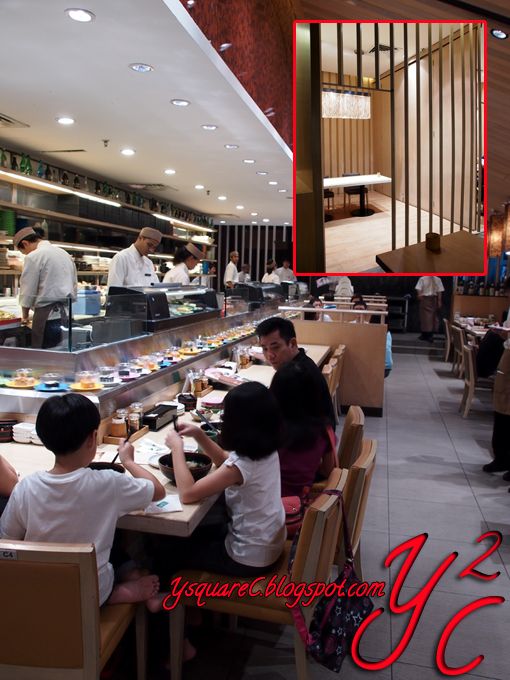 Different dining evironment to choose from, either on sushi bar or private room (top right)
Upon entering the restaurant, the chef promotion board is displayed on top the sushi conveyor.
(Sorry for the blurry sushi, the conveyor was moving too fast, if change my setting, there will either be too much noise or too bright)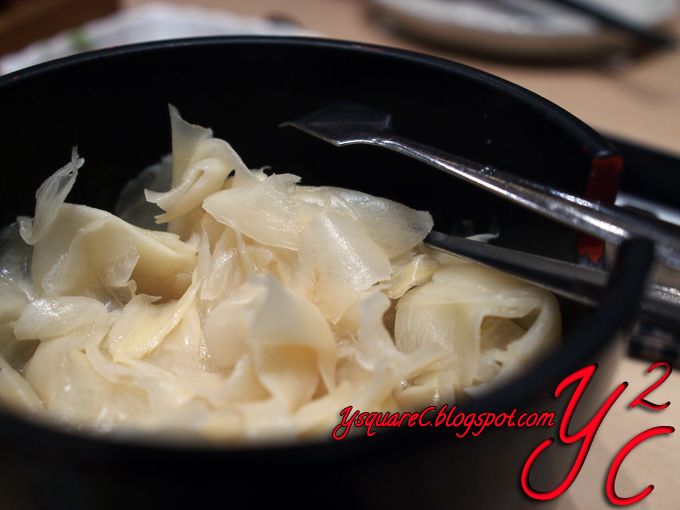 Gari / sushi ginger
Gari or shoga often eaten between dishes of sushi as it help clean the palate.
Sushi Tei provide generous amount of gari. I don't know about other foodies or bloggers but they seems like don't realise the existence of gari or how it works. So, now you know? Thank me for THAT! XD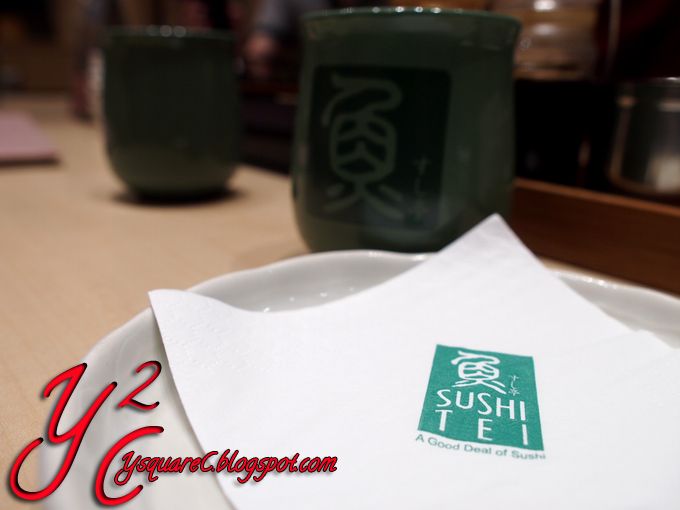 The table setting is fine, not too much to complain.
According to the host, Tei in Japanse means kiosk or booth, so the direct translate to Bahasa is pondok sushi???!!! No?
OKlah, back to the menu, the host order us some food that he high light and we add on some from the sushi conveyor. The list is not in order, I just sort it out, so that will be easier for reference.
Appetizer: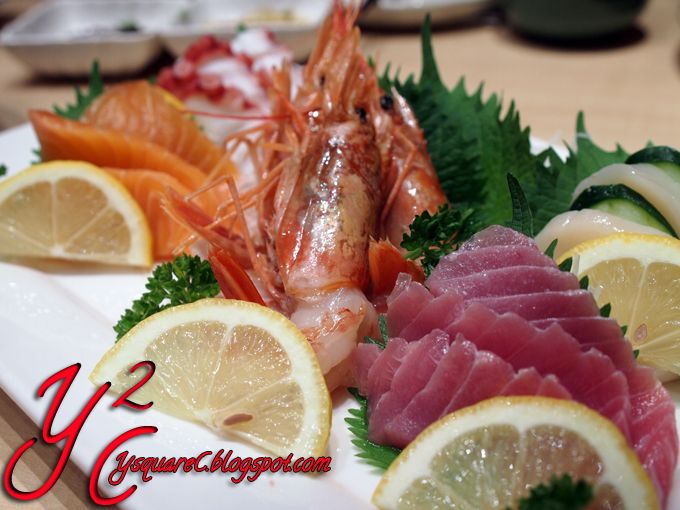 Sashimi Moriawase "WAKANA", RM 56.80 per plate
Consist of (L2R) salmon, octopus, red prawn, tuna belly,raw scallop.
Sashimi is ship from Japan to Sushi Tei twice a week which is Tuesday and Sunday. So, if you want the freshest sashimi, you know which day to go ;). The sashimi has probably stayed in the fridge for a few days before severed to us. The juice isn't as much as the fresh sashimi but this is standard way to preserve sashimi, can't complain much, recommended.


There 2 things I am not totally happy was that the tako (octopus) was generously sliced. It was too thick to chew. For the red prawn, yes, it was raw (duh... sashimi plate, of course it's raw) I can't appreciate the red prawn sashimi as I appreciate other sashimi. Probably used to the Chinese style of preparing prawns.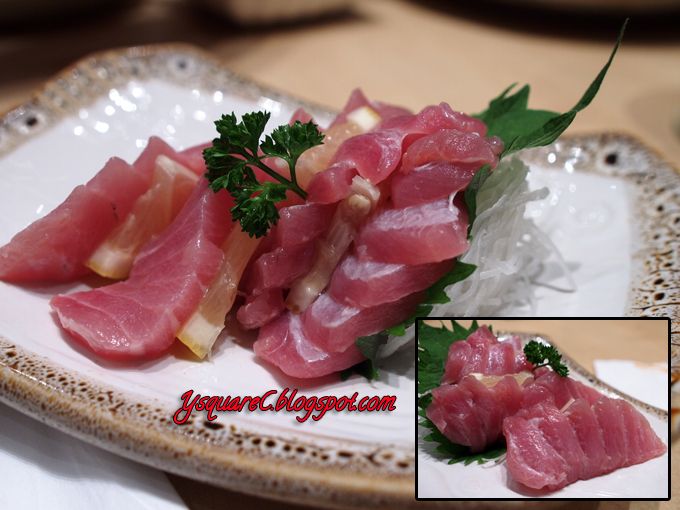 Chu Toro Sashimi, RM29.80 per plate
This is the high light on Sushi Tei this season. Chutoro means tuna belly in Japanese. The usual toro sashimi is pink, less juicy than salmon and has little fat. In contrast, chutoro is very juice, abundance of fat between each layer and the fat makes each layer so easy to separate from each other. I was shipped once a week from Japan which is Wednesday. I personally think RM30 for 4 pieces of sashimi is not worth it but other bloggers comment that RM30 for chutoro is quite reasonable. What do you think?
Sushi:
Maguro Heart Roll, RM16.80 per plate of 3 hearts i.e 6 pieces
Tuna belly, avocado, kanimayo roll. Maguro (
鮪) is a kind of Tuna. Like I said, Tuna is in season now, so you shouldn't missed your chance to savor different kind of tuna by product, especially these cute sweet heart <3
Ok, maybe not sweet... you know what I mean.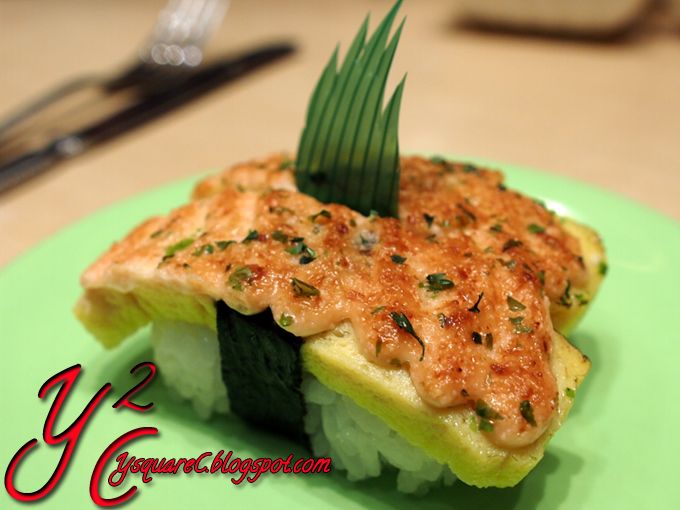 Tamago Mentai Mayo, RM5.40 per plate
I am not a huge fans of tamagoyaki. For me, it's just egg, I ate omelet almost every day. Mentaiko on top of tamagoyaki? Neh.. Not impressive enough.


Inari Kani Mentai Mayo, RM5.40 per plate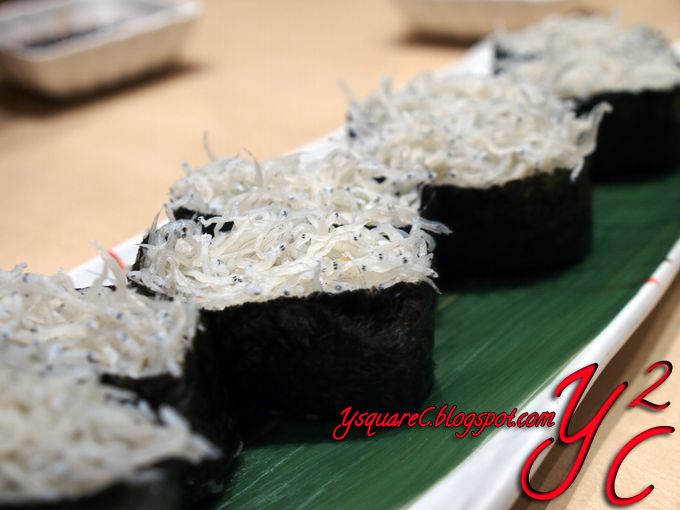 Kamage Shirasu Sushi, RM6.80 per plate of 2.
According to Sushi Tei's menu, Shirasu are baby sardine that are usually around 1-2 months old. It is seasonal item as the fish is caught in great abundance during the Spring season in Japan.


Aka Ebi Sushi, RM13.80 per plate
Red prawn sushi

Meh.. what happen to me I think all the sushi here is just very decent, not something out of the box. Just traditional stuff. Though it's consider luxury items in Malaysia with a average Japanese sushi price.... it's just plain decnt... can't compare with the real stuff from Japan, but very similar.

There is just one sushi that captures me attention: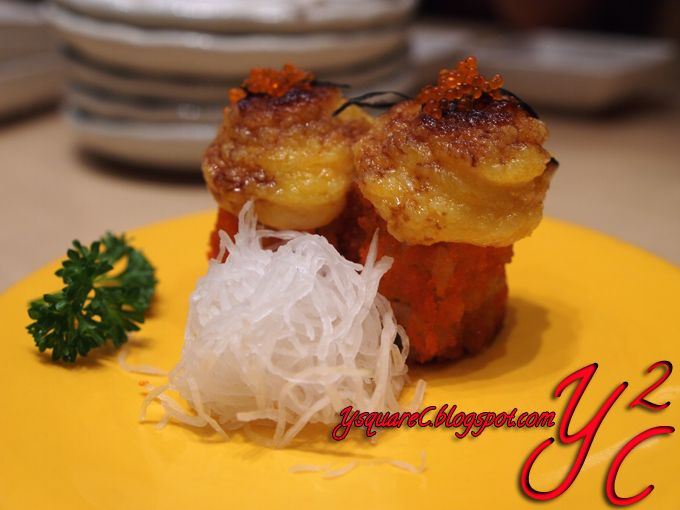 Valcano Roll, RM 6.80 per plate of 2
Unagi and cucumber with cream cheese. Put a side unagi, cream cheese? Wow.... these are not usual stuff. Cheft in Sushi Tei made it themselves. Even just the look is so appealing, so special. On the first bite (ngam....) the cheese and mayo topping explode in my mouth. The diary scent, the thick texture, the slightly burned outer layer and the salmon roe topping EXPLODED! Not joke, high recommended and a must try item in Sushi Tei.
Main: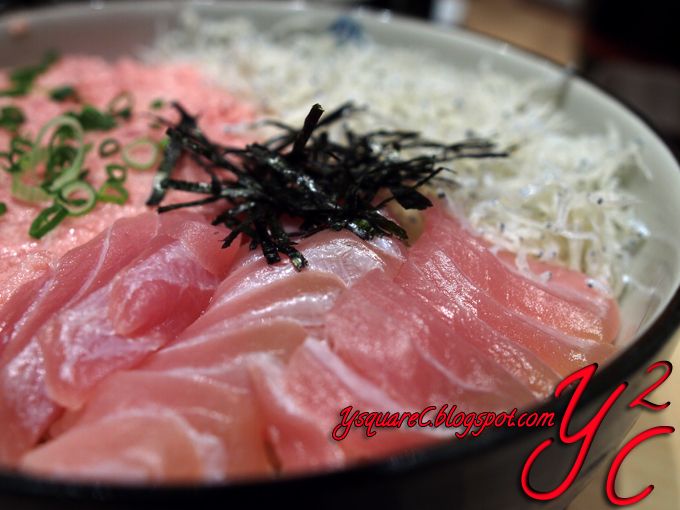 Kamage Shirasu, Chutoro & Negitiro Don, RM 28.80 per bowl
Steamed baby sardin, tuna belly & minced tuna belly on sushi rice. Different tunas in a bowl. I wonder do they have sauces that comes with the don or we should add in soy sauce ourselves? The don is luxury but tasteless.
Asari & Hotate Garlic Shoyu Pasta, RM28.80 per bowl
Stir fried asari clam & scallop with pasta. It should be another luxury dish, but turn out that salty is the only taste. I was expecting umami or at least a seafood broth for the paste, but it was disappointing. I did voice out to the host, hope the pasta will have improvements later.


Maguro Yukke Pasta Salad, RM16.80 per bowl
Spicy minced tuna pasta salad with french dressing. I didn't tried this dish, my bad! It's so colorful. Once the the salad dressing was coated, the pasta finished in minutes. When I realize, the bowl has gone as well =.=||| So I guess it was so very good, that's why finished so fast?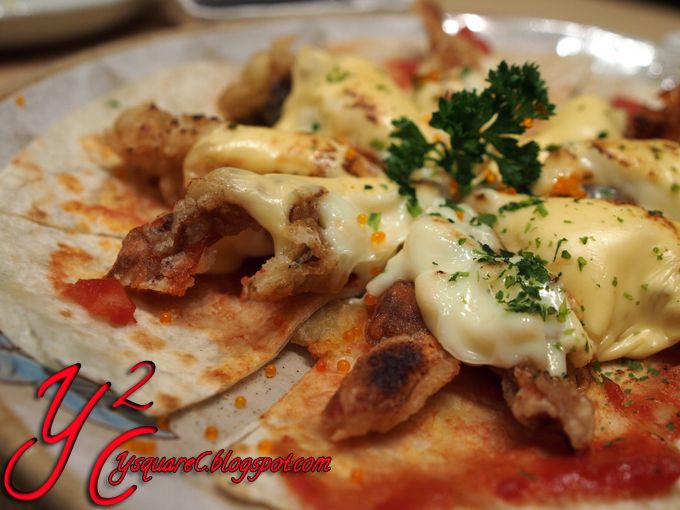 Soft Shell Carb Tortilla Pizza, RM13.80
Cheese baked soft shell crab with tortilla bread
If you want to start to mention how thin the crust is, how crispy like no other else, F*** off... it's not pizza, it's just tortilla bread will luxury toppings.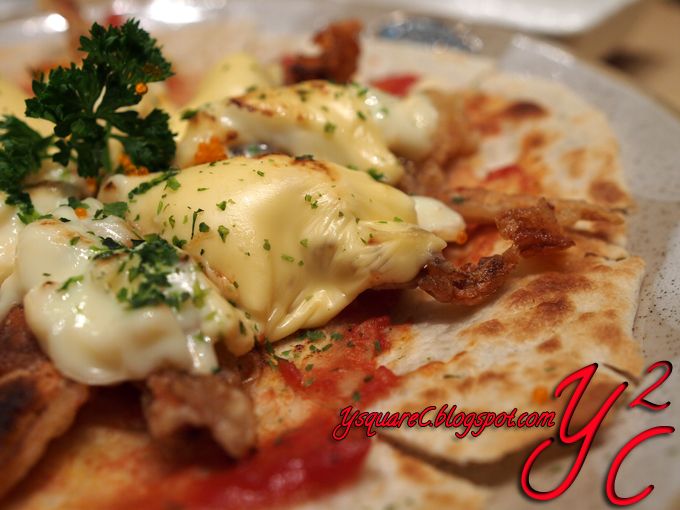 Fuah.. look that that cheese!!! *foodgasm*
Ok, maybe the topping really out shine the crust and don't even bother it's not a pizza anymore.
Others: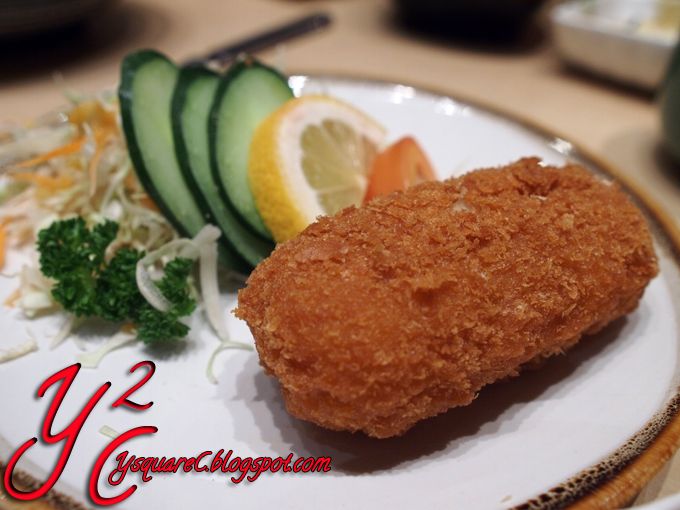 Hokkaido Corn Cream Croquette, RM6.80 per piece
Korokke or Croqutte is deep fry dish originate from French.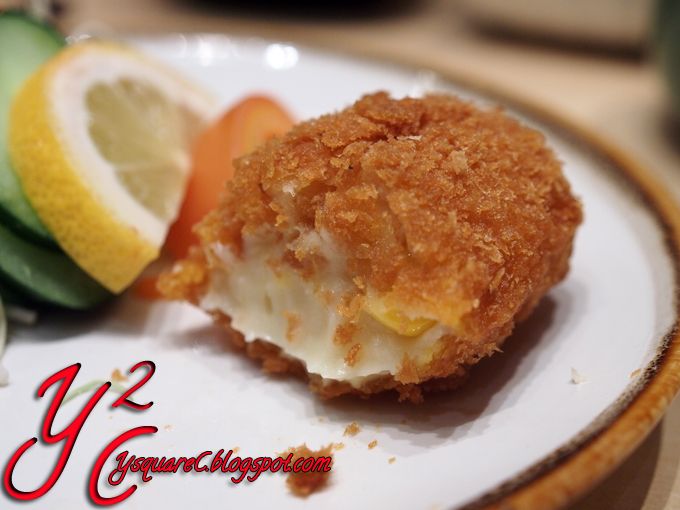 Look at the breadcrumb coat! The photo can tell how crispy it is.
I always has potato korokke. Sushi Tei has both potato and corn korokke. The corn one is a bit sweet, I am more used to savory korokke. But still, not bad.


Saba Shio, RM13.80
Grilled Mackerel with salt. Mackerel is one of the least expensive fishes among Japanes cuisine, but has nearly twice as much Omage 3 compare to Salmon. However, it has too much bones, not my favorite kind of fish, but you know cheap stuff is not always the best stuff but its still good.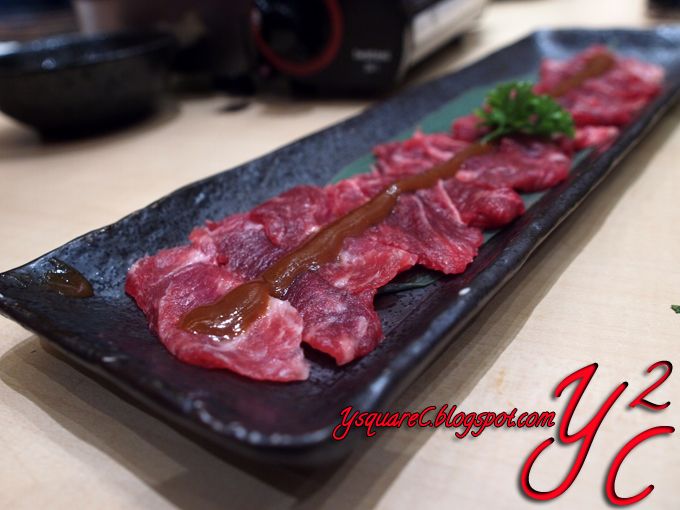 Gyu Misoyaki, RM15 per set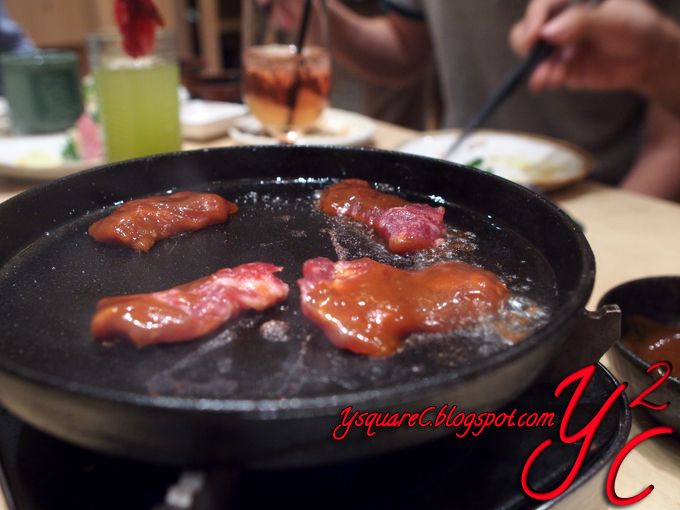 I am not a beef lover ( I think I repearted 187324984 times in this blog) but I did try it out too. The beef is thinly sliced. It should be dipped with special sauce (looks like Worcestershire sauce to me) before it is grilled. I still prefer the chef to prepared it for me, when we did it ourself, we cooked too long that the beef starts to turn rubber-ish =(


Soft Shell Crab, RM15.80 per plate
One of the best soft-shell crab I ever had in Japanese cuisine. I still prefer the Chinese style, it's in my blood. But still very good, recommended.


Sakura Ebi Okonomiyaki, RM 16.80 per plate
My first experience with sakura shrimp. Not as good as others discribed but compare to our Malaysian salted shrimp, this is obviously better. No fishy smell and slightly crispy. I just hope they gave more bonito flakes instead.
Eringi Batayaki, RM 9.80 per plate.
Another highlight from Sushi Tei. The Eringi is a kind of mushroom that is very common in Japanese cuisine. It is thinly slice and stir fiy with red onions. Most favorite dish of the day. I can eat a bowl of rice just with this dish. I really like it, highlty recommended.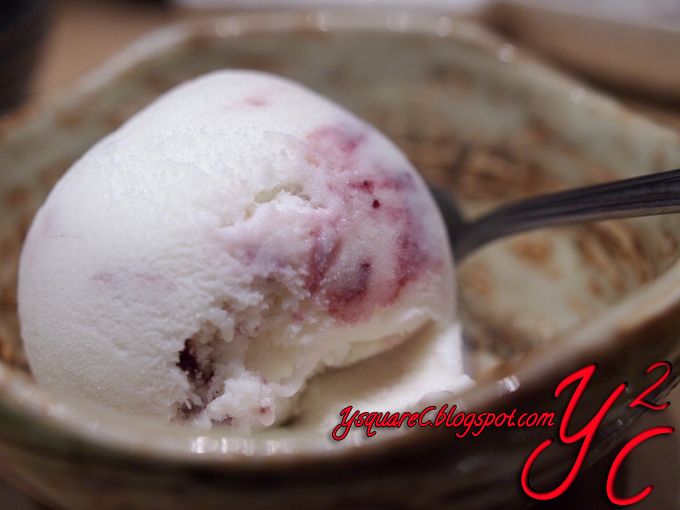 Forest Berries Yogurt
, RM7
The yogurt is not in it's best condition, there is some granule of somethingicantrecongnise in it. Not as fluffy, but Oklah~ expensive wei~
Overall: 9/10 [I know I should not rate them since this is a sponsored review, but I can't help but evaluate them, on how good are they.]
Taste bud indulgence: 8.5/10
[Higher than average, some are decent, some are very good. But one thing I am not satisfy is the cream cheese mayonaise, it was used in several dishes and they are all similar in tatse (i.e.
Inari Kani Mentai Mayo, Valcano Roll and Soft Shell Carb Tortilla Pizza).
The mayonaise itself are very nice, but not too much else it can be queasy, so I don't recommend you too order too much dish that uses the cream cheese mayonaise at a single visit.
]
Purse Saver: 7/10 [Their price is still slightly higher than average among all the Japanese restaurant in Malaysia.]
Atmosphere: 9.5/10 [There are no private space in the restaurant, although there are rooms, but it's open on one side]
Location: 10/10 [There are currently 5 branch in Malaysia and several others around Asia.]
Service: 10/10