woo woo woo woo woo woo woo~
woo woo woo woo woo woo woo~
Haha~ sorry, please bear with me. Every time I heard the name Barbara or barbera or anything similar, I will start howling~ woo woo woo woo~ Trolololol...
Not funny?
okay
okayguy.jpg
(bangsa branch, there is another 1 in Sunway)
but since me (YsquareC) is not a fan of coffee (which also rebel in trying any kind of coffee that may be addictive)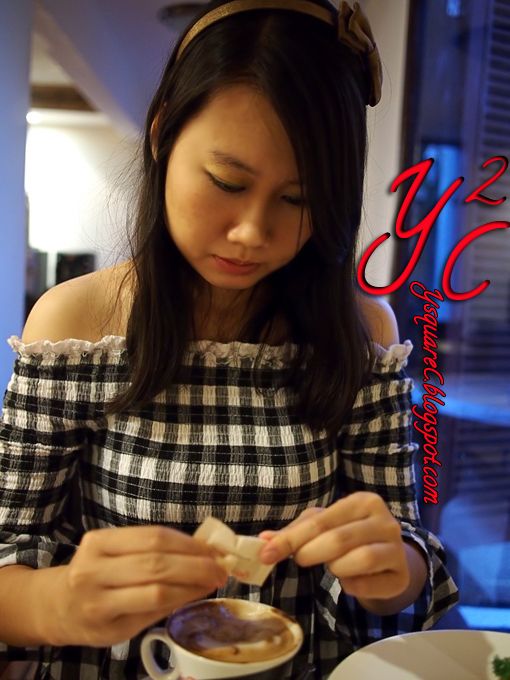 Imma just gonna eat all their food.
The story is like this:
My boyfy got some voucher from Barbera when he did a food review in Barbera Sunway last year. The best thing is, he never know the existence of such voucher until the day after Valentine, which coincidentally the day before I left K.L to Melaka for a new semester. The problem is, the voucher expires on end of February, so I made a joke to him asking him to bring me for a post-valentine dinner and he agreed! However, we had a movie review in Tropicana later, so the time constraint is another problem. Like you see, we still made it.
P/S: We didn't celebrate Valentine this year. Both of us scared of the jam so he just stay in his house while I curled in my bed.
*Eat all the food*
Ordered a table full of food. Like you see, 3 main course XD.
Those main course comes in Ala-Carte or set. With an additional of a few Ringgit to top up from Ala-Carte to set, you can enjoy a cup of soup or salad and a cup of coffee of your choice.
Salad
No salad dressing? Are you kidding me? Come on, if I am a skinny bitch that order salad with coffee just to keep fit, I wouldn't order the main dish in set, didn't I? Do you hear me? I want my salad dressing!
Mushroom soup.
The thick soup come with a a piece of bread.The soup is very thick and full with mushroom chunks. It looks promising, when I have my 1st sip, I almost can't belief my tongue. Then I have the second sip. NO TASTE! Not salty, not sweet, just creamy thick. Not the kind of mushroom soup I would expect.
The appetizer has gave me bad impression, but I still give hopes the main course.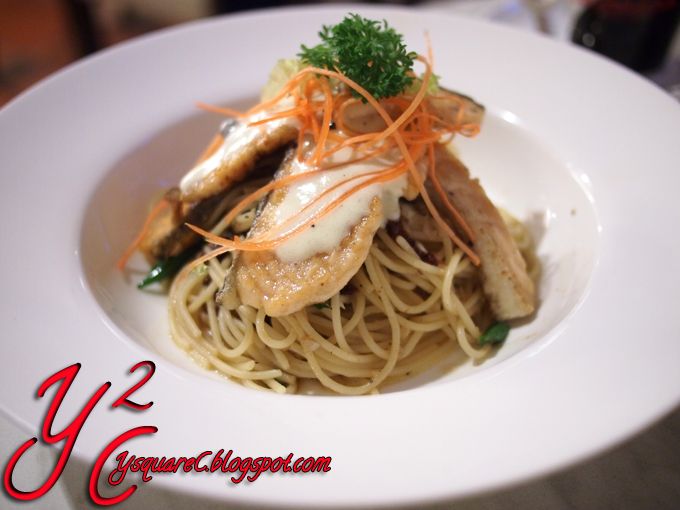 Salmon pasta
This is my main course. I know I like Salmon and everybody that read my blog would know it too. If I say I dislike a salmon, you would probably know how bad it is. The thin slice of fish was overcook. I appreciate the crispy bits of fish skin at the side, BUT YOU ARE DOING IT ALL WRONG. The fish suppose to be soft and tender not like biting a stick @.@ The spaghetti Aglio Olio is also another down side that I wanna comment. Aglio Olio means olive oil and garlic. I can accept the oil level of the pasta, but I can't accept there are no garlic taste in it. They add a lot spices in the oil, but not infuse well to bring up a good taste. The only compliment I give will be, yeah A LOT of tinywiny thin slide of Salmon.


The boyfy ordered beef pasta.
I didn't try, don't want to comment.


Then we also shared another
Duck Pizza
as Ala-Carte since we still have some money to spare (from the voucher). Maybe we had great Wafu Pizza from
Watami
last week, we were eager to tried more of these cheesy pancakes. Well, Pizza came from Italy and there is almost impossible an Italian franchise will do worse Pizza than foreign restaurant, so we gave it a try too. Out of our expectation, it was pretty bad =( The re was no other taste than cheese. No duck flavor. The chef were SO GENEROUS that they only have a thin slice of "duck" on each cut, which I can't identify as duck if you didn't told me so. The crust was also not crispy. Even Pizza Hut can make better Pizza than them, duh~
Sorry to say that I really don't remember the full name of the coffee and their website didn't have the menu too, so just depend on my memory, here we go:
Neapolitan Coffee
1 word. BITTER =(
I don't drink too much coffee, but every time I drink a drink that has coffee in it, I will know it. My senses are so sensitive to coffee. Even if the food doesn't state that it's a coffee by product, I can easily identify it and prove myself right in the ingredient list. My 1st attempt on drinking REAL coffee in life wasn't really good. I added 2 packets of sugars and it's still bitter >.< yucks. In the aroma aspect Cafe Barbera still wins it. Although I am not a coffee drinking, by just drink a sip, you really can identy the level of the coffee bean, the taste, the aroma, the texture. The slightly bitter marshmallow on top on the coffee is also an add point.
Question for the coffee lover, how do you stir your coffee after adding sugar without destroying the marshmallow?
Boyfy's Hazelnut cream coffee


Lastly, show off my Photoshopped camewore photo with the boyfy XD
Overall: 6/10 [When the boyfy asked my opinion, I really didn't gave face to express that I will never come back here to dine unless there is a new menu food review that is free. Coz I really can't afford my money on this kind of mediocre food. I may be slightly over react coz I was giving high expectation. If it is a family restaurant, the food is just average, but for a restaurant with this price range, it is not worth it =(]
Taste bud indulgence: 5/10 [They have the presentation, but not the taste. Maybe coffee is an exception. U, the coffee shop should concentrate in coffee and leave the food to others]
Purse Saver: 6/10 [A rather expensive restaurant that I wouldn't visit unless special occasion]
Atmosphere: 8/10 [It offers a great environment, BUT the other customers were so noisy, meeting discussion @3@ Atmosphere ruined]
Location: 5/10 [It is easy to find if you have a GPS with you, but be prepared, there are not much parking space in the bungalow like restaurant area, despite of 2 level dining area.]
Service: 9/10 [ A bit slow but I can appreciate some free time with my mate while dining. The friendly waiter is an add point]