They said Hong Kong movie is getting worse year by year, but I think HK movie is going great! HK movie is following the trend and make every funny bits out of it. If you can't understand HK comedy movie, then you are not on the trend!
The story is around 郭靖 (Stanley Fung, 馮淬帆) who is a weather reporter who dreamed to be a News reporter. Like you see, You Are The Apple of My Eye's scene can be found in the movie.
(I wonder how much these HK fella paid to bough it over from Taiwan =.=|||)
Staring one lorry of joker, from left: 6 wing(陸永 from FAMA) as 郭富城, 郭靖's son;
Bosco Wong (黃宗澤) as 樂易瓦, 郭晶晶's fiance,
郭靖's son-in-law to be
; Mak Cheung-ching(麥長青
) as
郭靖's brother; and Eric Tsang(
曾志偉) as
姚明,
郭靖's son in law.
Not to misses, Teresa Mo(毛舜筠) as 郭美美, 郭靖's eldest daughter and
姚明
's wife.
She is a Barrrister that over power her husband which is a house-husband. There are some funny scene *cough* among the couple. I wouldn't tell you, you have to watch it in cinema ;)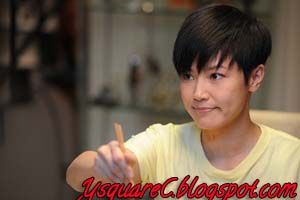 Other than that, Denise Ho (何韻詩) as 郭晶晶, 郭靖's daughter is also a burst point in the movie. She has a lot of development in the movie. She is also a strong women, a store manager that over power her sisi boy friend that is merely a top sales person in the store. This reflects that reality that more and more women become independent and self support in life while guys are being more feminine.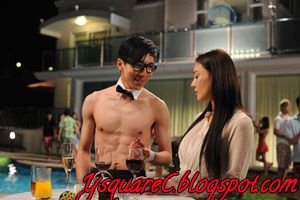 However, there are some "normal" human too where you are actually see 6 packs (or is it 4 only?)
The whole story is complex but warm. Every character has it own development area, not to mention a lot funny scenes and jokes too. However, it is still very education. The end of the world, 2012 was mentioned and gives encouragement to people to face it positively and revise what is really important to us.
If you are still not convinced, watch this:
Overall: 10/10 [I like this movie a lot, I think it is the best CNY movie in 2012, what do you think?]
3D/CG effect: 5/10 [Little CG is applied, almost insignificant]
Story: 10/10 [Very warm and educative story that describe how is the current world exp in Hong Kong]
Cast: 10/10 [I have not watched Hong Kong drama series for a while but I can still name most of the actor] and actress w/o fail. The cast is really famous among Chinese either local or overseas]