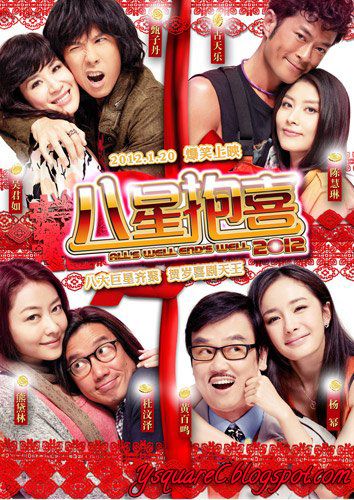 Another major Hong Kong blockbuster in this Chinese New Year Season.
Although many people around me said this is nicer than I Love Hong Kong 2012, but I would think different.
The Teaser just show some cast not really describing the story~
Anyway, back to the story, there are 4 different stories showned in the movie. These people know each other (their partner) from a web. The girls need help and guys volunteer to help. Staring a bunch of famous actor and actress, Donnie Yen 甄子丹, Louis Koo 古天樂, Kelly Chen 陳慧琳, Sandra Ng 吳君如, Chapman To 杜汶澤 and many more.
Top left of the poster describe 2 outdated singers pursuit their dreams to sing again.
Top right of the poster describe the photography session makes the model falls in love with her photographer and so do the photographer.
Bottom left describe a famous love novel author who helps a blind girl to give her the feeling of love, which eventually bond them together.
Bottom right is my favorite. A girl who needs to marry a guy before her 25th birthday to inherent his late father's property. So, the girl ask a dad (which has no blood connection with her) help to choose the most suitable husband.
Notice that the 1 who won is 劉子千.
劉子千 is a notorious singer which sang 唸你:


Impressed with he song? Click in and you will notice that 15k dislike but only 5k Like. I know, not as bad as Beiber but he is the Bieber in Chinese World. Trolololo.... maybe he should stick to movie and drama instead ;)
Overall: 7/10 [Many thinks its great but I think there are movie better this year, not the best among the CNY movie]
3D/CG: 7/10 [Some minor matter painting, not really impressive but not bad either]
Story: 6/10 [I don't like to watch a movie that is a combination of a few plots, the story does not have enough time to develop]
Cast: 9/10
[Great, never expect
劉子千 is in the movie]