When the last time you had had steak with a sip pf wine/whiskey? Yesterday?Last week? Not for me, I am a poor cheap-ass Engineer that has no time, no money and no energy to enjoy life. Hence, I appreciate every little nice things in life and
I don't have cats
. Frankly, I don't have much steak house experience in my life, which is like just
a handfull
. I was thrilled (not literally) when I hear the boyfie got invited to a food review session and bring me along.
Thanks The Steak House for the awesome dinner again.
Our party was a little big, i took some time for everyone to reach, so the manager treat us some soup and bread. The bread might be delicious coz we were hungry, but the soup was really not that good. The mushroom was just coarsely chopped, not puree.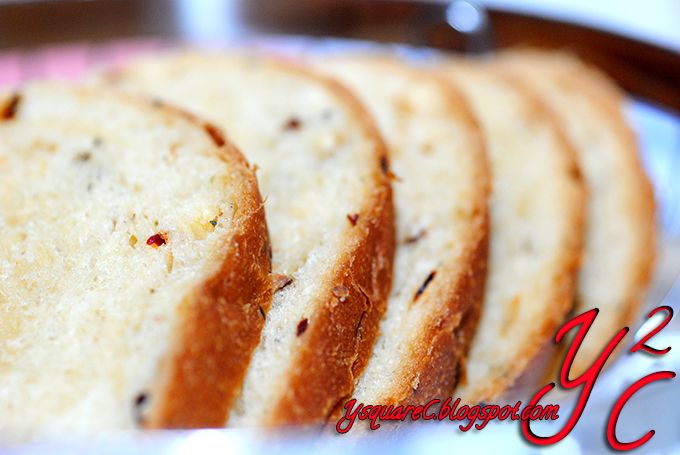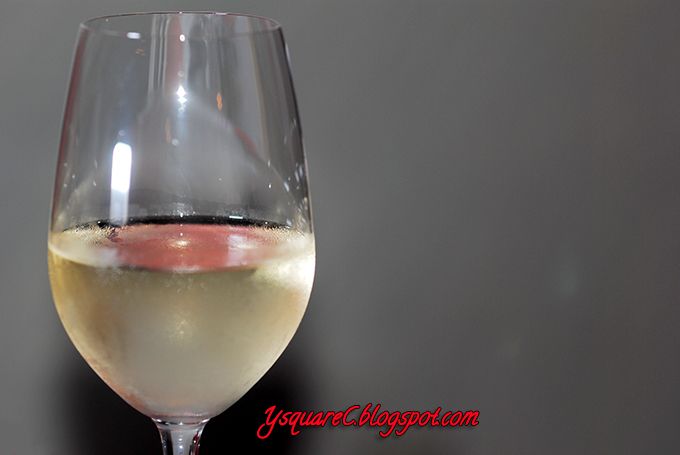 The manager offered us some selections of wine. I was asking for Champagne or Prosecco, but the only mild alcoholic beverage available was wine, red or white, so I just go with it. It isn't my cup of tea wine. I can't accept the level of bitterness.
Shrimp Cocktail RM 28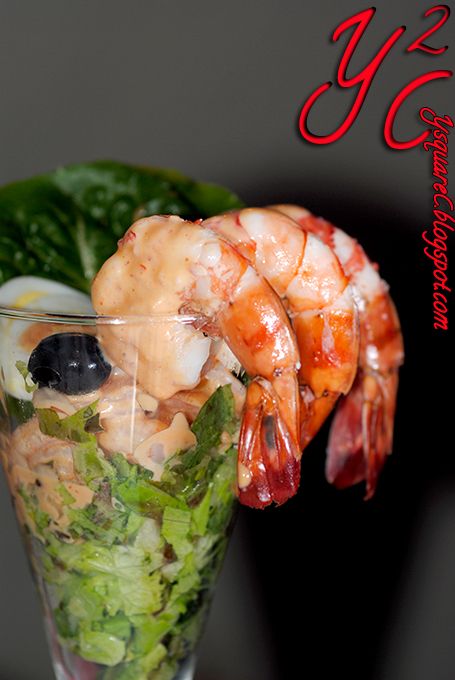 I rarely never get any salad serve in a high glass. That's kindda interesting for a village girl like me (XD)The Thousand Island Salad sauce gave the a slight citrus hint to the shrimp. It was not the least expected thing and the shrimp was also not at the optimum level, but the size is one thing I respect. It's not easy to get shrimp with this size in Kuala Lumpur. Put aside the 3 jumbo shrimp, the rest of the smaller one are really (=.=)|||. They are so crunchy to a level that I am suspecting those are chemically enhanced seafood.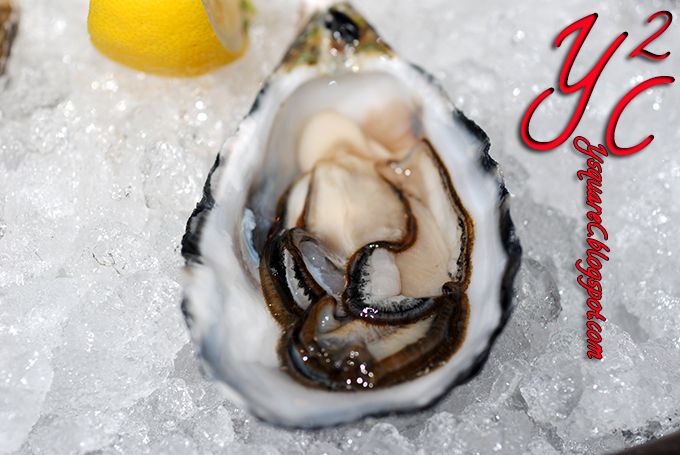 Fresh Live Oyster on ice with Shallot-Wine Vinaigrette RM9/piece
However, the oyster was not disappointed. Size and freshness is pretty acceptable. Vinaigrette is very Ok too.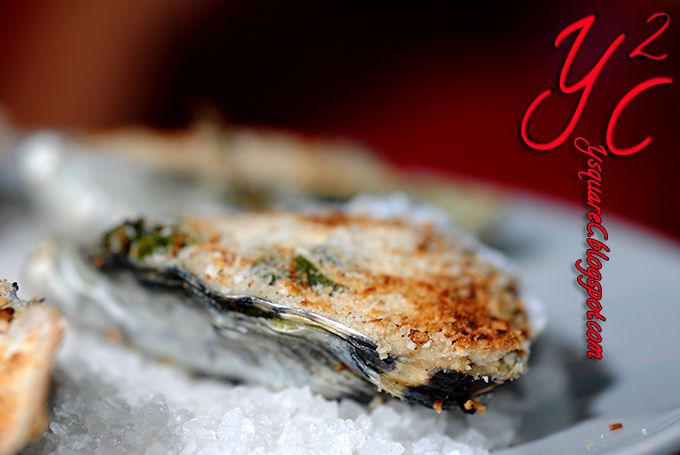 Oyster Rockefeller RM 12/piece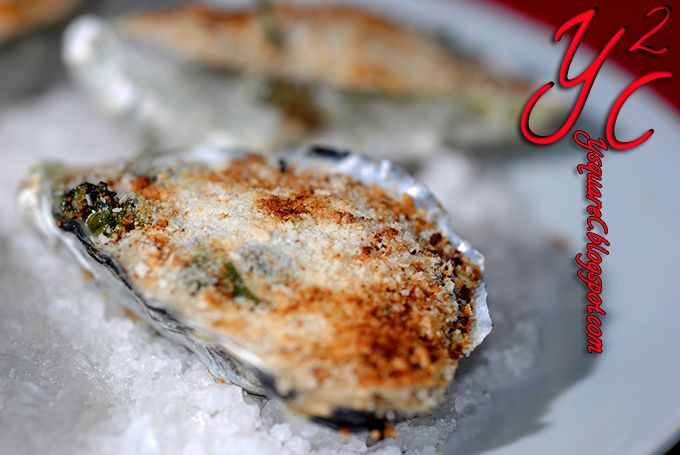 If you don't like fresh oyster, I probably can link to your preference that you don't like slimy stuffs. The breadcrumb like topping can neutralize the slimy texture, but I still prefer it to stick to it's natural texture and flavor.
Escargot RM 32 (6 piece)
Pretty decent, no comment.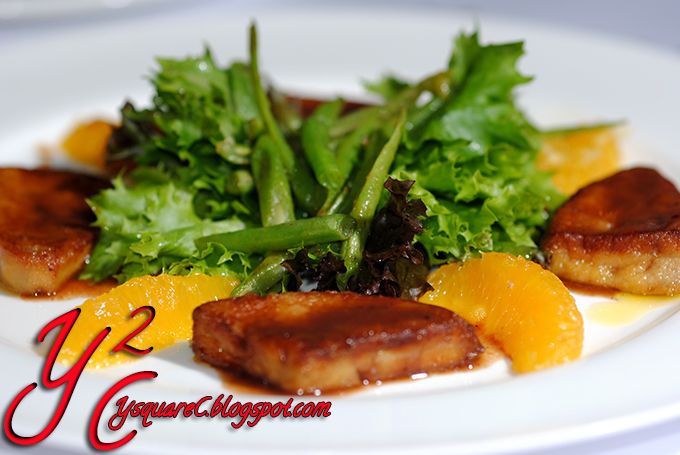 Panfried Duck Foie Gras RM 42
(Whatever organisation you belong to, if you want to condemn us for consuming Foie Gras, please respect our freedom to choose, just like we respect your freedom to voice your comment)
Average RM10 per-piece of taste like pork lard but smells like roast duck(goose) fat.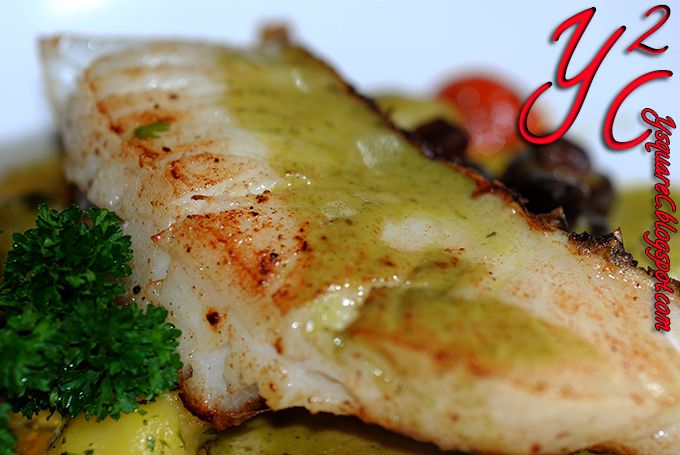 Grilled Black Cod Fish RM 58
Flaky, succulent, brisk but slightly fishy. The fishy smell can be taken away by cooking longer, but it will affect it's texture and flavor, how would you choose? Maybe some fishy smell is acceptable.
I think fish especially large fish fillet, such as Salmon, Cod, Tuna is very easy to get it right, yet I have tasted the worse fried Cod fish in one of the world largest fish restaurant franchise.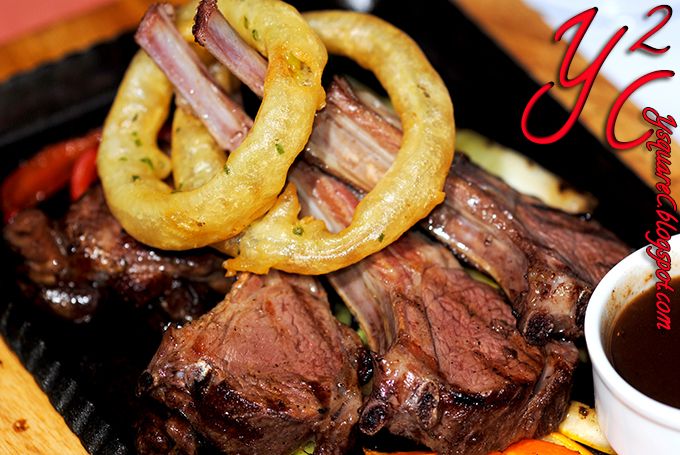 New Zealand Lamb Chops RM 68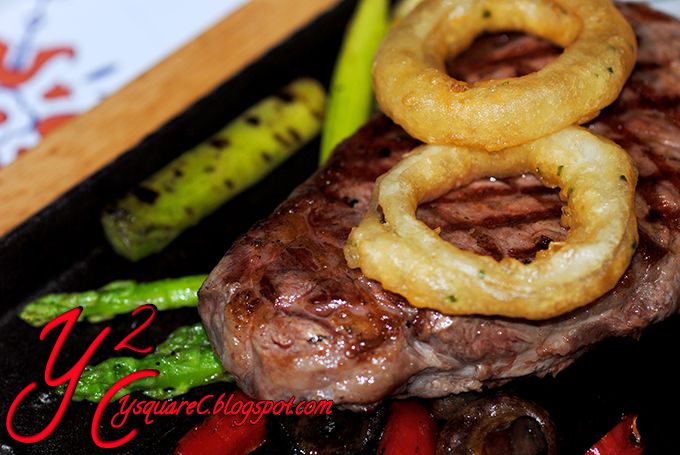 Chilled Australian Grain Fed Striploin (10oz/300gm) RM 68
I tried a bit of Ben's meal. I like the texture, it's a bit rubbery but not tough, the marination does work far too well, not to mentioned the glaze. I literally have to lick my knife, not even worry about embarrassing myself.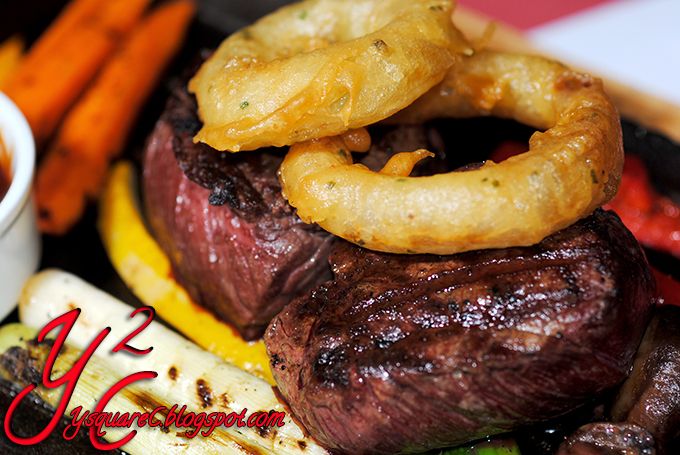 Chilled & Aged Black Angus Medallion (7oz/200gm) RM 98
Best steak in my life, EVER! Ryan has it rare. When the steak have enough resting (we took a loooong time photograph each and everyone's meal) the juice flow very well. The sweet juices still resides in the meal when cutting when cutting, but when I have my first chew with a bit pressure, I can feel the sweetness of the Angus flows through my whole mouth.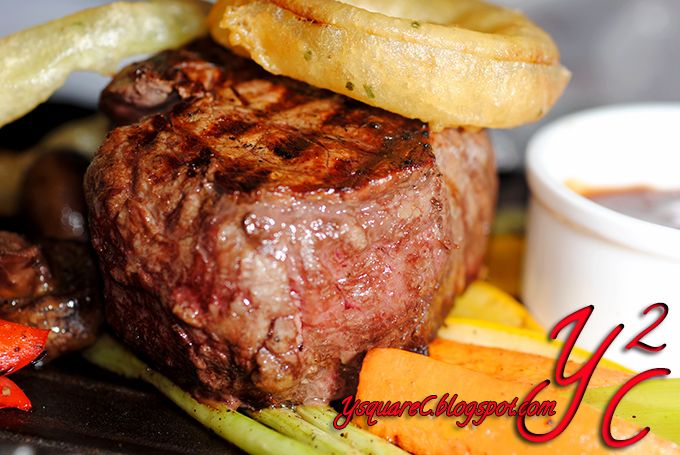 Chilled Australian Grain Fed Rib-Eye (10oz/300gm) RM 78
I mistakenly order medium well instead of medium rare. My steak was ruined. T_T but that's not that bad at all. Thought it's a bit less juicy, the steak has most smell that beef hater hate removed. The texture is flaky and dry, so I recommend you to get medium rare on your visit.
On the other hand, the roast vegies side dish id pretty awesome. It's crunchy and flavorful at the same time. Usually, if you want a well sate vigies, it will loose it's crisp, but here, they do it just fine, a great balance.
For all the steak you order, it comes with side and sauce.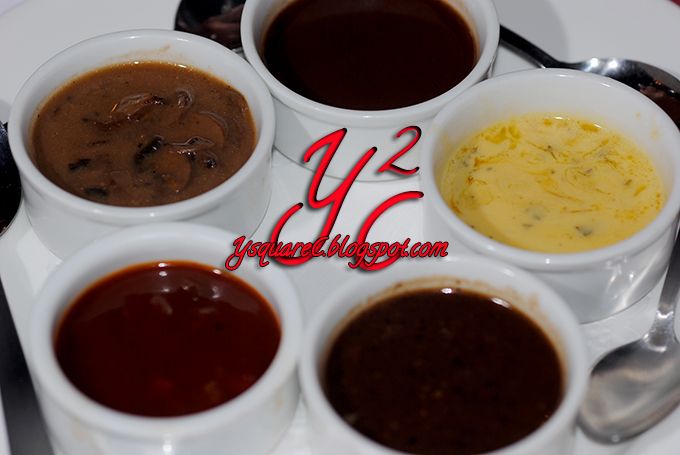 From 12 o'clock, clock-wise. Black Pepper, Bearnaise, BBQ, Red Wine and Mushroom.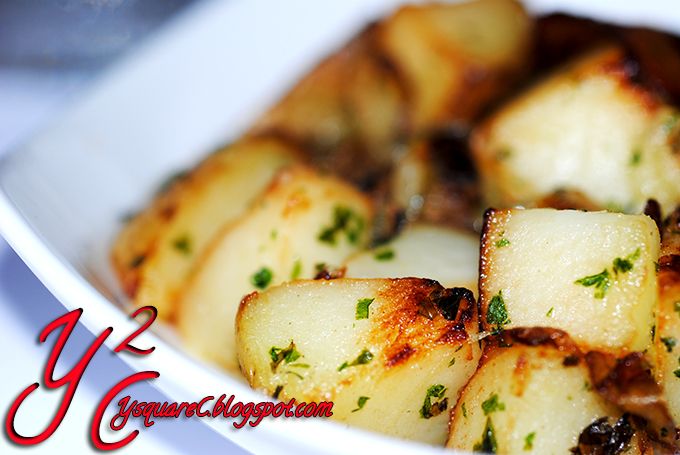 Baked potato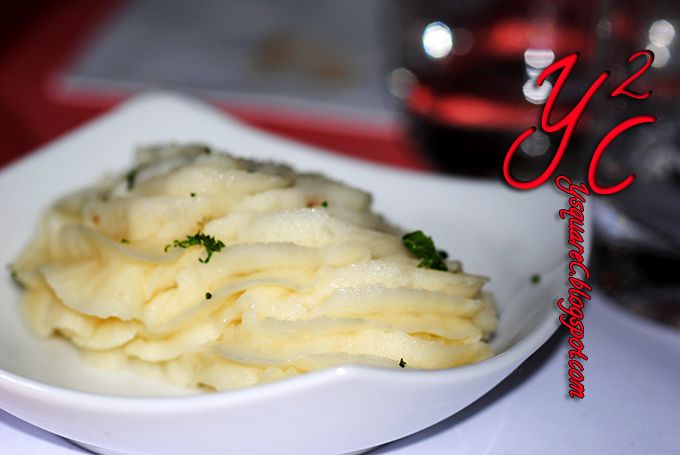 Mashed potato
As for side, my fellow dinning mate love the mash potato a lot, but I think there are just average. The flavor is very mild, I still can taste some chunks in between. I personally prefer baked potato (above). The are well seasoned, dry on the outside but mushy in the inside.
Belgium Chocolate Fondue RM 35
I am a distress with the foundue. From the picture, it's very clear that the semi-liquid is still lumpy, not silky smooth like the chocolate fountain we always see.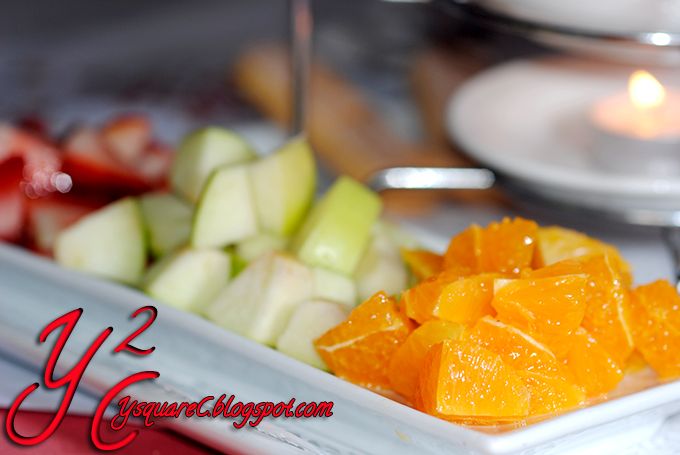 However, the lady fingers and fruits are acceptable. BUt seems that didn't realise that the orage is weet ans chocolate will not sick to wet items :(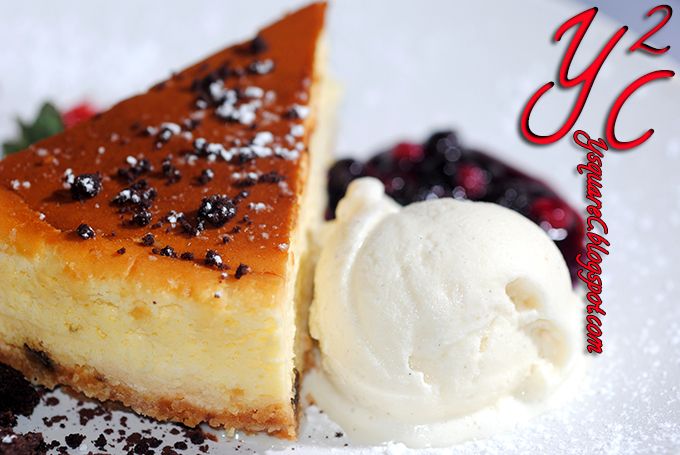 Baked Cheese Cake RM 22.50
I think the cheese cake average but people around me keep praising it. Yes, it's dense, but I can get the same quality from a local cake franchise few years back when their quality is till tip top. I don't say the cheese cake here is back, but I think it's not their specialty that stand out from the rest.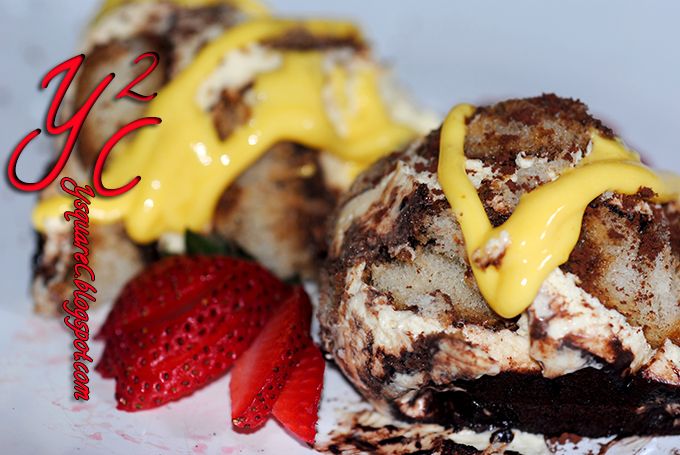 Classic Italian Tiramisu RM 22.50
On of my favorite dessert of the night. The coffee scent is vague and intense at the same time. Pardon me, I am not able to clearly describe the taste. It's very complex but in a good way.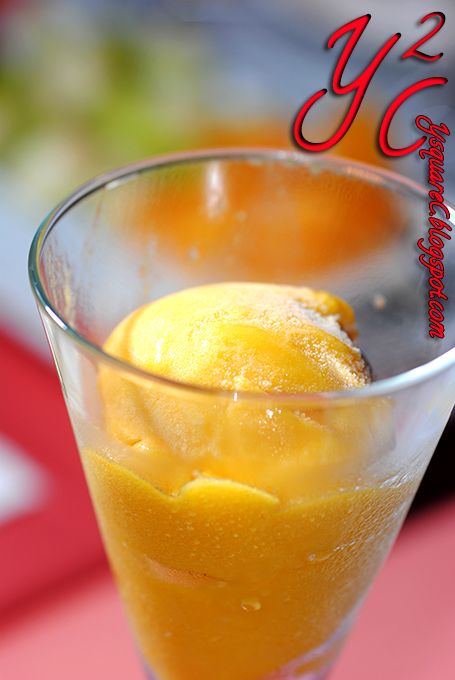 Mango Serbet
Beeing a sour lover, this is a fun experience. The acidity is balance by the sugar level;the texture when it was compressed between my teeth, awe yeah....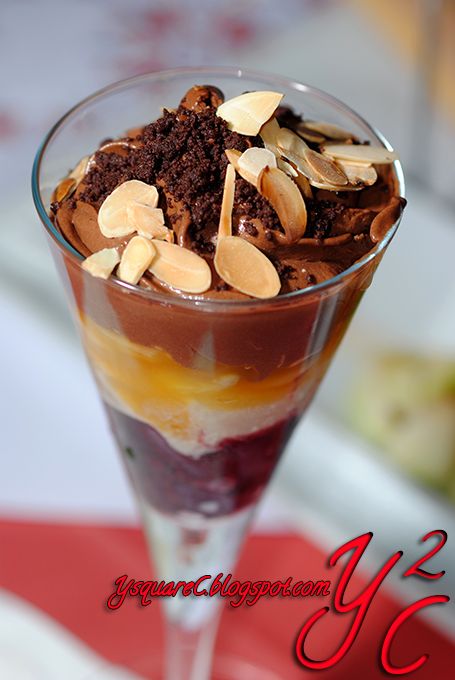 Andreas Special RM 22.50
Another sister dessert to this is the Werner's special. However, due to shortage of a certain product, we have no fate on it.You can see that the chef gave a lot of thought in layering the flavour that represent by different color, from bitter, sweet and sour. You can have a hundred ways to eat it, with different taste every time. I totally buying the surprise.
Address: 48, changkat bukit bintang, kuala lumpur, malaysia
The Steak House is the sister restaurant of Werner's, El Cerdo & Dinning in the Dark. I have visited Dinning in the dark, the post is available
here
.
Overall: 9/10 [If I can dine for free, I wouldn't mind coming back here every weekend, but one meal can easily cost me a quarter of my salary.... so no... but yes, I would come back for a special occasion]
Taste bud indulgence: 10/10 [The only complain would be no specialty/uniqueness of their own, but not every good restaurant has their specialty, so I can totally life with that.]
Purse Saver: 7/10 [No doubt its food is exquisite, and it's price tag is reasonable, but for a nobody like you and me, how often will me dine here?]
Location: 9.5/10 [Located at the high street of Kuala Lumpur that centralize the finest international cuisine from the world. Even some of the rated hotel can't offer food with these standard.]
Service: 8/10 [If you ordered western food, be prepared to wait]