Question: Do you eat with my left hand or you right hand?
Ok, I usually use tableware, but this time, I faced a challenge. I was brought to a place where it's practically pitch black, then serve with delicacies. But I still ate with tableware *boooo* (bad joke....) #okaygirl
I was like?! You must be kidding me, aren't you?
For me, savor (or the layman term, eating) is an art that reward all your senses, from seeing (eyes), smelling(nose), hearing(ears), tasting (tongue) and texture(lips and skin). Even the simplest dish such as salad, can fullfill all your senses. Imaging the freshest, most colorful capsicum you just pick from it's stem, smelling it's sweet scent. When you put it on teeth, you feel it's cold, tight skin on your lips before crunching and creating a clear crackling sound. Then you thought: oh how crunchy! Before you can react, the sweet taste of fruit slowly spread through your tongue.
Isn't that amazing?
Now, you want taking one of my sense away?
No way, Dinning In The Dark.
=(
No matter how unwilling I am, a promised is a promised.
Plus, the chef prepare their dishes by infusing Simplot's Popcorn Hashbrown in it.
Heard of Simplot? It's my favorite hash brown of all time. I have made various meals using their retail hash brown product such as sandwich, salad, mash potato, snacks etc. The hash brown package looks something like this: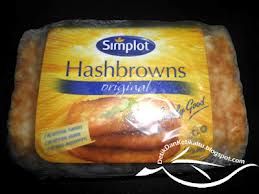 source: detikdanketikaitu.blogspot.com
After some Google, I also learn that Simplot is the largest potato planter and selling in the world, supplying various potato products to some well know brand, such as Mc Donalds. Yup, you heard me right, the hash brown you get from Mc Donalds are from Simplot (and now I know why I can prepare better hash browns than the fast food chain store). AND Yes, by buying the Simplot's retail package, I can customize my hash brown to my liking, munching them 24/7 whenever I want and safe me RM 2 from the breakfast set (Oppsy! I just leak a trade secret, I think McD gonna sue me soon >.<)
However, Simplot's Popcorn Hashbrown is really something new to me. Though the indulgence of looking on pretty food (and Instagramming it) has been taken away, I kindda looking forward on the surprise that Dinning In The Dark's Cheft create with Simplot's Popcorn Hash Brown.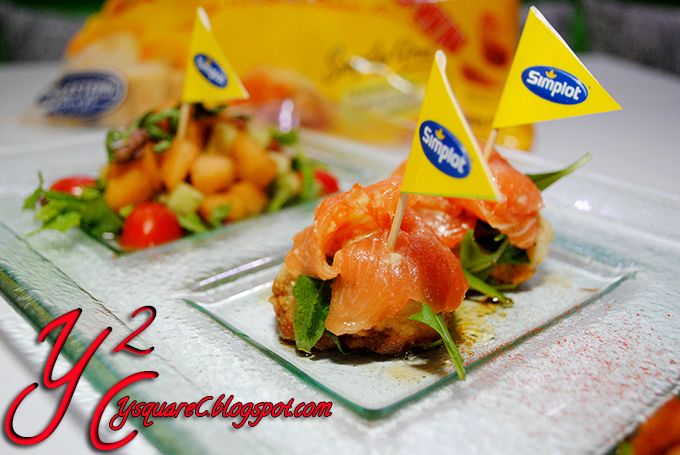 East Meets West: Sashimi with Simplot Popcorn Hashbrown [东西和风:Simplot 爆米花薯饼拼生鱼片]
Texture and tastes are enlivened in this traditional Japanese fresh salmon dish, where here Simplot Popcorn Hashbrown replace the familiar rice;以Simplot [爆米花薯饼代替米饭,让此传统日式新鲜鲑鱼料理呈现不一样面貌,一新触感和味觉]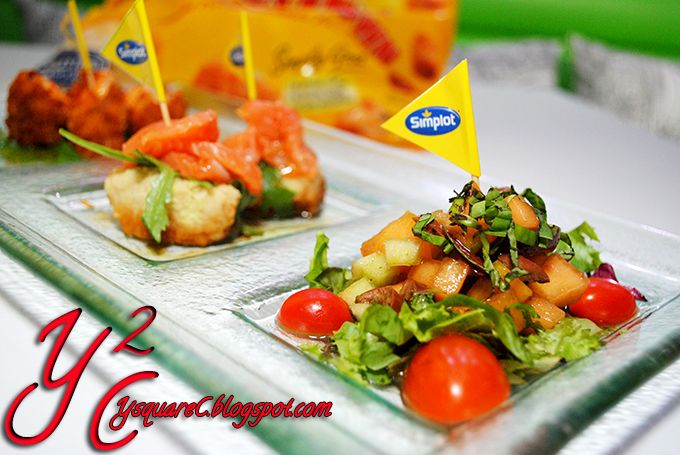 Fresh, Cool and Sweet: Rock Melon & Cucumber Salad [鲜。凉。甜:哈密瓜及黄瓜沙拉]
Freshen your palate with this traditional cooling and sweet salad of diced Rock melon and cucumber served with basil pesto and black olive dressing [哈密瓜和黄瓜丁佐以罗勒青酱与黑橄榄油的完美配搭让这道清凉鲜甜的沙拉冷盘,唤醒你的味蕾]
Golden Crunch [香脆黄金]
Spicy Cajun prawns breaded with crispy Simplot Popcorn Hashbrown and accompanied by Jalapeno sauce [Simplot 爆米花薯饼包裹 Cajun 香辣大虾伴墨西哥辣椒酱]
Heart-warming Soup [暖心浓汤]
The classic fresh mushroom soup consisting of familiar button mushrooms, shiitake mushrooms, oyster mushrooms and porcini Mushrooms [用蘑菇、香菇、蚝菇和牛肝菌菇精心烹调新鲜蘑菇汤,鲜浓美味,香气四溢]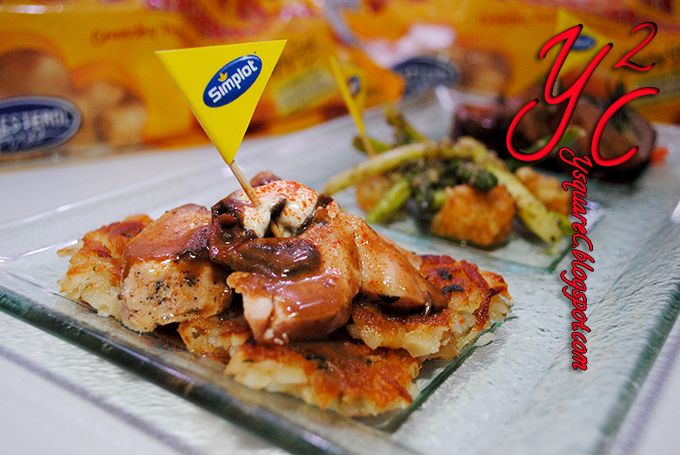 Two-legged Stroganoff with a Twist [特式酸奶鸡肉丝]
Succulent Chicken Stroganoff reposing on a tantalising bed of fresh thyme rösti made with crispy Simplot Popcorn Hashbrown [俄式酸奶鸡肉丝配百里香Simplot 爆米花薯饼丰盈肉汁与薯香煎饼的奇妙邂逅]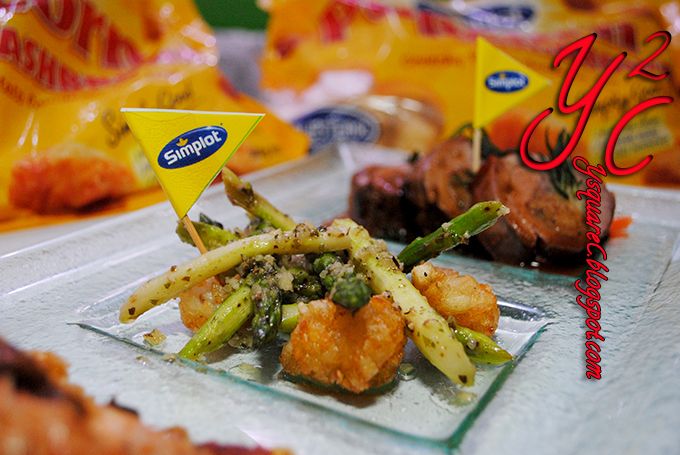 Green & Brown Spring Delight [大地春色]
Charcoal grilled green asparagus and Simplot Popcorn Hashbrown sautéed with tasty herb butter [炭烤鲜翠芦笋伴香草牛油嫩煎金黄 Simplot 爆米花薯饼色泽吸引,犹如春回大地]
Mediterranean Lamb [地中海羊肉]
Choice Lamb loin encasing Simplot Popcorn Hashbrown and flavoursome mushroom, cooked slowly for maximum effect and then smothered in refreshing rosemary sauce [精选小羊脊肉片包裹 Simplot 爆米花薯饼和蘑菇,慢煮至精华美味全部释放,淋上口味清新的迷迭香酱汁]
Raspberry Sherbet [山莓冰冻果霜]
The exciting taste of raspberries captured within a refreshing frozen dessert [冰凉清爽的甜点内绽放令人陶醉的山莓美味]
Caramelised Simplot Popcorn Hashbrown [焦糖风味 Simplot 爆米花薯饼]
Showing just how versatile and addictive Simplot Popcorn Hashbrown can be, here we caramelise them to show them in a new context [Simplot 爆米花薯饼披上焦糖外衣意想不到的吸引力令人无法抗拒]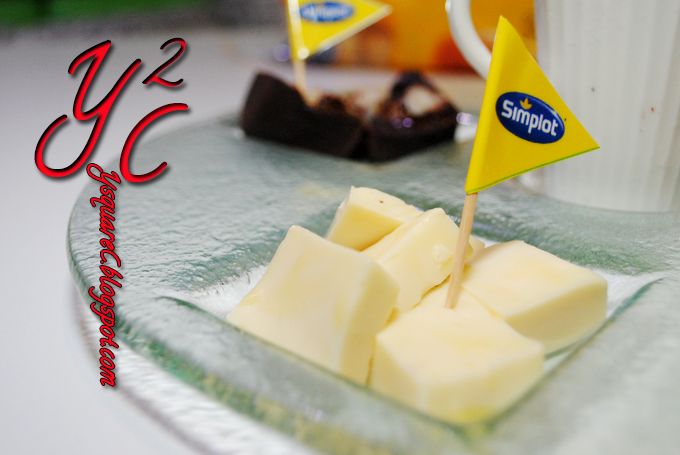 Lemon Grass Panna Cotta [香茅意大利奶冻]
The vitality and zest of lemon grass set within this soft and smooth traditional Italian dessert[口感柔软綿滑的传统意大利甜点散发香茅的清新和热情]
Simplot Popcorn Hashbrown Chocolate Lava Cake [Simplot 爆米花薯饼巧克力熔岩蛋糕]
Be surprised and delighted by how well Simplot Popcorn Hashbrown mingle with rich molten chocolate [Simplot 爆米花薯饼混合口感丰富入口即溶的巧克力如火山般爆发无限惊喜]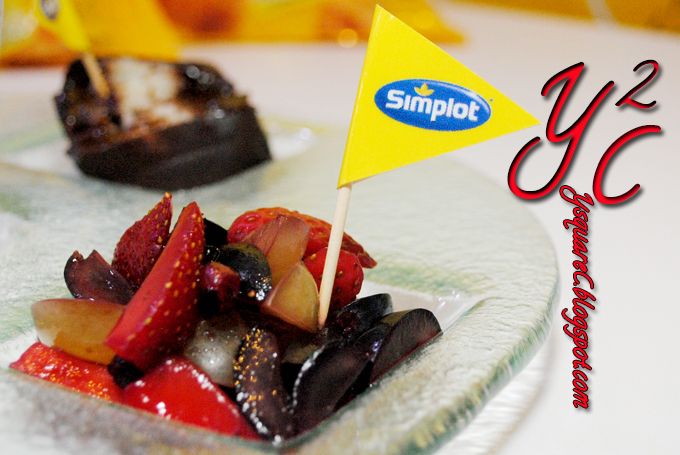 Fruit Compote [水果拼盘]
Grapes and strawberries combine and contrast in this fruity finale [葡萄和草莓的鲜果组合营造不一样的口感]
Overall, the combination of Simplot's Popcorn Hashbrown in the dishes are surprisingly match, and I thought I am genius using hashbrown in sandwich and salad padahal there are MORE things that goes extremely well with hash browns. I think I should start exploring more hash brown match options.
As for Dining in the dark experience, my world of advice, one word - trust!
You have to trust them enough to enjoy your food. Trust them on their guides, the instructions, and service, then only you will relax and enjoy the experience. I was a bit tense up during the journey, so I was opening my eye lid all the time. That's kindda stretch my already tired eyes. If I were to go again, I will choose to relax myself and enjoying my taste buds more.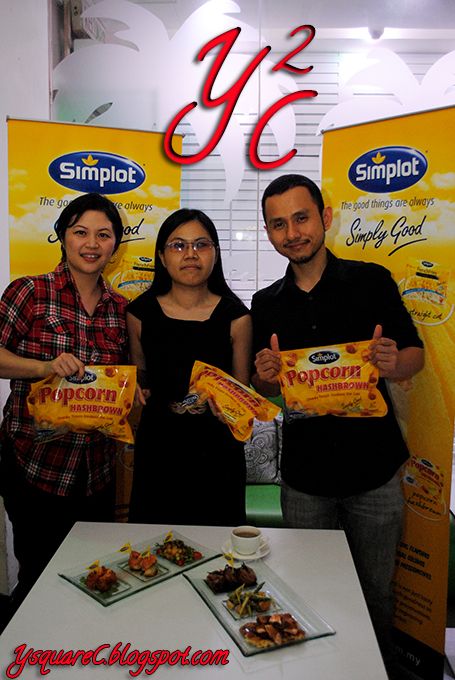 Last but not least, thanks to Simplot and Dinning In The Dark's Manager, Nichole for their hospitality.
FYI, Nichole and her crew(some of em') are gifted, so don't be too surprised when you meet them in person. If you notice, there are no price listed in any of the dishes. Apart from they don't have a menu for you to choose from (which I think is not really a down side), they actually will ask your dietary habit (whether you do not take any meat or must be halal etc) and design the menu for you for the stated price for the whole course.
Dining In The Dark (located above Werner's)
44A & 46A, Changkat Bukit Bintang (Entrance at No.50), 50200 Kuala Lumpur, Malaysia
Operating hours: 18:30 - 23:00 (last sitting at 21:00)
Email: nicole@dininginthedarkkl.com