Courtesy to Frontera and Foodpanda, a few of my blogger friends and I went to a food preview session in Frontera before the fasting month started. I know this might be a bit late but hey, you still have 2 weeks before Raya. Even if you are not fasting, this is still a very good place to chill and enjoy dinner with your friends and family, coz it's just RM50 perperson with 12 types of starter (buffet) and more than 15 main course with 6 desserts (buffet).
Tempting isn't it? You have not even hear the best part! For every 6 person, 1 person dine for free!
WoW!!
Thats what I call a deal!
Frontera Sol of Mexico
18-G-2, Palm Square,
Jaya One, 72A Jalan Universiti,
46200 Petaling Jaya, Selangor.

Cuisine: American, Burgers Mexican, Tex-Mex
Phone:
03-7958 8515
Operation time:
Mon - Thu:
11:00 am
-
1:00 am
Fri - Sat:
11:00 am
-
2:00 am
Ramadhan Buffet Time:
6.30pm -10.30 pm
This is not my first time reviewing Frontera. Check out
here
to see my last visit/review.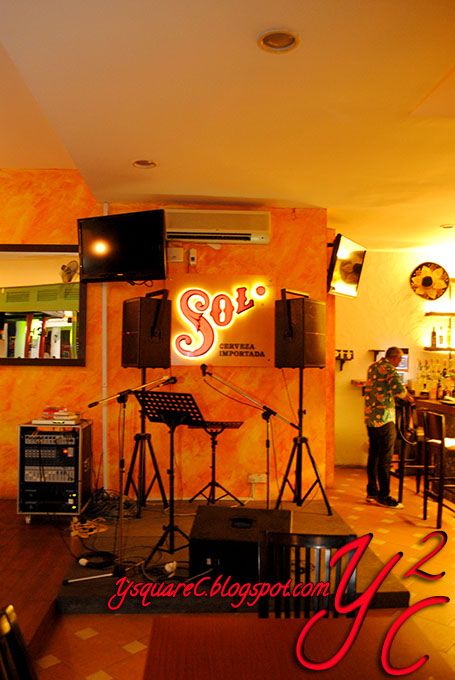 Despite of almost 1 year, there are not much changes in the restaurant, the bar and the mini stage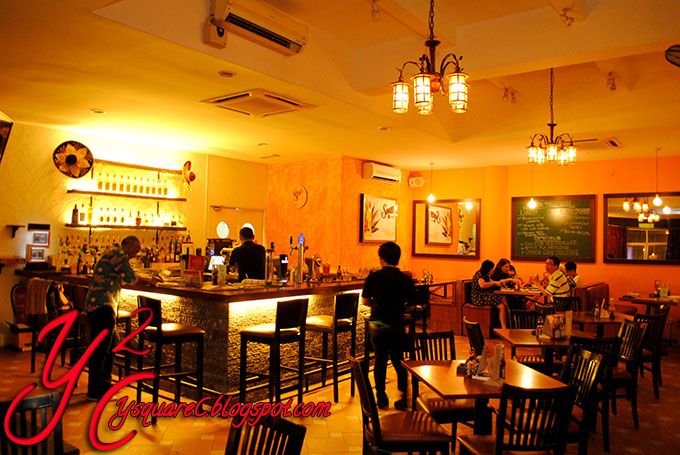 The yellow light, people chatting, clicking of the table ware, it's so warm and cozy inside that I almost feel like I am dining at home with a great chef in my kitchen =)

Appetizers:
I had this soup last time, it's Chipotle & MushroomSoup. You might get different soup when you visit, coz the menu says "soup of the day", so just let them surprise you.


Salad and dressings
from center: crispy tortilla strip.
From 11 o' clock, clock wise: salad (lettuce, tomato, green pepper, red pepper, onion), bacon bits, sharp cheese, ceasar dressing, ranch dressing and salsa + sour cream dressing.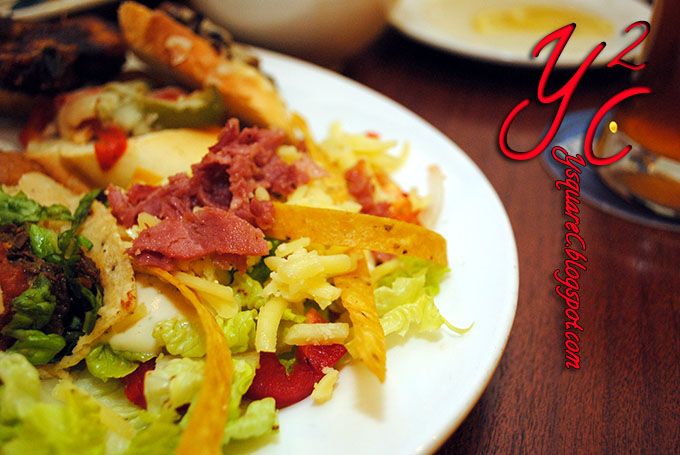 The vegies are fresh, the tortilla strip has no flavor, slightly harder but no crispy (yes, tortilla suppose to taste like this), the bacon wasn't too oily (I suspect it's turkey bacon) and the cheese was.... I can't taste the cheese nor the sauce. The vegie itself is so juicy, I didn't even have to pay attention to the sides.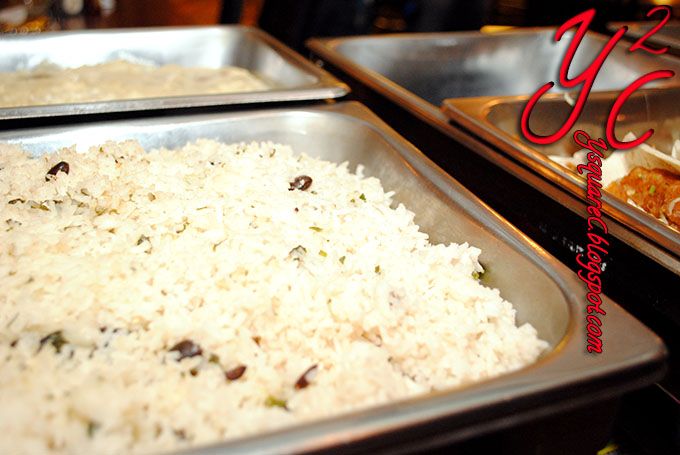 Mash potato and Rice
opsy, over exposed, here is another one: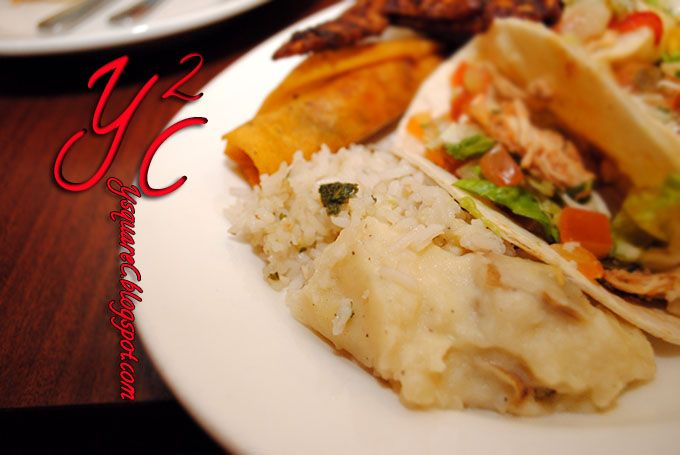 Despite of the normal look, the rice is very flavaroufull with lots of herbs and oils. Yum yum! The mash potato was just so so, and till now I still wonder is that potato skin in the mash? =.=
Fish Taco


Chicken Taco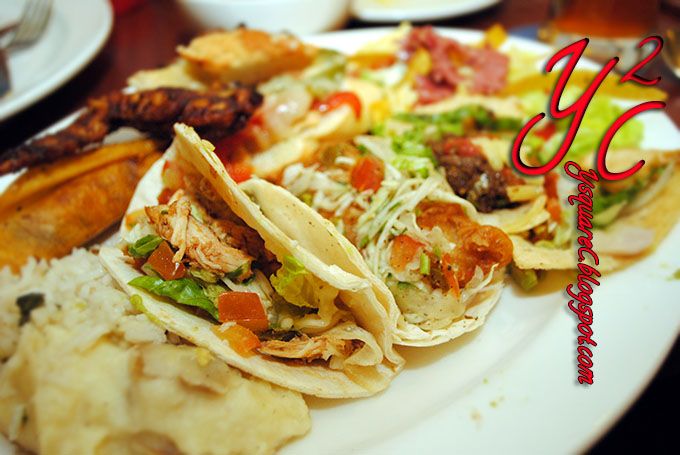 The last time I had meal in Frontera, I had tacos as my main dish. It was very full to take up 2 tacos and a bunch of side dishes, appetizers and soup. However this time, Frontera offers smaller size Taco in their appetizer. I guest they really want you to try ALLLL their dishes and not left anything out! I was supprise that they put a whole fish fingers in the fish Taco. I asked Ramesh, don't you worried you will loose money giving such great food? He answer " It's for me to worry and you to enjoy =)" Oh mai... I never meet such generous F&B insiders in ages!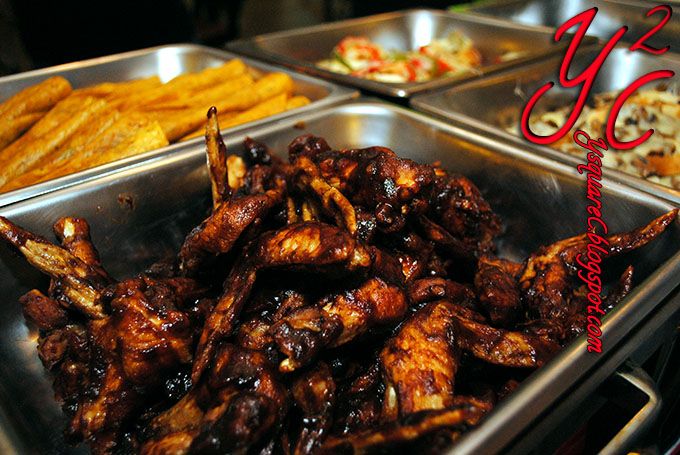 BBQ wings


Taquitos de Pollo
The chicken wing has nothing to shout. On the other hand, Taquitos de Pollo was very crispy, much attractive in taste compare to it's look. I didn't identify what's the filling at that time. When I had my 1st bite, I just keep stuffing it into my mouth. Even if you are not Mexican, you will love it!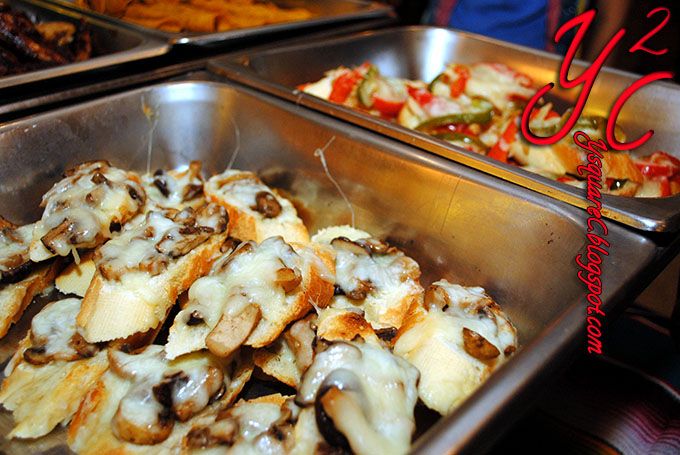 Mushroom Bruschetta


Chicken Bruschetta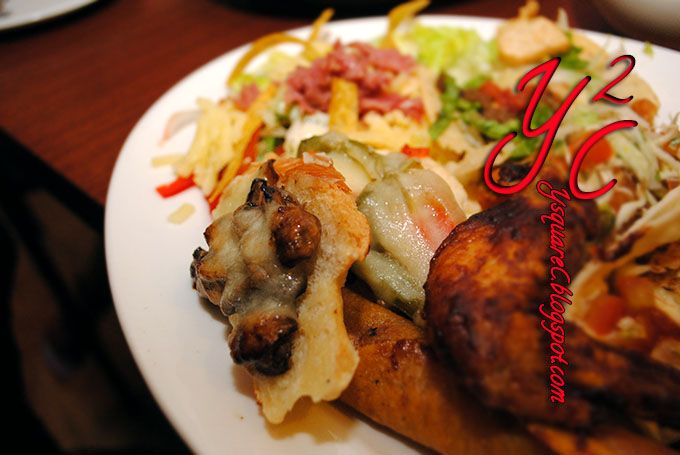 I had better bruschetta, but these are not bad too. The amount of cheese is generous!
Beef Tostadas
Tofu Tostadas
The tofu one was kindda mediocre. Looking back the picture reminds me I probably didn't pick up the toppings. In contrast, the beff tostadas was great. Although I didn't like beef but the salsa topping did make the tostadas pop!
Main course:
I ate so much for appetizer, so I plain to take a smaller portion main dish. Usually, the seafood dishes will either more expensive than meat dishes or smaller in portion. Since you can only pick 1 out of the list, so I guess the seafood will have smaller portion.
Spicy Prawn Diablo
It was a bit spicy than it looks like. The prawn wasn't fresh, the onion was not cooked. So, this was not a good experience. But I did get good appetizer, so that wasn't so bad.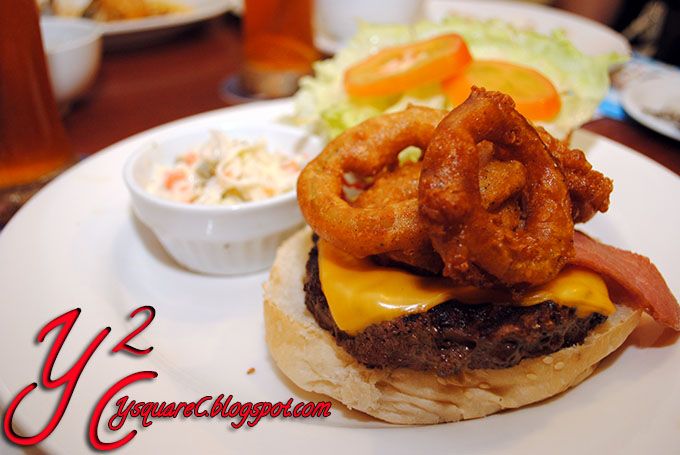 Guacamole Bacon Burger
Le boyfriend ordered it. The portion is so big that he decided that he gonna waste the bun. The beef patty is very thick. If you plain to have this, you don't even need any appetizer or dessert!


Maple Glazed Salmon
Originally, I wanted to order this, but a friend of mine already order it, so I though why not order different stuff so that we could all try more stuff? End up, I was disappointed, I should have choose the Salmon. I tasted a bit, it was superb. Highly recommended.
(there are more main dishes such as
Chili Cheese Burger
,
Chicken Enchiladas
,
Class Cheese Enchiladas
,
"Lone Star" Burrito
,
Tex-Mex Burrito
,
Chicken Chimichanga
,
Prawn Chimichanga
,
Chika Boom Boom
,
San Antonio Chicken
,
fish and chips
, etc)
Dessert: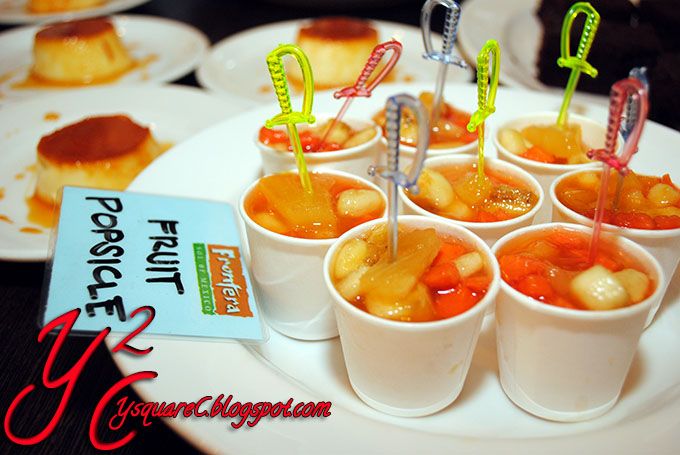 Fruit Popsicle


Brownies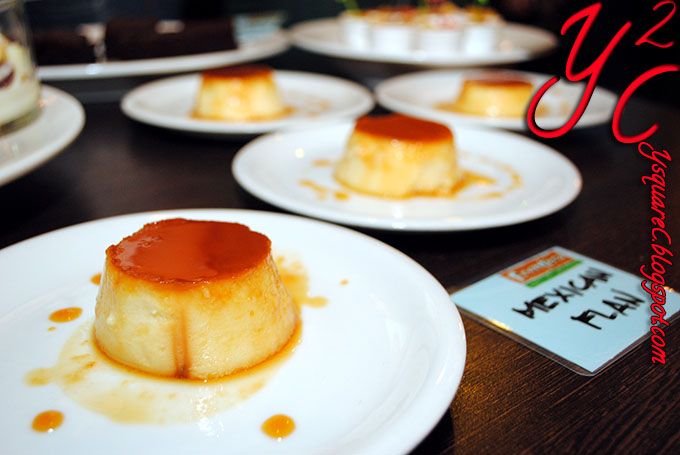 Mexican Flan


Fiesta de Fruita
I tried this one. The milk is too creamy to my liking.
(more:
churros
,
tres lechas cake)
Overall: 8.5/10 [My advise is, faster go grab your chance to try their Ramadhan buffet menu as it will end on 18th August.]
Taste bud indulgence: 9/10 [Some of the food are really great, some are just so so. But seeing the amount and the variety of the food, you can choose food that u prefer and dodge the one you don't like, so it's still win win]
Purse Saver: 8/10 [It might be very expensive for everyday dining, but once in a while, or a celebration with a group of people, it's totally worth the pennies]
Location: 7/10 [It's pretty easy to locate Frontera in Jaya One. The only problem is that area is very jam during off working hour. I wouldn't bare the jam to dine here, but for those who stay near by, you are definitely lucky]
Service: 10/10 [Very Fast, buffet]