How was your fasting so far? According my Muslim friends, fasting is suppose to remind them to control/suppress their and appreciate what they have.

If what I understand is correct, then this might be what you are looking for in this holly season of Ramadhan.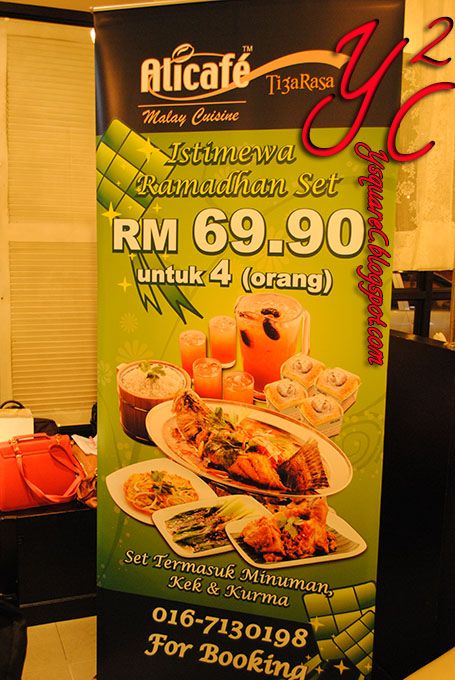 RM69.90 Ramadhan set for 4
Courtesy to Nuffnang and Ali Cafe, I was invited to a food review session with other blogger for a Buka Puasa session.
But wait!
Who, what? Ali Cafe?
Never heard before? Chill!
Alicafé Tigarasa Restaurant is Power Root Berhad's latest venture into the culinary business. Alicafé Tigarasa started serving its offerings of Malay cuisines since the end of December 2011. With its "English Malay classic modern" interior design, a cozy atmosphere is prepared for customers to enjoy truly Malaysian cuisines.
View Larger Map
Address:
No.8, Jalan USJ 10/1H,
Subang Business Centre,
47620 Selangor Darul Ehsan.
Business Hours:
8.00 am – 12.00 midnight
Website:
http://www.alicafetigarasa.com.my/
Email:
alicafetpn@powerroot.com.my
What's make it even special is "Tigarasa" which stands for the uniquely prepared traditional Malay sauces – Sambal Lemak, Gulai Lemak and Sambal Udang Geragau (Hebi-Hiam).
Acoording to AliCafe Tiga Rasa, this is how they explain the 3 flavours.
Gulai lemak is a Malaysian favorite with creamy coconut sauce as its main flavor. The taste is greater enhance with the blend of kunyit hidup, sambal and lemongrass - a popular sauce with great demand.
Sambal lemak is a classic Malaysian favorite. A Malaysian meal is incomplete without a dish featuring this evergreen sambal. This aromatic spiced robust sauce is made by chilies, garlic, coconut milk and blended with other flavorful spices.
Sambal Hebi-Hiam is prepared by delicious dried shrimps, curry leaves, onions and garlic. The taste is simply marvelous with a strong aromatic smell. Add extra cili padi if you're bold enough for an extra kick!
I guess, by now you have know a bit knowledge about this place, so why don't I tell you more about the food? Since that is my ultimate job :)
The RM 69.90 set includes rice, date drinks, 4 dishes and dessert (Hokkaido cake)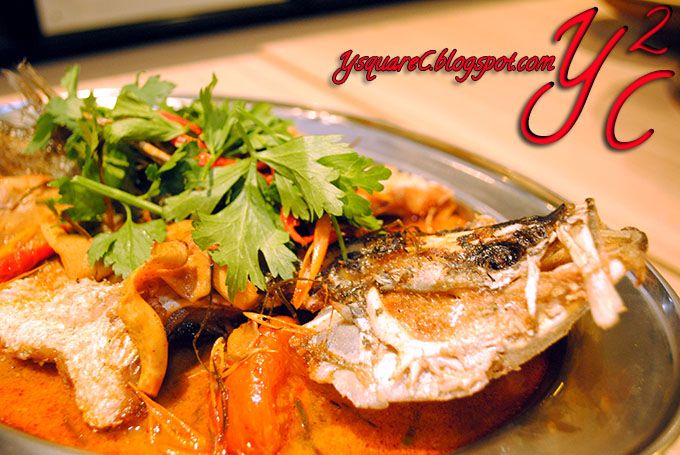 Siakap Tom Yam
Not the freshest Siakap but we are not on the seaside, so I can accept that. The Siakap (barramundi) is fry to cripsy golden brown, then covered with thick Tom Yam Sauce. To my surprise, the Tom Yam sauce wasn't sour, the sweetness is some how balanced with the sourness which makes it perfect.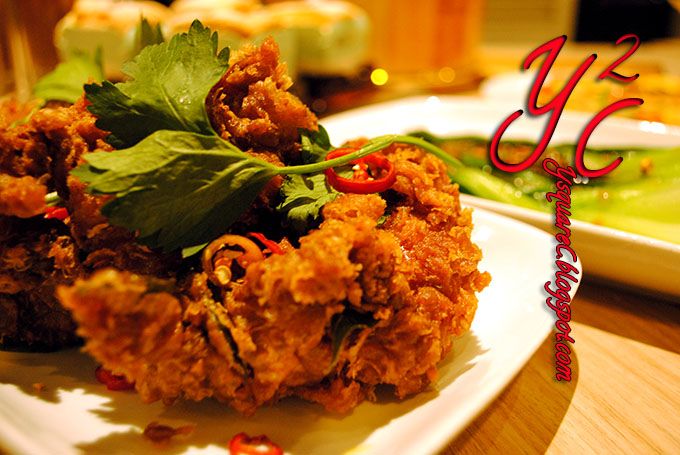 Fried Chicken
I really have to apologize big time for this >o< After the chicken was served, everyone grabbed a piece and I got none.... so I can't really comment. If this is consider a tips, the blogger on the same table praise it, so I guess it must have some extra-ordinary content to win those fussy blogger's heart.


Vegies
Normal vegies, nothing to shout about.


Omelet
Sorry to say that I can make better omelet than this :(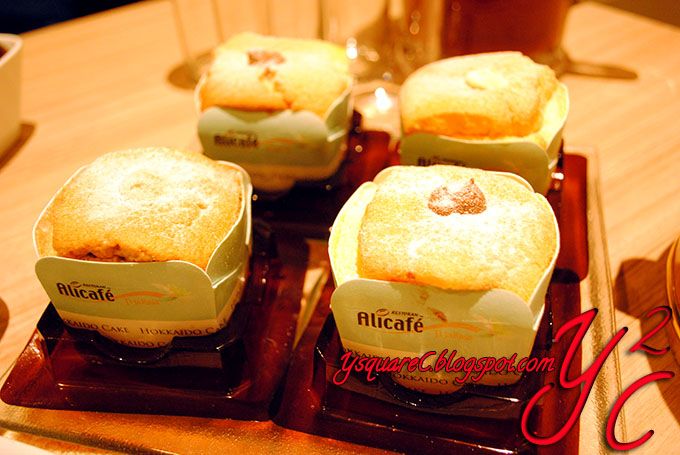 Hokaido cake
This dessert is suppose to be in the set, but the owner has prepared something even better for us. Will review end of the post.

So, the above dishes are from the RM69.90 set. The set is enough to feed 4 person. The blogger comes in a large group, so the owner offers us other signature dishes too.


Kari Kepala Ikan
The freshness of the fish head isn't any better than Siakap. The soup is not thick enough to my liking.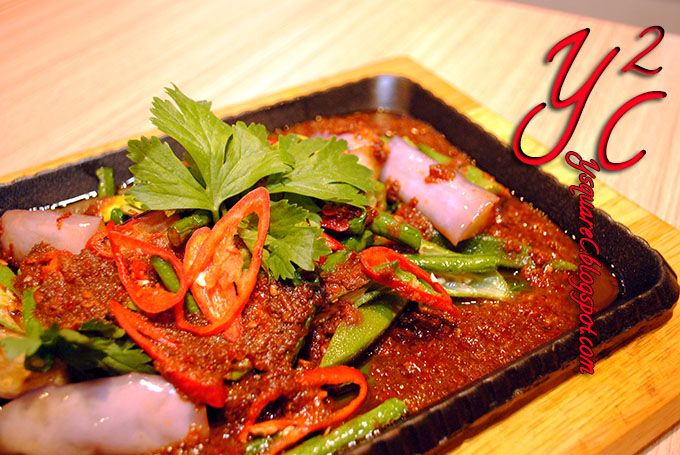 Sayur Panggang Sos Sambal Hebi Hiam
Don't get offend by this, upon my limited knowledge, Hebi Hiam is a Chinese delicacy, whereby Hebi Hiam mean salted shrimp in Hokkian (a language used in Fu Jian district, China). As half a Hokkian, I love when my grandma prepare any dishes with hebi hiam. As she grows old, he rarely cook. This dish reminds me of her. If you have low tolerance to savory dishes, this might not be your choice.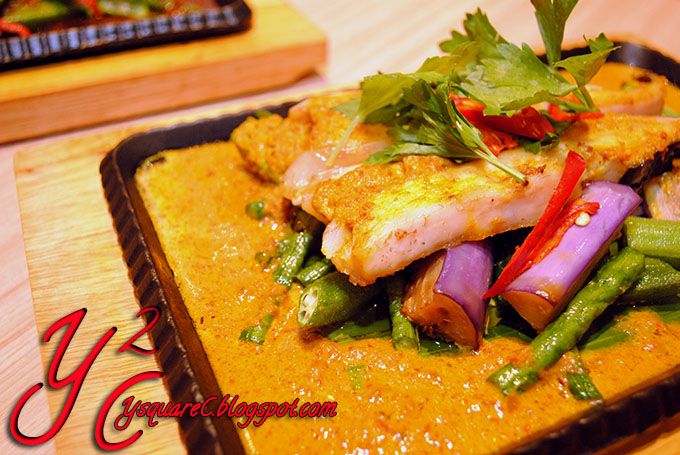 Ikan Pari panggang sos gulai lemak
The Ikan Pari was among the freshes fish I taste that night. Many of them does not like the fish skin and the soft bones, but I ate it all. Sos gulai was creamy and thick.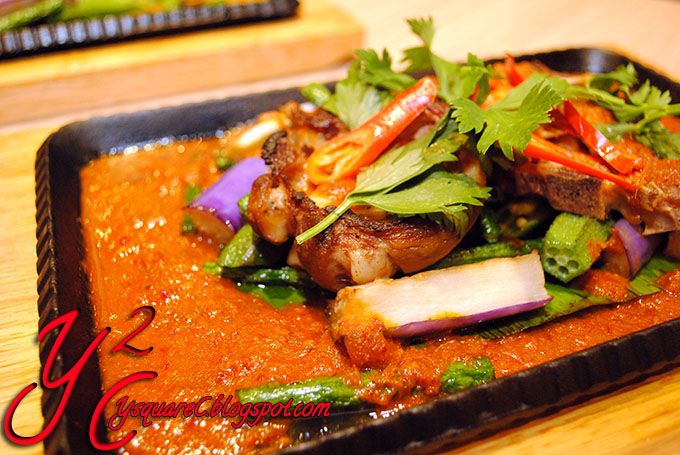 Lamb chop panggang sos sambal lemak
The lamb is super tough. I gave up after standing up 1 minute trying to tear (yeah litherally tear) a piece out. The side vegies are still great thought *thumbs*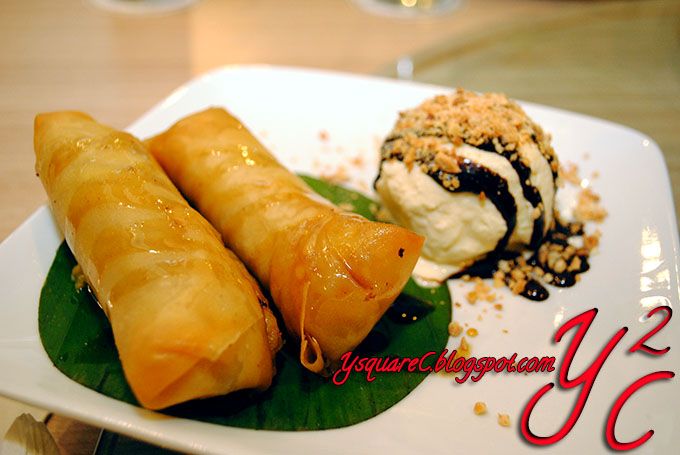 Instead of Hokaido cake, the owner introduce their recommended dessert, the banana wrap. I don't particularly love banana but I this my favorite food on the night. The choice of the banana is very important.I can't identify the species of the banana, but what I can tell is, the banana is firm, but not solid, sweet but not vicious. The skin was fry to crispy, but that does not affect the banana. I suspect they
freeze their banana roll before frying it, just like how we fry ice-cream.
Overall: 7/10 [Not a bad choice for buka puasa if you can beat the jam]
Taste bud indulgence: 9/10 [No doubt the 3 signature sauces are incredible no matter what ingredient is used to cook with ]
Purse Saver: 5/10 [I seriously thinks that the RM69.90 is a bit small in size for 4 person]
Location: 5/10 [In Subang Taipan, which is famous for it's jam =.=]
Service: 8/10 [I saw a lot chinese waiter and waitress that night, and the owner admit those are part time.So the services I get tonight does not reflect their usual services.]