If you are 18 years old and or above, you better be prepare, coz October is now! Doesn't ring a bell? It's Oktoberfest! It's all over the world, so are Malaysia. We celebrate with beer and only beer! Imagine a chill Paulaner in a special edition Oktoberfest mug! Yeah, that's the spirit of oktoberfest!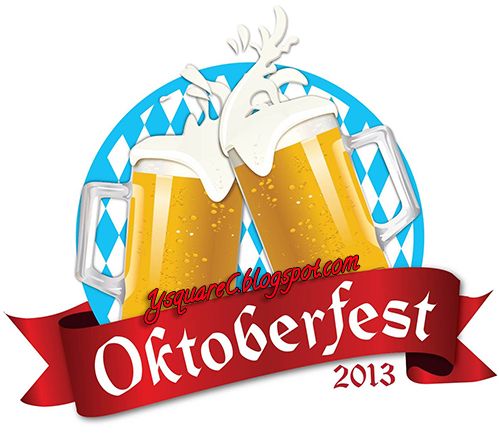 Oktoberfest Facts & Figures
1. This celebration initially started as wedding celebration in 1810 to commemorate the union between Crown Prince Ludwig (who later became King Ludwig I) and Princess Therese of Saxe-Hildburghausen at Theresienwiese (translated as Therese's meadow / field) – it is for this reason that Oktoberfest is referred to by Germans as 'die Wiesn' or 'the field'
2. Through the years, Oktoberfest celebrations have had a number of different elements and activities, including horse races, street parades (in traditional costumes), live music, dancing and of course the appreciation of authentic Munich-brewed beer.
3. Currently, Oktoberfest is a truly global celebration with almost 7 million visitors consuming over 7 million litres of beer and more than half a million chickens throughout the celebration (based on 2011 figures), which lasts between 16 – 18 days from the middle of September to the first Sunday of October.
4. For 2013, the Oktoberfest festival proper will run from 21 September 2013 to October 6 2013 – a total of 16 days of culture, cuisine and beers
What Makes An Oktoberfest Beer?
1. All Oktoberfest beers must be brewed within the city limits of Munich and must also conform to the Reinheitsgebot or Bavarian Purity Law which strictly governs the production of beer in Germany by limiting the ingredients that can be used
2. All Oktoberfest beers are approximately 13% proof (about 6% alcohol), meaning they are a little bit stronger than their "non-Oktoberfest" variants
An Introduction to Paulaner
1. Paulaner was first brewed by monks from the Paulaner monastery in 1634 making it almost 380 years old – however it is still the "youngest" of the Oktoberfest Beers
2. Unlike the rest of the Paulaner range, Paulaner Oktoberfest Bier is not a wheat beer but instead a lager.
3. Paulaner Oktoberfest Bier, like all Oktoberfest beers are approximately 13% proof (about 6% alcohol), meaning they are a little bit stronger than their "non-Oktoberfest" variants
4. At the Oktoberfest celebration, each Oktoberfest beer operates a number of tents which provide different drinking experiences. Paulaner is famous for three widely popular tents, namely: -
Armbrustschützenzelt – 'Armbrust' means crossbow and this tent certainly lives up to its name with a crossbow shooting range available for more than 110 years
Käfer's Wies'n-Schänke – this is a smaller tent that gets VIP visitors from all over the world and serves signature gourmet food such as "Käfer-Duck" and a roast saddle of venison.
Winzerer Fähndl – This tent is also popular amongst VIPs due to its attention to detail, celebrated oompah band called "Nockherberger" and iconic tower with a giant mug of Paulaner sitting atop it
Check out Official
Oktoberfest Malaysia Facebook Page
(
www.facebook.com/OktoberfestMY
) for more info!
[Note: This is an advertorial]