Hey all, its been a while since I blog. Was busy with the Final Year Project. Just presented it but not yet finalize my thesis. Still something here and there.
As I was planning my return of my studies, I found a very interesting baking workshop:
The event '
Flavours Baking Workshop with Palm Oil by Chef Catherine Lau
' will be held on
30 June 2012
from
1.30pm - 4.00pm
at
D'Umami Station
(Ajinomoto, Jalan Kuchai Lama, Old Klang Road.
Tickets are sold at
RM50 for Flavours suscribers
and
RM70 for non-suscribers
.
There will also be goody bags up for grabs for all participants. too!
I will be attending.
If you are interested too, please please call Events, The Star 03-7967 1388 ext: 1240 for tickets or more information.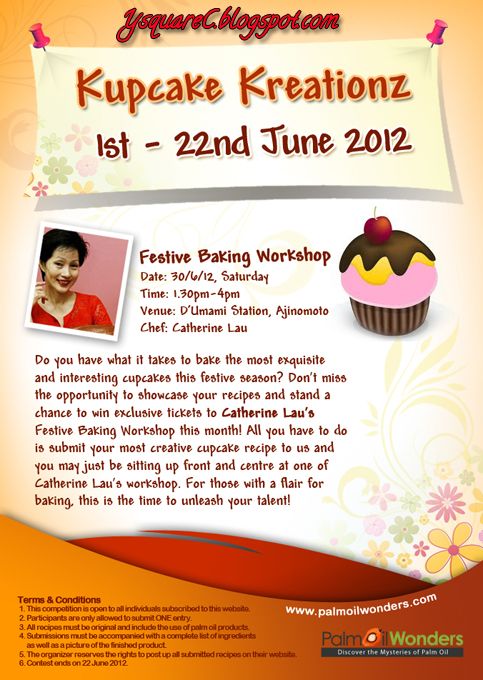 The competition is basically looking for the most interesting and unique cupcake recipe.
All the participants have to do is submit their recipe along with a picture through the website and stand a chance to win tickets to the workshop!!
If you want to go to the Flavours Baking Workshop with Palm Oil but you are kiamsiap enough (like me) and don't want to pay the tickets, you should join the 'Kupcake Kreationz'.
I should excuse myself fir now as I should start to learn baking and come up with the world best cupcake! XD