Do you smell something? Do you smell the sweet scene of dates, the heavy herbs on Kambing pangang, or the alluring santan(coconut milk) on nasi lemak? If you don't, you sure will, because Ramadhan is just around the corner. Every year, I keep reminding myself to try all these great Malays specialties during Ramadhan, else I have to wait one more year for it!
Not sure I am super lucky or Ramadhan is coming really early this year. Courtesy to Rebecca and Pj Hiton for inviting me for the Buka Puasa (breaking fast) in Paya Serai Restaurant even before the Ramadhan month started.
This year, Paya Serai is going back to the very essence of "kampong" style cooking by incorporating classic Ramadhan dishes as well as new signature, created by the hotel's Malay chef, Cheft Noor Hisham.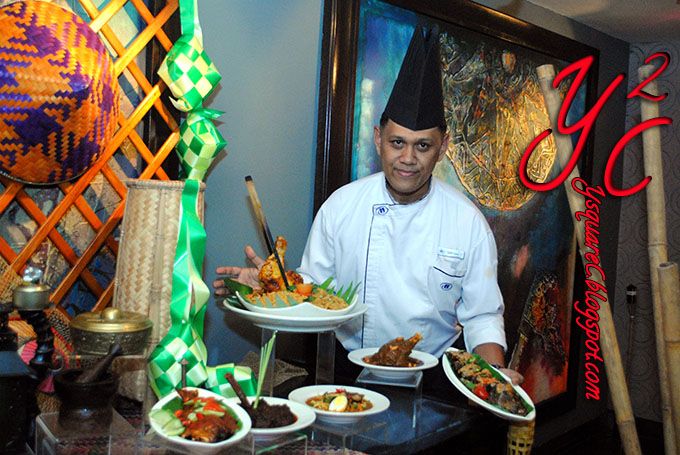 Chef Noor Hisham is the Malay Chef of Hilton Petaling Jaya. He is responsible for the concept and quality of Paya Serai restaurant and heads a team of 4 staff under his leadership at the signature restaurant.
Chef Hisham brings with him more than 20 years of experience, infusing flavors and cooking techniques from Asian and European influences into his culinary repertoire of traditional and contemporary Malay cuisine. His signature dishes include Rendang Tok - succulent beef portions traditionally simmered with spices and coconut milk and Nasi Bokhari - Basmati rice seasoned with fragrant spices and chicken. Chef Hisham uses exquisite blend of spices, textures and ingredients to create Malay cuisine with unique flavors.
For his achievements in Malay cuisine, Chef Hisham was awarded Bronze medals in the food carving competition in 1996 and the Hot Cooking Team – Nyonya Cuisine in 2010 for the Malaysian Food Festival (MFF) organised by the Malaysian Association of Hotels. In his 20 years career, Chef Hisham has worked in Japan, Sri Lanka, China and France.
Hailing from Taiping, Perak, Chef Hisham is married with children. His other interests include reading, travelling and listening to music.
In keeping up with the new look and feel of the recently reburbished Hilton PJ Chef is presenting new dishes to mark the fresh, new and vibrant outlook of the hotel, inspired by each chef's home town. The new signature dishes including:
Sup Gear box
Chef Noor Hisham explained that the soup is named over gear box before the beef shank looks physically like a gear box. Its taste is very similar with sup tulang, except its flavor is more harmony and the beef is SO SO SO tender. The combination of garlic, onion, pepper, shallot, star anise and etc are the foundation of the flavor. It's is salty, it's sweet, it's a bit peppery, a bit aromatic, every flavor is just appropriate w/o covering the beef's natural scent. The beef floss can be easily pulls off with a fork yet still attached to the soft lipid. The beef literally taste like diary product. I am a big fan of dairy products like cheese, milk, yogurt but I never liked beef. I dodge every beef product that served to me, if invited (or forced), I will only take a tiny amount. After having Cheft Hisham's Sup Gear box, I think I am having a 180 degree of view change towards beef. I can't believe I am saying this:
Mee Rebus Tulang
Haven't have chance to try it out, so comment is still pending.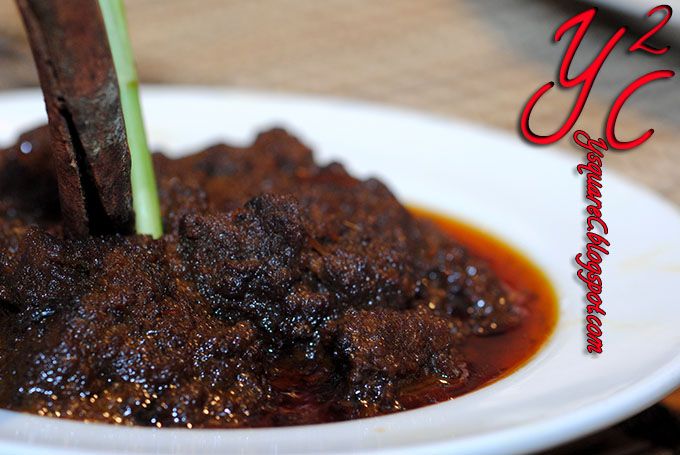 Lamb Shank Beriani
This dish doesn't give me such a big bomb like the Sup Gear Box. It's just mediocre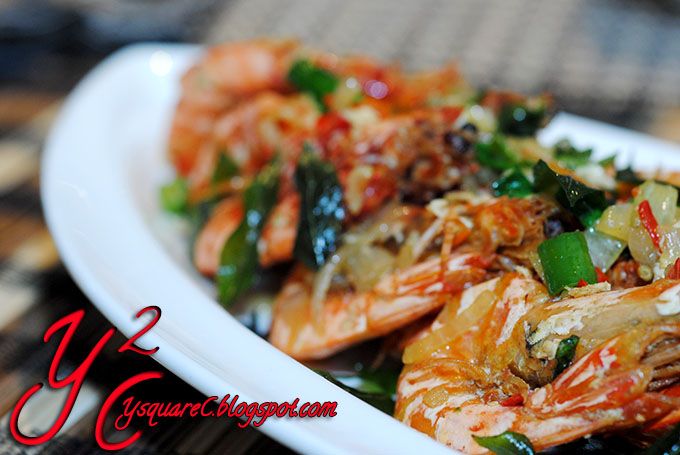 Udang Goreng Daun Kari
It's spicy, it's crispy, it's dry but I just can't name what's wrong. Not the best, not the worse. Similar with Chinese Kam Heong Fried Prawn, but less salty.
Ikan Patin Bakar Tempoyak
I love Patin. I love the soft lipid on Patin tummy. Sometimes, Patin lipid can carry a strong fishy smell if not fresh. Cheft Noor Hisham explained that these Patin here is cultivate from the river, not from pond. These patin has less fats and doesn't carry muddy smells like those wild Patin from pond. I don't like my fish to get over cooked and dried up. Cheft Noor Hisham mastered the time of cooking the Patin very well. It's thoroughly cook, yet the fish is still soft and retain its nature moist within the floss.
Although the new dishes are the features for this Ramadhan, the team at Paya Serai will not overlook popular dishes that have kept people coming back for more every year.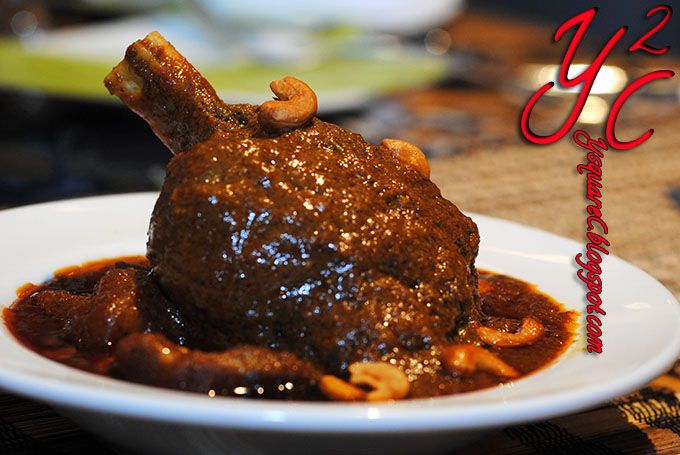 Daging Rendang Tok
Bubur Lambuk.
I don't understand what's so special with porridge of beef and dried shrimp. It's tasted mediocre for me. Not my first choice in buffet.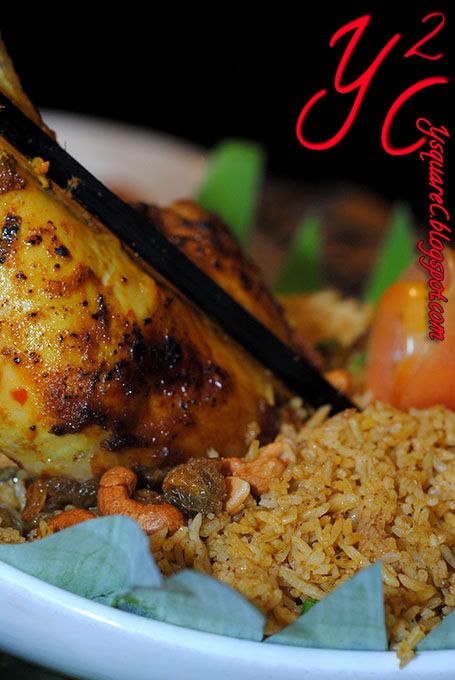 Ayam Percik + Nasi Bokhari Ayam
The Ayam Percik is my most anticipating dish whereas Nasi Bokhari Ayam is my favourite dish on the whole night. Ayam Percik's skin is very thin. All the fats are evaporated during roasting, the remaining meat is so soft it kinda melts in your mouth under very little pressure. Even if you are on a strict body building diet, ayam percik is more suitable for you than any other dishes around. As for Nasi Bokhari, the solid basmati rice was well seasoned with spices. The most pleasant surprise in the Nasi Bokhari ayam is actually the ayam (chicken) itself. Correct me if I am wrong, they only use chicken thigh, which is the most firm and fatty part of the chicken. The chicken skin was not removed, so the chicken fat was infused into the rice. Awww… I missed it already!
Ikan Terubuk Panggang
I don't particularly like Ikan Terubuk due to its excessive amount of bone, so I don't really like this too no matter how awesome it was marinated or grilled. I might be biased, I'll let you to decide.
Although these 10 dishes are the highlight this year , wide selection of appetizers, main course and desserts are also available which you might probably aren't able to finish trying it at least not in a few breaking fast session. No, I am saying you have a small appetite; you have to come see it for yourself.
Fruit with chocolate fondant
Various Malay Kuih. The yellow one is durian flavoured. Watch out if you don't like durian.
Pasty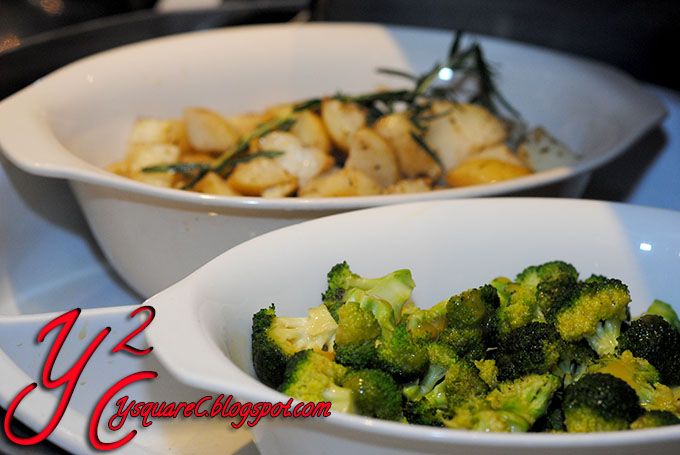 Broccoli with Mixed Mushrooms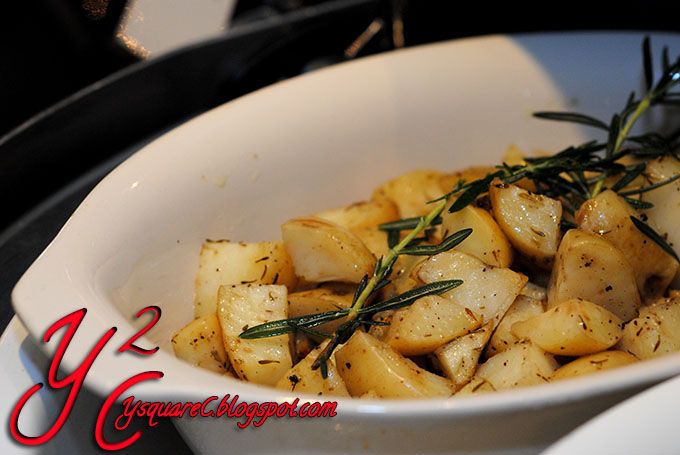 Roasted potato with Gherkins
Pan Fried Fish Fillet in Butter Lemon Sauce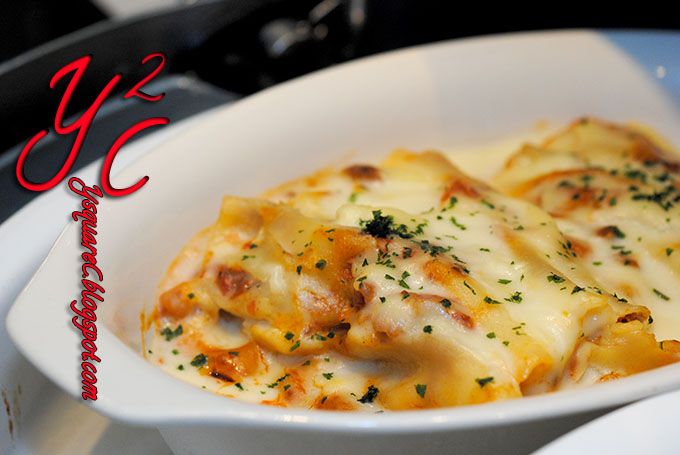 Chicken Lasagna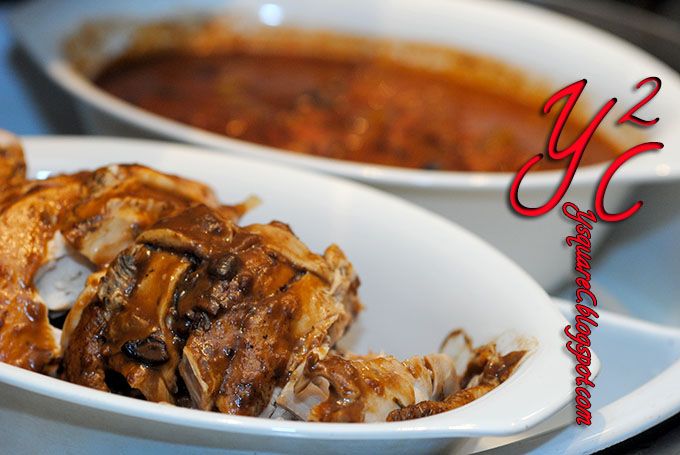 Chicken with Rosemary Sauce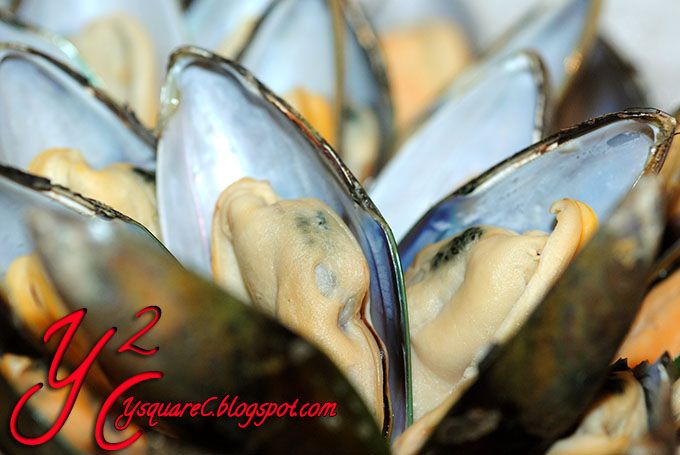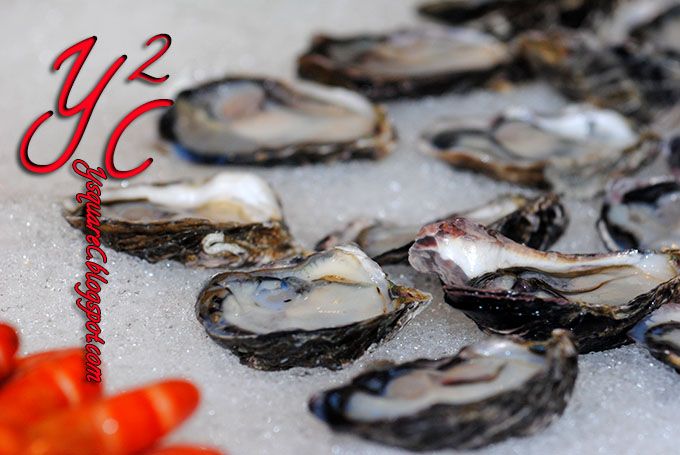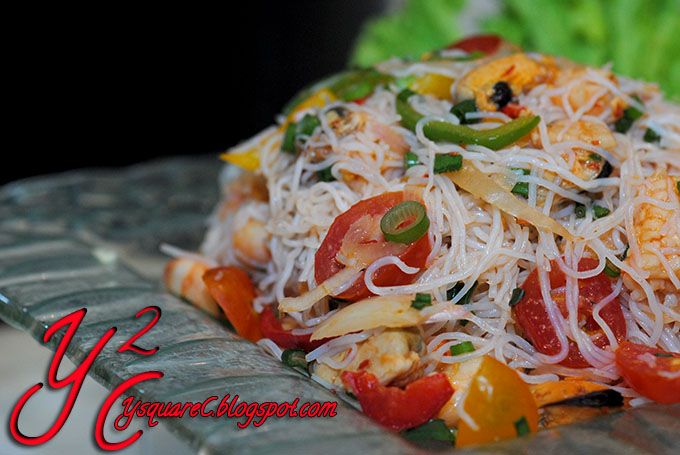 Mixed Seafood Salad
Chicken Salad
Apple Salad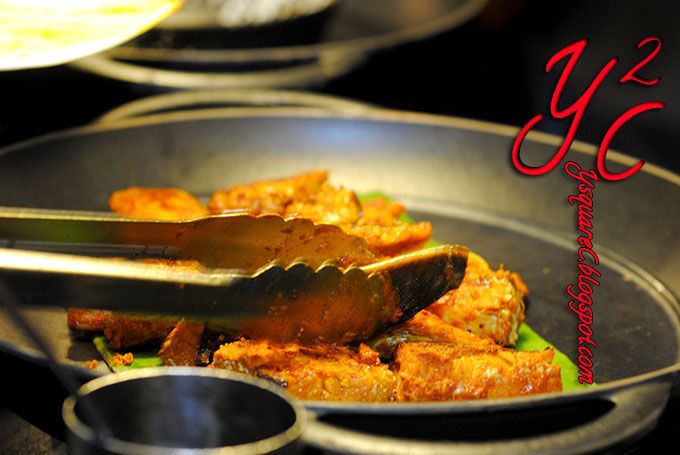 Grill Fish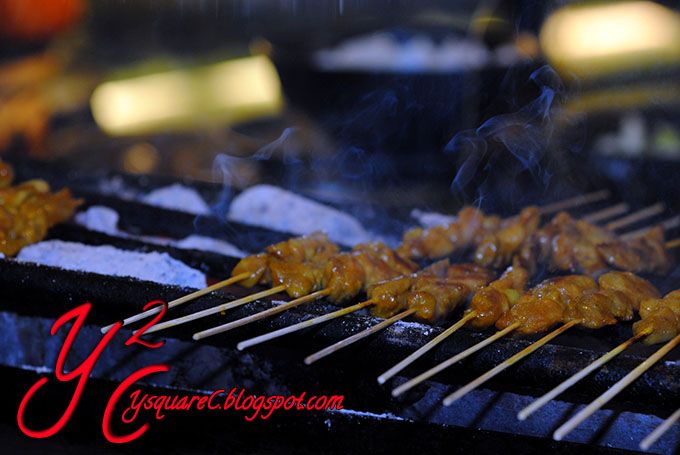 Satay
Note:
This blog post is also feature on
thanks to Rebecca Saw. The post is available at:
http://www.rebeccasaw.com/ramadan-buffet-and-buka-puasa-at-paya-serai-restaurant-pj-hilton/