I am lucky to gifted with a very sensitive tongue to taste all the good food in the world and grade them. But something really grin my gear is the wide gap between my teeth. I keep getting vegies stuck in between. And you know what is worse? Stains! Chocolate stain! I will not have one day enjoy Chocolate dessert carefree w/o worrying those chocolate stain on my teeth and could later transform into tartar or decay T__T
And just last week, I was invited to a Blogger Brushing Day organised by Systema.
It was a TRAP! :( The treat us tastey food just so later we can brush our teeth to test out their brushes. OH fine~ not like brushing can cause my any harm.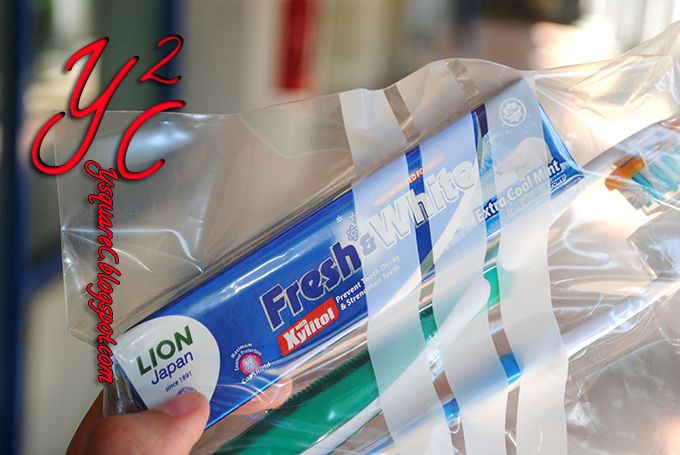 So I took the resealable bag that consist of toothpaste and 2 toothbrushes.
The left one is labeled as "Slim" and the right one was labeled as curvy.
I used the Slim to brush my left jaw (picture on the left) and the curvy to brush my right jaw(picture on the right).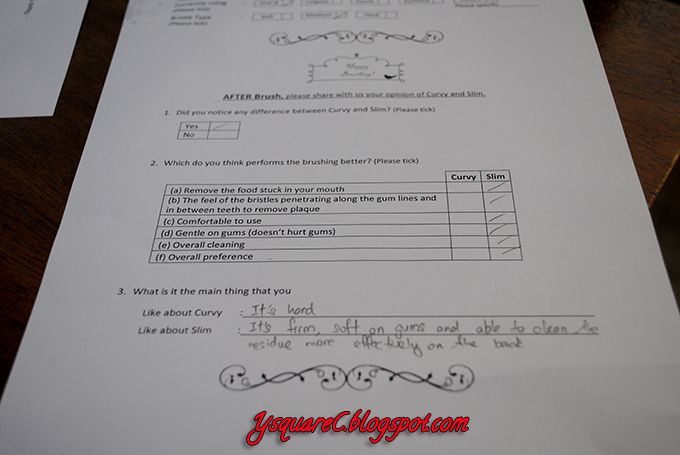 And first I thought
"meh... the slim one should be the cheap one, the handle is so flat, the curvy however is so fancy, Systema must be promoting the curvy one so the curvy one must be their product"
Out of my expectation, I love the Slim one more =.= I was like oh sh@t Sh@t... how should I tell them >.< Let's just keep quiet first then...but then, I keep feeling something trapped on my right wisdom teeth on right jaw and my right jaw feel so pain almost like wanna bleed, then I think again, is this a trap?
When the bloggers are all back to the room from brushing, Miss Goh Cheng Looi, Senior Brand Manager from Southern Lion Sdn. Bhd. starts her talk. FYI, brands under Southern Lion include Systema, Top, Bio Zip, Active Guard, SHokubutsu, Fresh & White, Kodomo Lion and etc.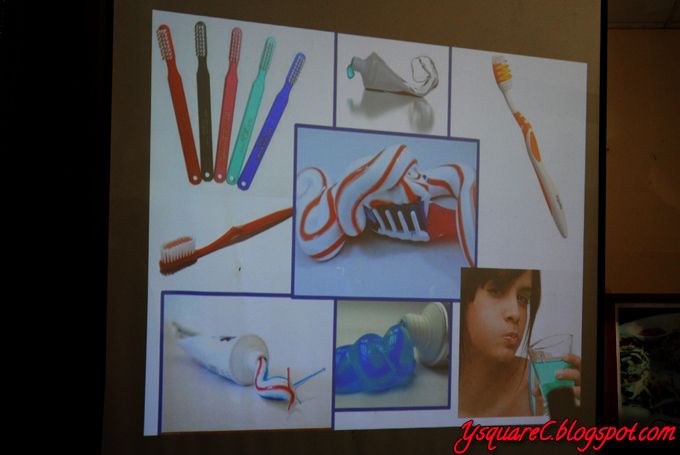 Miss Goh starts her presentation by asking us one oral care item between mouth wash, toothpaste and toothbrush, that we will bring onto a isolated island. If you choose mouth wash, there will be one day finish and mouth wash is only supplement for oral care. If you choose toothpaste, but you don't have toothbrush, you can't brush your teeth also. SO, it came to a conclusion that toothbrush is the most important oral care product!
In the market, there are generally 3 kind of bristles.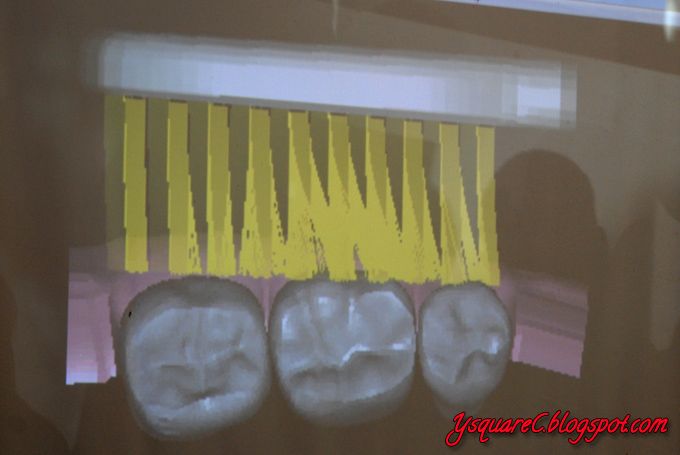 Flat straight bristles is the most common one, but the simulation video shows the bristles aren't able to penetrate in between the teeth to clean out the residue.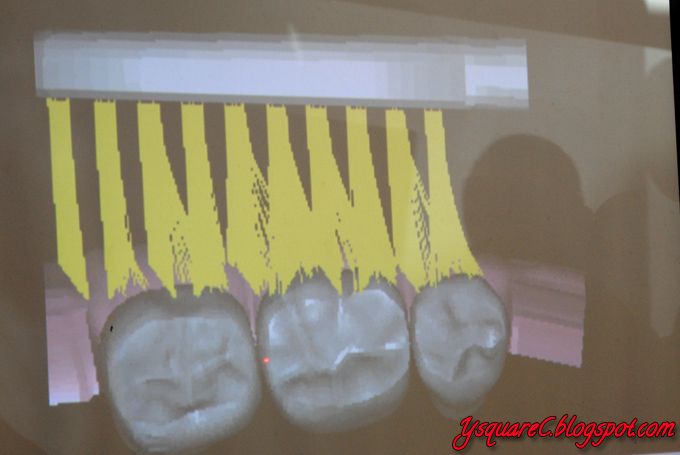 Curvy Bristle is considered the high class toothbrush the the market. It can penetrate to the gap, but only very narrow.
As for Slim Bristle, it is so slim that it can goes deep into the gap between your teeth to clear everything out.
So, the slim bristle should be the best among these three.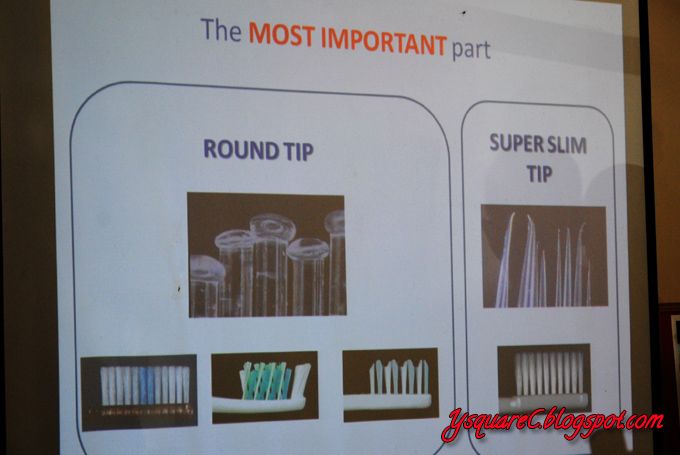 Not to forget Flat and curvy bristles has round tip,
slim bristles are able to reach into the hard to reach gum-lines.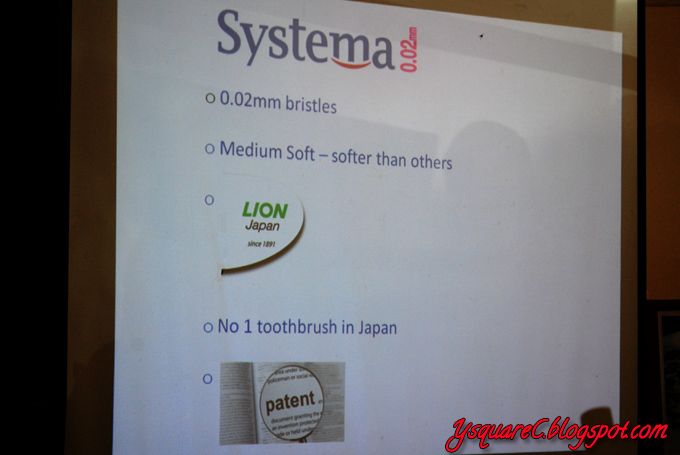 No wonder Systema 0.02mm bristle is the no. 1 toothbrush in Japan.
On the other hand,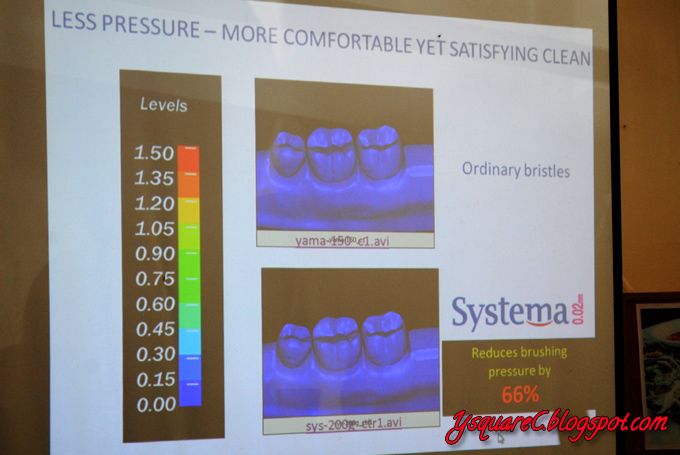 Systema also did a simulation on the pressure level towards the teeth using different bristles.
Ordinary bristles apply a lot pressure to the teeth but not able to goes into the gap between the teeth. As a result, it might cause the tooth protecting layer to become narrower.
With Systema slim bristles, the pressure on teeth is not only lesser but more consentrate onto the gap which residues located.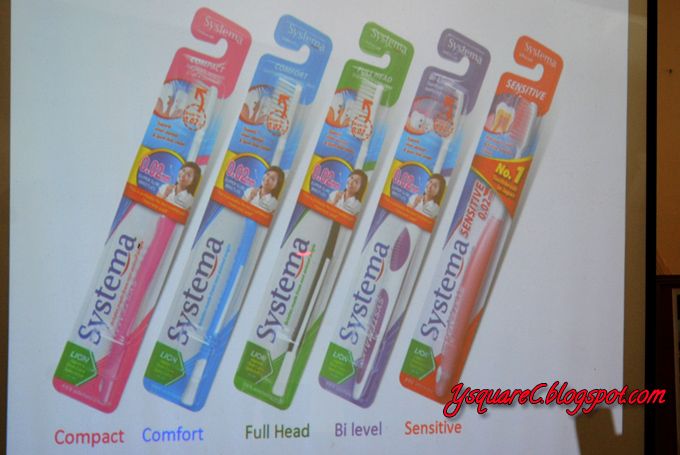 Currently, Systema has 5 different type of toothbrush to cater all different needs.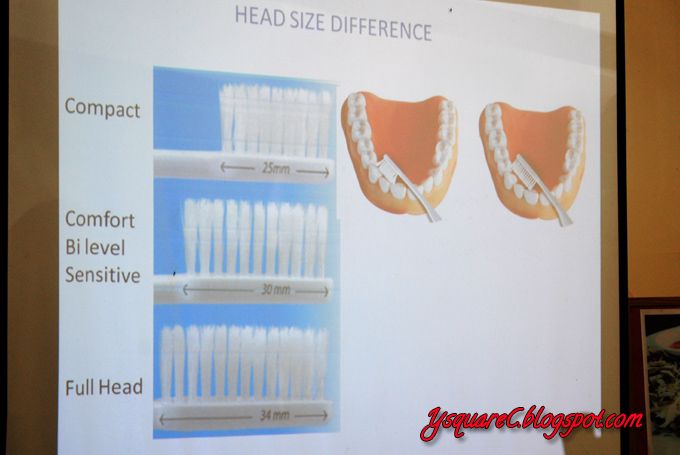 Compact has the shortest head legth(25sm), Comfort Bi Level Sensitive has 30mm while Full Head has 34mm.
Out of curiosity, I took the demo 0.02mm Systema toothbrush and took some picture. As a food blogger (cough) I always have a micro lense carrying around with me. Under 100% crop, the bristle can be see clearly, how small it is!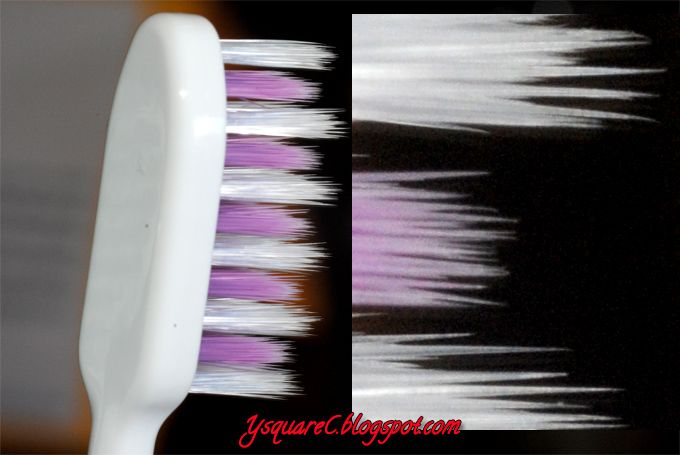 The bi-level bristle is also a charm.
I feel like I learnt to much during this event. To top things up, Systema sponsored us 1 year* supply of toothbrush and detergent.Thanks Systema and Southern Lion
* 3 months to change toothbrush once, so brushes is for 15 months. I am currently using the Top detergent and 1 pack is equivalent to 6 months, so 2 types equal 1 year?
I took the opportunity to learn more about their brushes and tried it out again.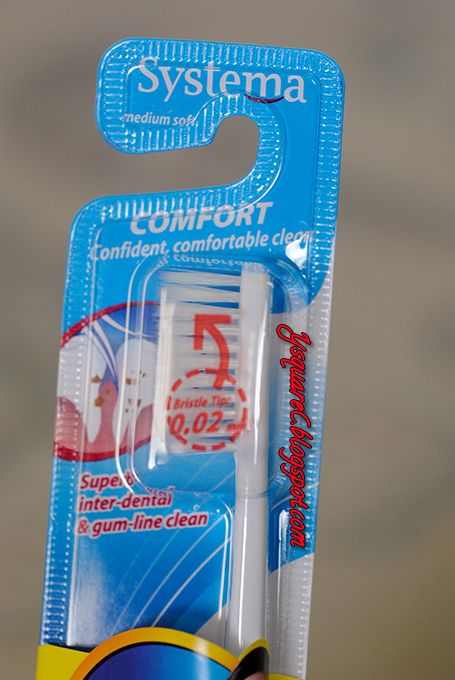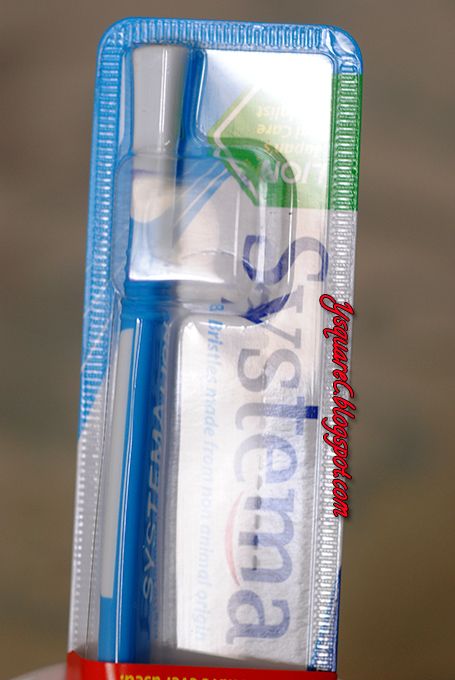 Systema Comfort has regular head size toothbrush for a more comfortable clean.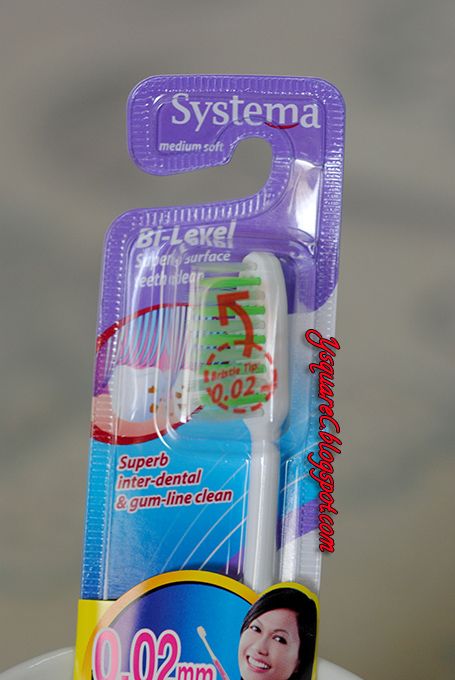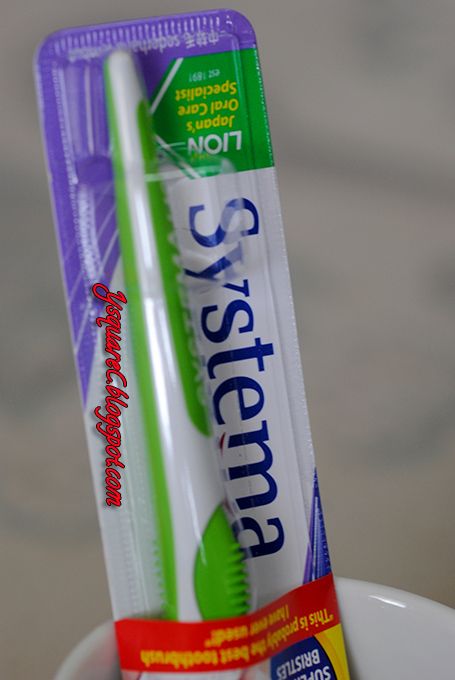 Systema Bi-Level has 2 level bristle. Helps to clean the surface of the teeth, in between teeth and along the gum-lines superbly.
Systema Sensitive has super slim 0.02mm bristles, plus ultra soft convex turfing bristles and fully rubberized handles. It is specially designed to control the pressure and relief the stress for sensitive teeth sufferers, for a soothing and comfortable clean.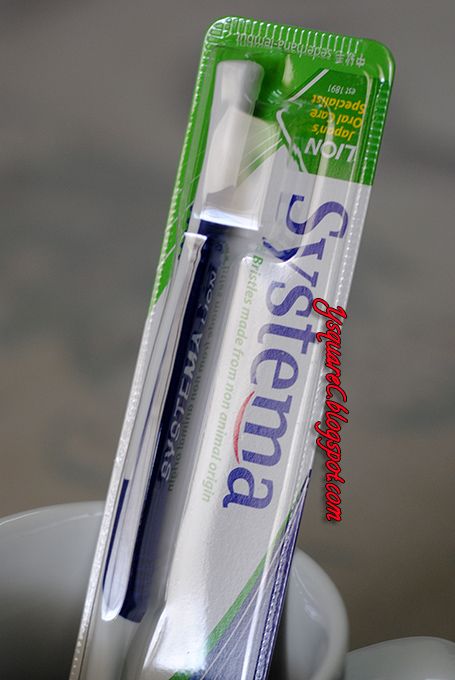 Systema Full Head is similar with Comfort but with 34mm head.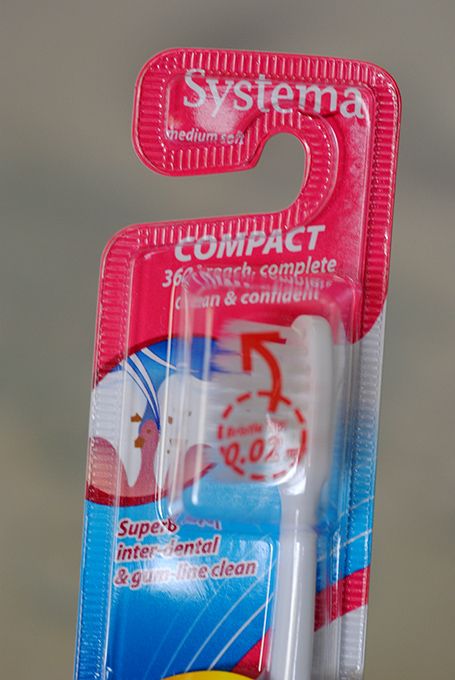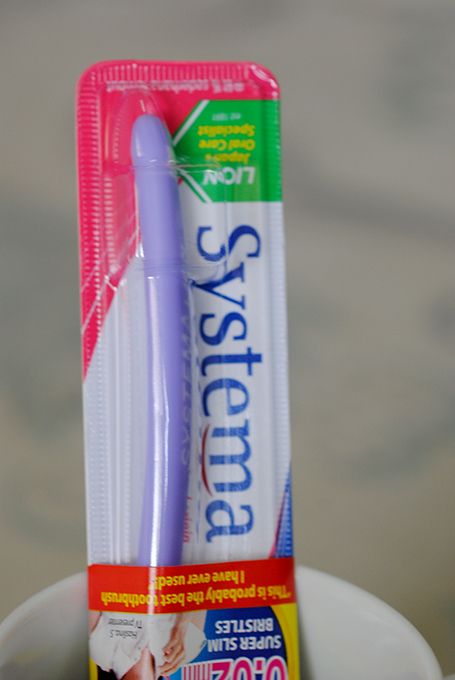 Systema Compact specially designed with small or compact head size to reach and clean every part of your exposed teeth easily.
With my new knowledge gain from this event, I can't wait to try the slim bristles again this time with the compact head, despite my current toothbrush will be able to last for another month. Compact doesn't mean not good. The head is smaller so it's easier to reach smaller place like the end of the jaw where the wisdom teeth belong. I think I am totally in love with Systema and don't plan to change my toothbrush for a very long time. After I tried Systema, I can't go back to my previous toothbrush brand again.
After hearing so much from me, are you interested to try it out?
For a limited time, SYSTEMA is sponsoring a facebook page called
KEEP SMILING
to giveaway free toothbrush to fans
Just :LIKE
KEEP SMILING
and answer a few simple question to get yourself a free toothbrush. More info here:
https://www.facebook.com/KeepSmilingMY/app_129370140600120
Since I already have my 1 year supply, I don't plan to fight with you for the toothbrush, but I should warn you:
Systema toothbrush is HIGHLY addictive, once you commit, you might not turn back to other brand. Beware~