Guess where am I now when I am blogging this? I am hanging out here, in Lammeeya! I know right, if you have been in Lammeeya, you will probably think like Lammeeya is a lunch or dinner place, not really a place for tea or do your stuff during a lazy afternoon. Instead of going to Star---- or Old--- or Austin-----, I stay in Lameeya Publika after my food review do type this. Out of my expectation, their Royal Milk Tea is REALLY awesome. The environment is quiter than most major cafe, which is like so conducive for blogging or doing any stuff that need highest concentration *cough* On the other hand, they also have an Alfresco dinning area which is also pet friendly.
This is not my first time in Lammeeya. I have been in a few different Lammeeya branch all over Klang Valey(ptown Damansara, Empire Shopping Gallery, 1 Utama Shopping Center & Paradigm Mall) but never blog about. I thought like, yeah I love this place a lot, but every time I only like order 2 things, drinks and main course, never had chance to stay all their stuff. Thanks to Pam and Nuffnang Taste Buddies, now I get my chance *grin*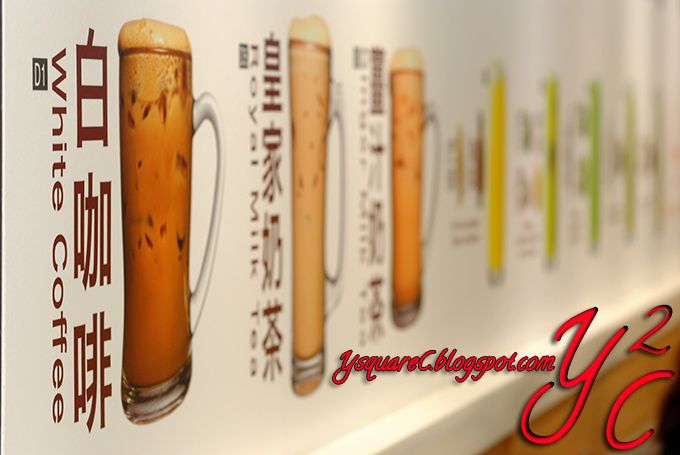 Like almost every branch, they has their walls covered with their menu(except price).
It's so colorful, so energetic, makes me wanna go back so much!
One of the owner insist that we must try their coffee or tea. Heavy flavor drink isn't my first choice whenever I go to food review. I will try to choose something light that can cleanse my taste buds.
(update: Later when I stay back, I ordered a hot Royal Milk Tea 皇家奶茶
and it's really great. I go so well with the cookie. I feel like I will be back next time with my own crackers coz 1 piece is really not enough)
SO I ordered Ambola Perserved Plum 红毛沙梨酸梅(RM 6.80)
It's very refreshing. Other restaurant always add in artificial acid to mimik the soury taste but this drink definitely not the case. I can feel it's micron sized Ambola particle. I am not sure it has any artificial addictive, but it does taste very natural to me.
Lam Yee Mee 淋伊面 (Ala Carte RM 10.80, Set with drinks and Meat Ball & Fried Fooo Cheok RM 13.80)
Usually, when I am in Lammeeya, I will order the signature Original flavour Lammee. The Chili is the BOMB! If you can take on some spicy stuff, you can definitely try to dip some meat balls into the chili that comes with the noodle. IT IS REALLY NICE! MUST TRY! I RECOMMEND IT!
I remember the last time when I was having Lammee in Publika, I got almost like 100 likes or something.
Done with my responsibility of digging out my old photo. Your responsibility is to click the photo and like it AND follow me in Instagram:
http://instagram.com/ysquarec
XD
SO, this time around, instead of having noodles again, Pam insist that we should try their rice, soup and various home-cook style dishes
Lard Steam Rice 猪油蒸饭 (RM 3.00)
Original Steam Rice (RM2.80) [not in picture]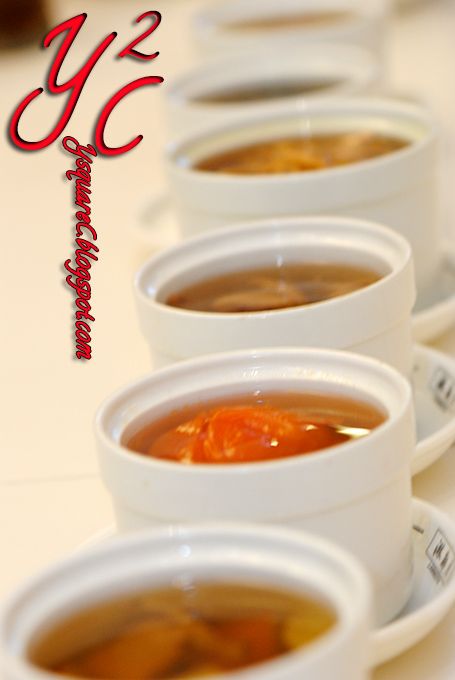 Soupssss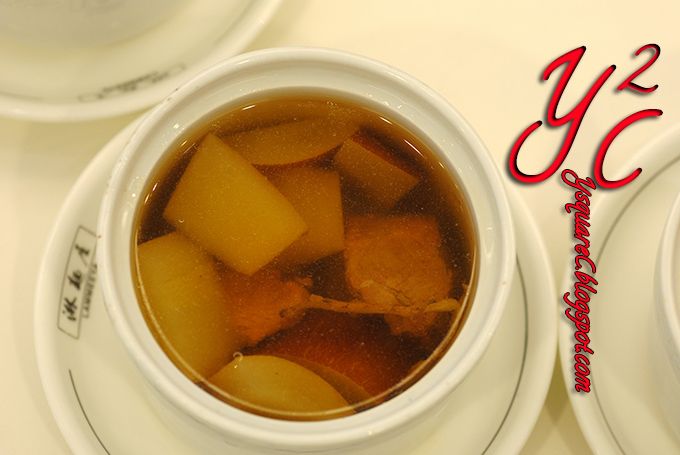 Cucumber Soup 老黄瓜汤 (RM8.80)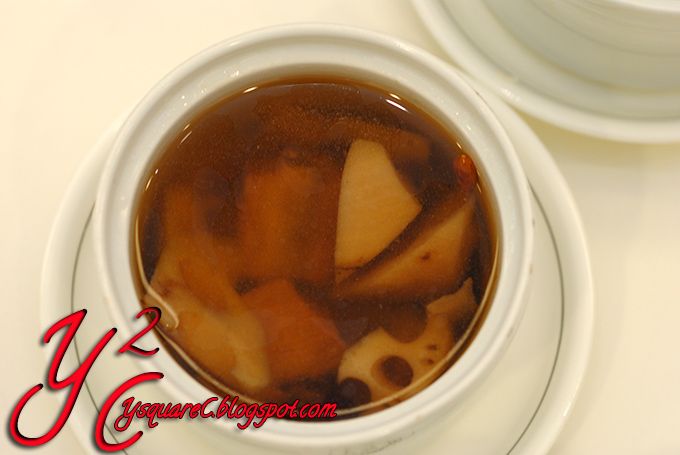 Lotus Soup 莲藕汤 (RM 8.80)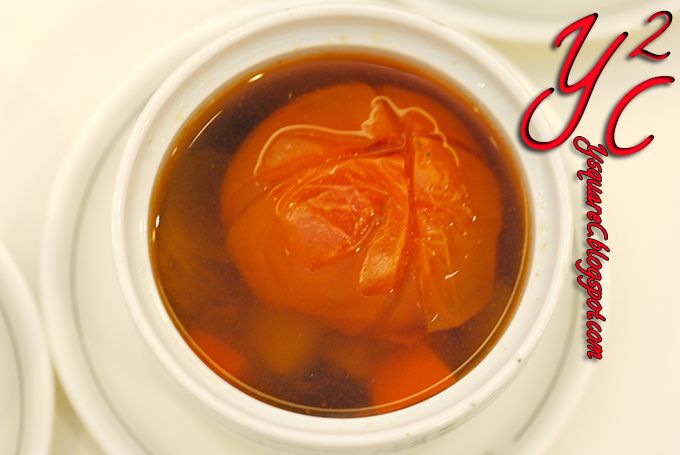 ABC soup, ABC 汤 (RM 8.80)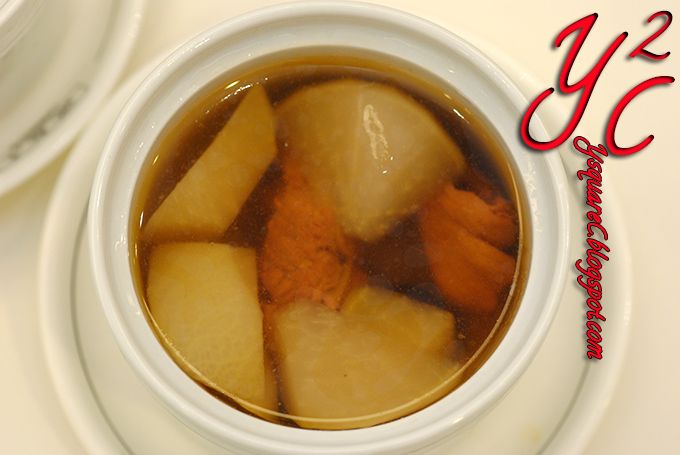 Radish Soup 白罗卜汤(RM 8.80)
Watercress soup 西洋菜汤(RM8.80)
Ginseng Chicken Soup 叁须鸡汤 (RM12.80)
I would really like to take time and explain the soup one by one but then I though, you probably have it at home before, why should I take time and re-introduce it to you again? Yes, these taste exactly like how my mother would made! It's the kind of taste that you would anticipate when you have a hard day at work and can't wait to reach home for a bowl of soup to flush away all your pressure. Since I already move away from home, I can't enjoy this bless. Now, I know where to go when I have a hard day in the office (in my case, is laboratory) after work.
As for the dishes, it's very home style, very lightly seasoned and very health concerned.
Ginger & Wine Ommelette 黄九姜蛋(RM8.80)
A dish suitable for confinement. Not my liking but of well, a new taste.
Other Confinement friendly dish is Sesame Oil Ginger Pork 麻油姜瘦肉(RM10.80) [Not in the picture]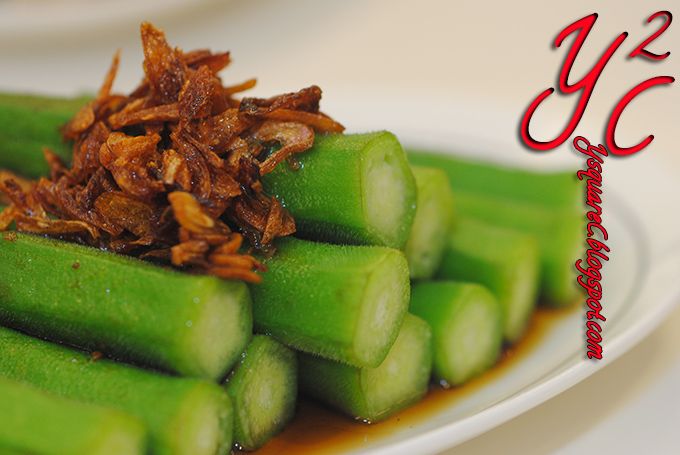 Ladies Finger 羊角豆(RM8.80)
Also a very normal dish. It's was lightly blanching hence remain it's natural crunchiness. Other than that, nothing special.
Steam Brinjal 油矮瓜(RM 8.80)
This is my most anticipating and most surprised dish on this whole food review. The last time I visited, I had a strong desire to order it, but the bright red colored chilies pulled me back. I though it will be too spicy to handle, but turns out it's not. It's more sour than spicy. The combination of oil, garlic and chili is very refreshing. Will want more on the next visit *yum yum drools*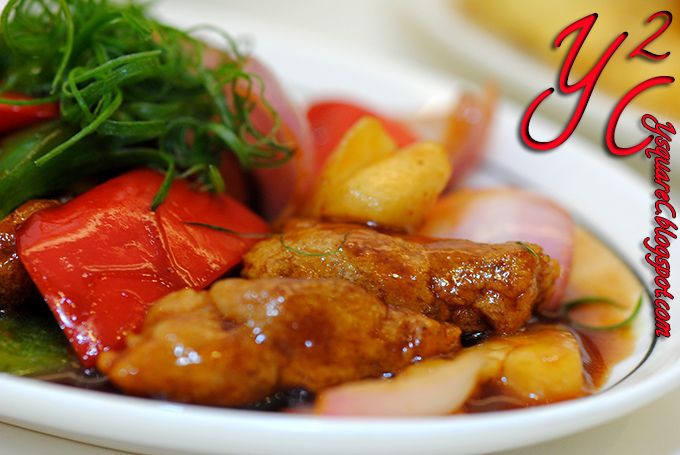 Sweet & Sour Pork 咕噜肉 (RM 10.80)
This is also out of my expectation. At first I though like, meh... I have sweet ans sour pork like so often, I don't even care. But when I dig in, I can feel the difference. The tender pork juice are tightly seal in the battered skin. According to Pam, the sauce is made from hawthorn, not the usual tomato sauce.Maybe that is why it's so firm and juicy? The best sweet and Sour Pork in my life so far.
Steam Pork with Black Bean Sauce 豆豉蒸猪肉(RM8.80)
I rate this as my favourite dish in Lammeeya so far. The salty, oily black bean sauce topped on lard rice.... Awww I am in Oily heavy. It's a comfort food that I crave for so often every now and then but can't afford to take up the calories... life is so unfair, why my favorite food give me so much spare tired T_T If you are not in diet, this is a MUST try!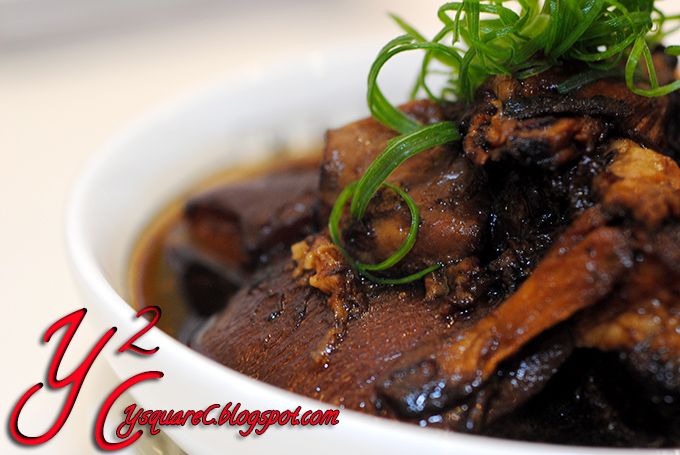 Pork Leg with Vinegar 猪脚醋 (Rm 14.80)
I am not a big fan of pork leg vineger. This is very firm compare to most pork leg vineger I have outside. It doesn't taste oily thought the lipid layer is almost a cm thick. Packed with collagen, good for your skin *thumbs*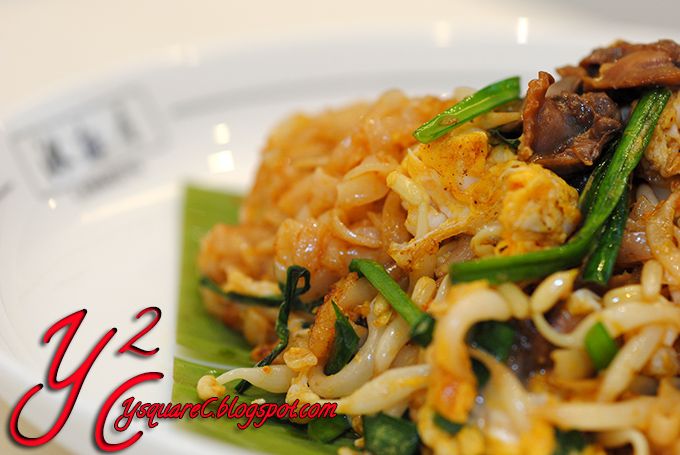 Duck Egg Char Keow Teow 鸭蛋炒粿条(RM10.80)
I admit that duck egg can give Char Keow Teow a whole new level of fragrance and texture compare to egg, but what I looking for in my noodles is actually the noodles itself. The Keow Teow here is very bouncy, which is good coz most ppl like it that way. However, for me, I like a less bouncy texture, like those in Butterworth or Penang one.
Soya Sauce with Oil Cheong Fun 酱油肠粉(RM6.80)
KL style Cheong Fun doesn't looks like this.I was very relunct than on trying sauce sauce Cheong fun coz I think a simple dish couldn't be THAT nice to worth a try. After today, I know I am wrong =(.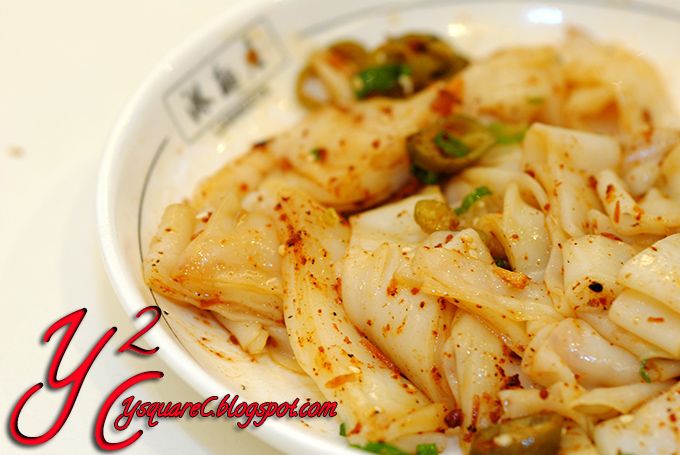 The harmony taste is so very unique that you have to try it out to know.
Cha Siew Bun叉烧包 (RM2.90)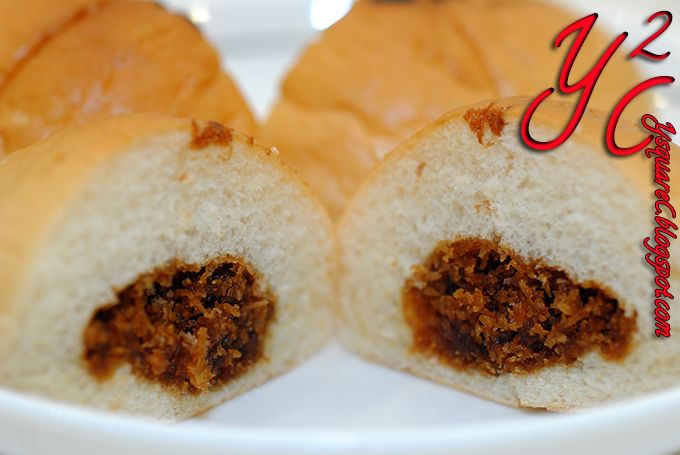 Coconut Bun 椰丝包 (RM2.20)
Char Siew Bun was so so. I prefer the coconut bun. Maybe I was too full from all the dishes above that I don't even know whether my taste buds are still working or not :S. Not really a must try from my point of view.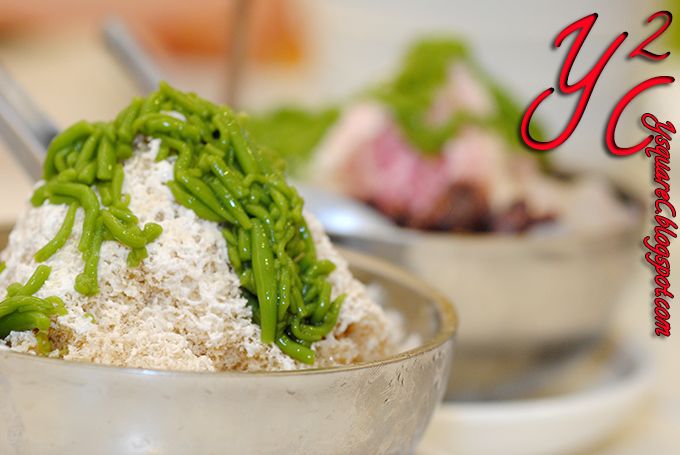 Cendol 煎堆(RM6.80)
Ice Kacang 杂雪(RM7.80)
I would say the taste is pretty standard. The shout out would be the cendol and add-on's texture. Those cendol, benas, nuts, corn etc. was chilled until almost frozen before served. This create a harder texture which I find it stand-up from all the cendol I had.
Since the food review was conducted in Lammeeya Publika, Pam also take the opportunity to introduce one of the exclusive dish only available in Lammeeya Publika.
Deep Dried Salted Egg Squid 炸咸蛋乌贼(RM13.80)
It's not the nicest salted egg fried squid that I have taste. The batter was slightly hard and kindda hurt my palate when I chew.
Other Lammeeya Publika exclusive dish is:
Fried Marmite Chicken
Sweet and Sour Spanish Mackerel
Seep Fried Salted Egg Suid
Lammeeya @ Solaris Dutamas
Email: hello@lammeeya.com
Operating hours: 10am-10pm