I don't remember I blog about Thai Food that much, but everytime I have Thai food, it was a pleasant one. Located in the suburbs of Damansara Jaya, with the opening of the restaurant, resident of the area can now enjoy fusion thai cuisine from flavourful soups such as zesty seafood Tom Yum, to the absolutely must-have green papaya salad, in the relaxing and cozy outlet of dark wood and rich-colored art pieces.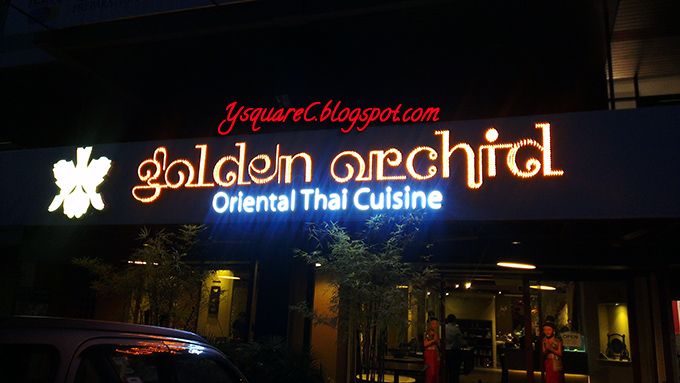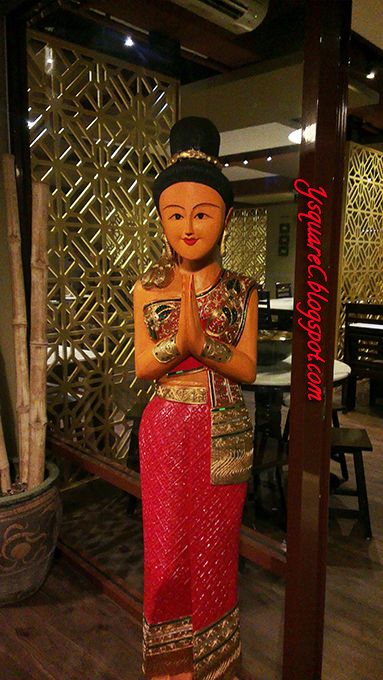 Once entered, you will be greeted, figuratively by a couple of wooden Thai figure.
Are you ready for my colorful, taste buds explosion experience?! Let's Go!
Tom Yam Seafood (or chicken) (Rm 25 for small and RM 45 big)
You can choose either seafood or chicken. What we had was seafood. Need no introduction, the warm tangy soup was a blast to wake up the whole gastrointestinal system, preparing them for the incoming goodness. Not much to comment, you can have tomyam in all of the Thai restaurant, but this flavour is pretty common yet fancy at the same time.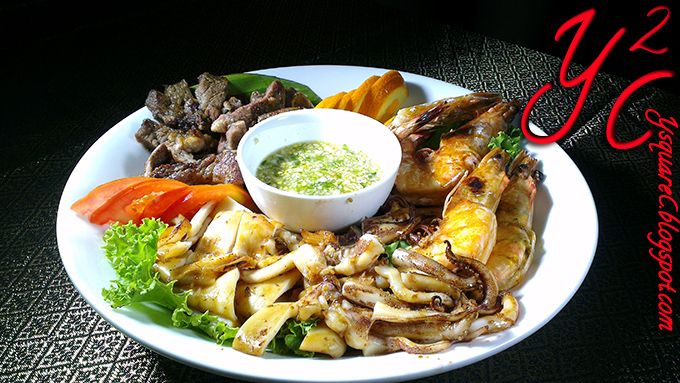 Golden Orchid BBQ Combo Platter (Rm 68)
When I first saw the platter, I was like WOW! Looks fantastic. Then I fall back and think again... might be a trap, just some appealing colorful bbq seafood and lamb doesn't equivalent to good taste. I always falls for the trap of giving greeat hopes on nice looking dishes, but most of the time, I was let down. BUT, not this time.
The squid was well seasoned before the grill. They maintain the squid in thin strip like size to absorb more sauce. That's is a very intelligent move. It taste slightly salted with a mild fuse of herb.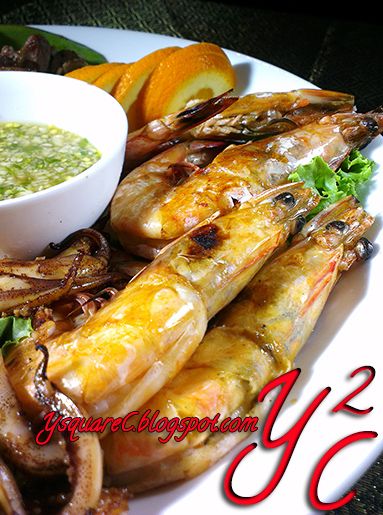 And the prawns. They are so fresh. You can litherary taste the seawater in them. Yes, it's that juicy!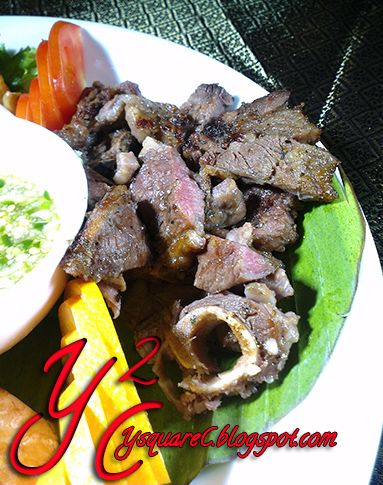 I am not a big fan of lamb. I don't have lamb that much. A part of it is because health reason, another is because of it's heavy smell. I am dismay by the common practice to cover lamb smell by using heavy herb till the point I can only taste herb in my lamb (and beef too in some restaurant). However, this is very different. I am not sure it's because of the Thai marination or the great cheft skill, the lamb was not over cooked, but still infused with a mild flavour of herb w/o coving the natural lamb smell. That is very impressive if I say it myself. Even if you really don't like the lamb smell at all, you can still consume it with some green chili sauce to cover the smell w/o compromising the tender texture.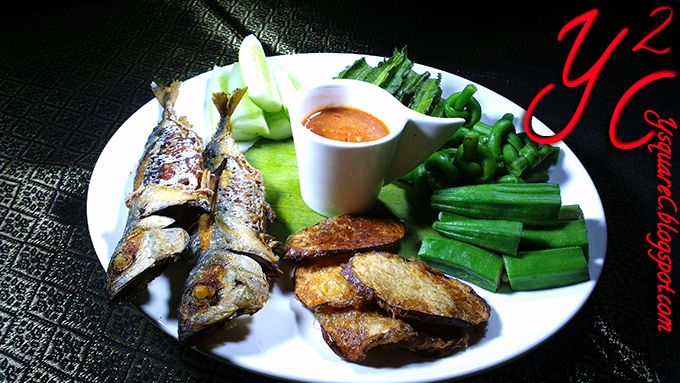 Kembong Fish Platter (RM 18)
Deep fried kembong fish with ulam and Golden Orchid special lend of Nam Prik sauce.
Frankly, I can't appreciate the ulam aka vegies on the plate. They were not really seasoned, just slightly blanching. The egg plant and the Kembong fish are deep fried to crispy. You can even bite into the bones and it feels just like biscuits. The chili blend might look watery but it's consider "hazardous" for a zero spicy level people, or may I give another description, VERY VERY HOT. SO syok for a spicy food lover like me.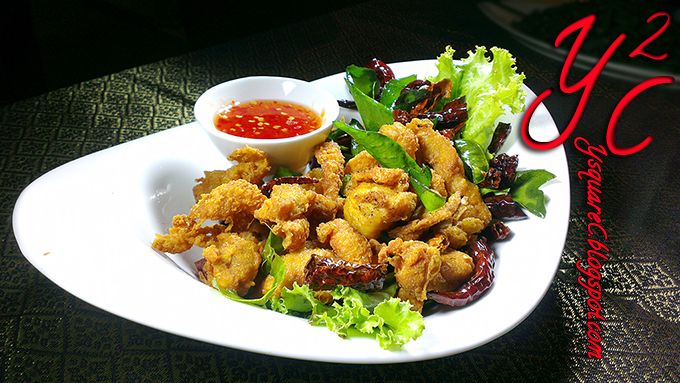 Golden Orchid Fried Chicken (RM 18)
Fried crispy fillets of chickens served with home-made sweet chili sauce.
This might the most mediocre dish on my whole experience. The chili sauce is slightly thick and sweet. Don't be fooled by the dry chilies, this dish is consider very mild among all the dish I had here.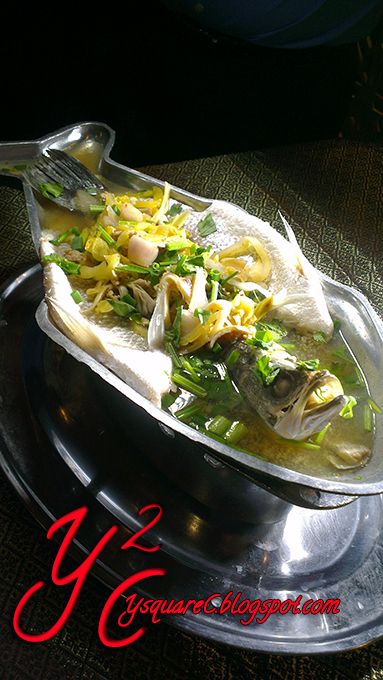 Thai style steamed fish (RM 38 for small and RM58 for big)
If you think this is another mild dish, well.... half half. It might look very light, refreshing from it's clear soup, but the ginger made a strong spicy appearance on the soup/sauce. The fresh fish has nothing to complain about, maybe one thing. TOooooo addictive!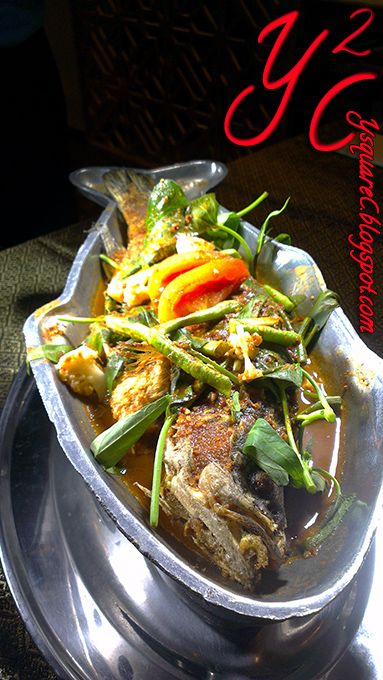 Fried Fish with Keng Som (RM38-Small / RM58-Big)
Another spicy, sour, tangy dish.the fish was pre fried before soak into the delis Keng Som. Crunchy, sour, spicy. YUM!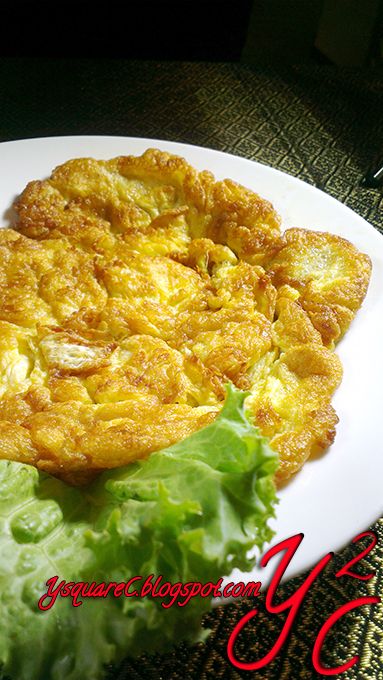 Thai style Omelette (RM 15)
Fluffy and crispy Thai omelette. Indeed, sofest, fluffiest ommelette that I ever had. A bit salty, but it's alright, just that I can't accept it's a bit expensive. I know it's nice, but.....(sigh)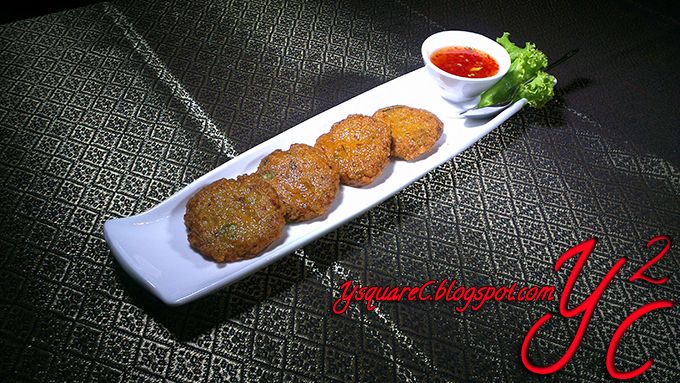 Thai fish cake (RM 14 for 4 pieces)
Not the best fish cake I ever had, but it's indeed on the top list.It is slightly thin and less spingy but the lemon grass herbs and garlic are still very strong, very flavorful.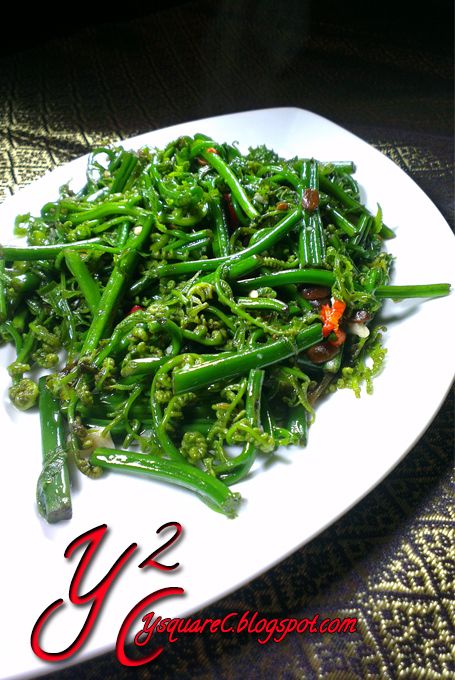 Stir fried ferns
Not my type of vegie. The ferns's fiber was kindda tough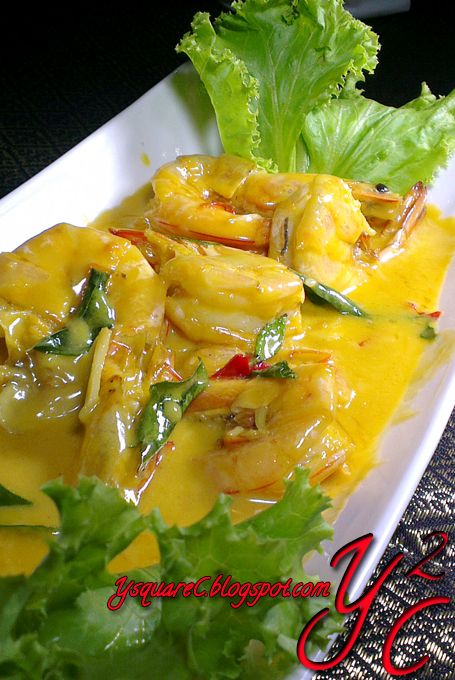 Buttermilk Prawn (RM 38)
Awww. this is the BEST butter milk prawn EVER! SO creamy, the texture is just nice. Slightly salty, slightly spicy. I don't think I can ever had anything near to it.
Red Ruby (Tab Kim Krob) (RM4.80)
Ruby-red chestnut in refreshing cold coconut milk served with slices of jack fruit. Tab Kim Krob is a very unique dessert from Thailand. The water chestnut cube is coated with a thin layer of sago, soaked in shaved ice, coconut milk and topped with jack fruit.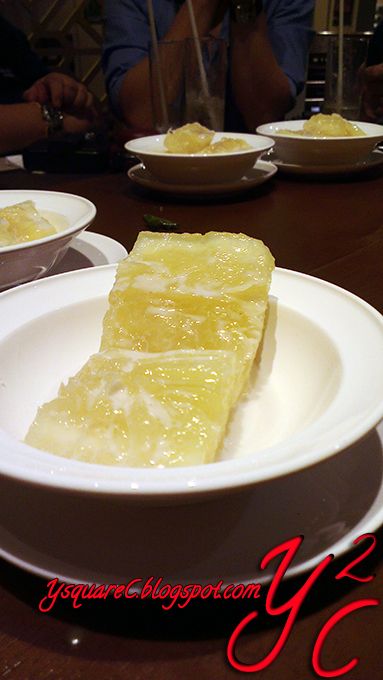 Candied Tapioca (RM4.80)
By the look, I thought it will be very heavy. In contrary, it's slightly dry but firm.
Golden Orchid Oriental Thai Cuisine
No. 12-14G, Jalan SS22/25,
47400 Damansara, Kuala Lumpur, Malaysia
Phone: 03-7722 2228
Overall: 8/10 [Slightly overpriced awesome Thai food in Selangor.]
Taste bud indulgence: 8.5/10 [Most food are of best Thai dish I can find it Malaysia]
Purse Saver: 5/10 [As a near neighbour, which also a tropical couontry that we can easily find the raw material in our couuntry, I don't think Thai food should be charge at this rate]
Location: 6/10 [Not very easy to find, but give credit to their parking spot during night time.]
Service: 9/10 [I don't know I should rate this portion or not since we were invited, so I am expected that we will get special treatment.]