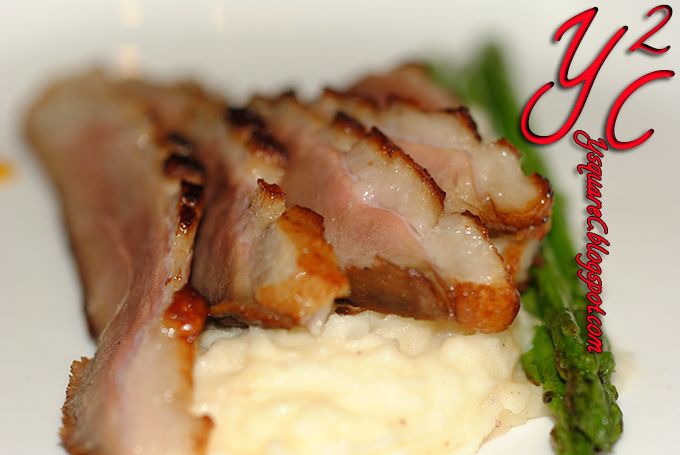 Sluurp~ attracted to the fatty duck slices above yet? Nope? Come on, it's Chinese New Year, it's the time of the year to feast! No matter which part of the world you are from, I believe you must have some Chinese living around your neighborhood. Pork, duck, chicken, fish, seafood and uncountable ways to prepare these delicacies, how not one's not attracted to it?
Ironically, Valentine's day is always accompany after Chinese New Year. Sigh.... when you have over your waist, money and cholesterol quota, how can you enjoy valentine's day candle light dinner peacefully? No matter what, the show must go on. I am here to help you a bit *cough cough* during this difficult season.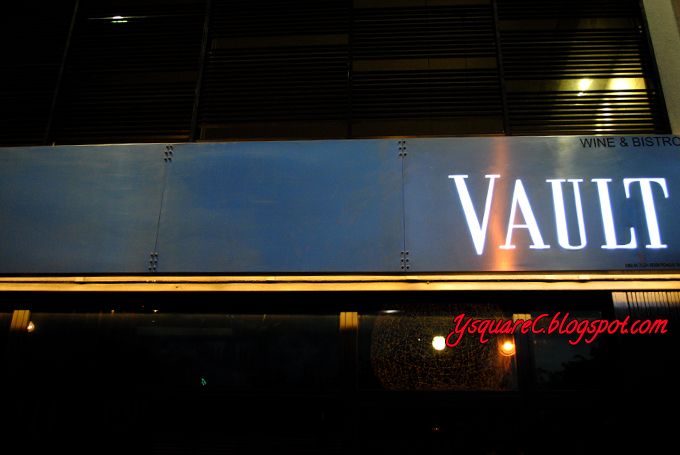 Last week, I was invited to Vault, a warm hospitality Wine Bistro. It's Spanish specialties and a wide variety of wine, ranging from Italy, Australia, France etc are really a unforgettable dining experience.
Operation hour:
Mon - Fri: 10:30 am - 12:00 am
Sat: 5:00 pm - 12:00 am
Rest every Sunday
Style and specialties:
Breakfast, Brunch, Burgers, Spanish/Basque, Steakhouses, Tapas Bars
Services:
Takes Reservations, Walk-Ins Welcome, Good For Groups, Take Out, Outdoor Seating
Facebook:
Phone:
03-7725 7266
Email:
reignpioneer@gmail.com
Address:
A-G-7, Block A, Glomac Damansara, No. 699, Jalan Damansara, 60000 Kuala Lumpur, Malaysia
When I first step in it, I kindda like it. The slow jazz, the dim environment,
and the classic tidy table ware,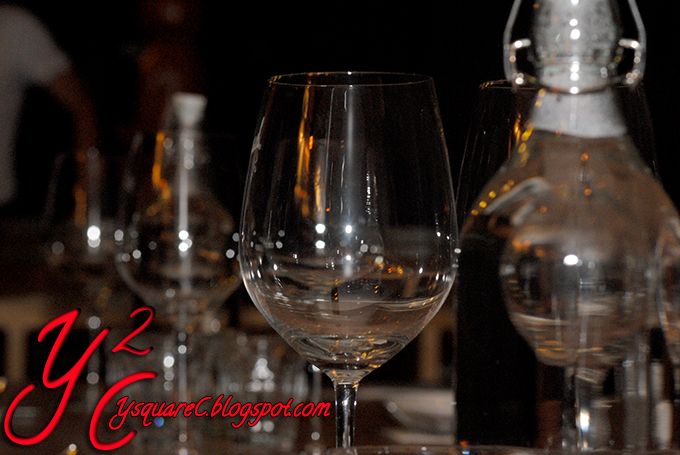 Whether you are coming for a romantic candle light dinner with your loved one.
or a reunion dinner with the family during this festive season, it's not hard to win your heart. Best of all, for those that enjoy a good meal but hate the formality of fine dinning, you can just wear casual here.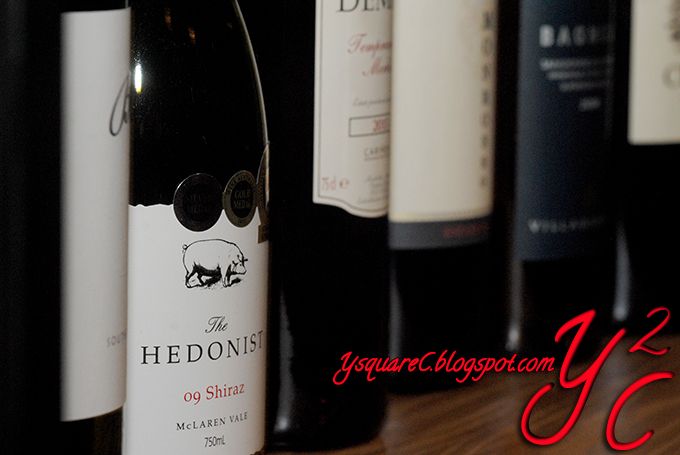 What's a wine bistro if they don't have a wide variety of wine to offer.
If you're keen to ask, they might have some collection you are looking for.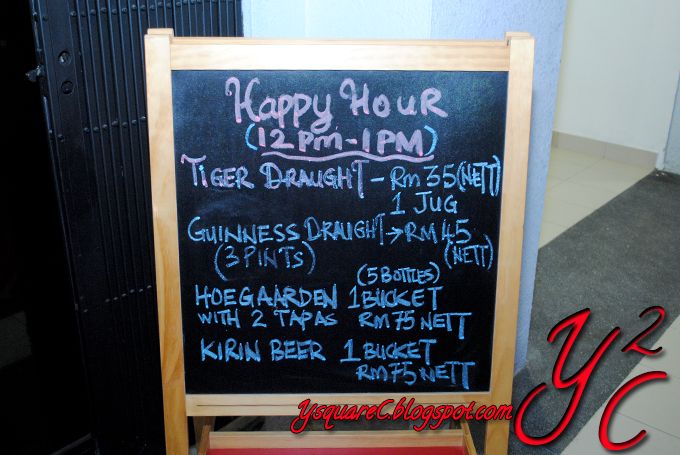 If you are so much of a wine person, they have beers and tapas for special price during the happy hour too!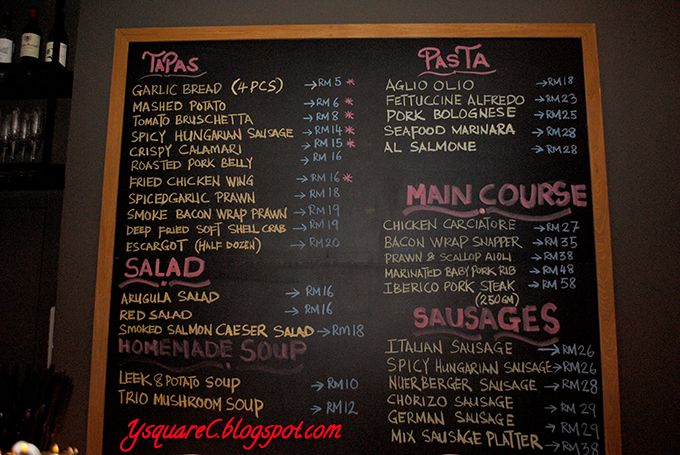 As for me, a foodie, all I care is their delicacy.
| Tapas | |
| --- | --- |
| Garlic Bread (4 pcs) | RM 5 |
| Mashed Potato | RM 6 |
| Tomato Bruschetta | RM 8 |
| Spicy Hungarian Sausage | RM 14 |
| Crispy Calamari | RM 15 |
| Roasted Pork Belly | RM 16 |
| Fried Chicken Wing | RM 16 |
| Spice Garlic Prawn | RM 18 |
| Smoke Bacon Wrap Prawn | RM 19 |
| Deep Fried Soft Shell Crab | RM 19 |
| Escargot (half dozen) | RM 20 |
| Salad | |
| Arugula Salad | RM 16 |
| Red Salad | RM 16 |
| Smoked Salmon Ceaser Salad | RM 18 |
| Home Made Soup | |
| Leek & Potato Soup | RM 10 |
| Trio Mushroom Soup | RM 12 |
| Pasta | |
| Aglio Olio | RM 18 |
| Fettuccine Alfredo | RM 23 |
| Pork Bolognese | RM 25 |
| Seafood Marinara | RM 28 |
| Al Salmone | RM 28 |
| Main Course | |
| Chicken Carciatore | RM 27 |
| Bacon Wrap Snapper | RM 35 |
| Prawn & Scallop Aioli | RM 38 |
| Marinated Baby Pork Rib | RM 48 |
| Iberico Pork Steak | RM 58 |
| Sausage | |
| Italian Sausage | RM 26 |
| Spicy Hungarian Sausage | RM 26 |
| Nuerberger Sausage | RM 28 |
| Chorizo Sausage | RM 29 |
| German Sausage | RM 29 |
| Mix Sausage Plater | RM 38 |
Vault's Ala Carte menu and price.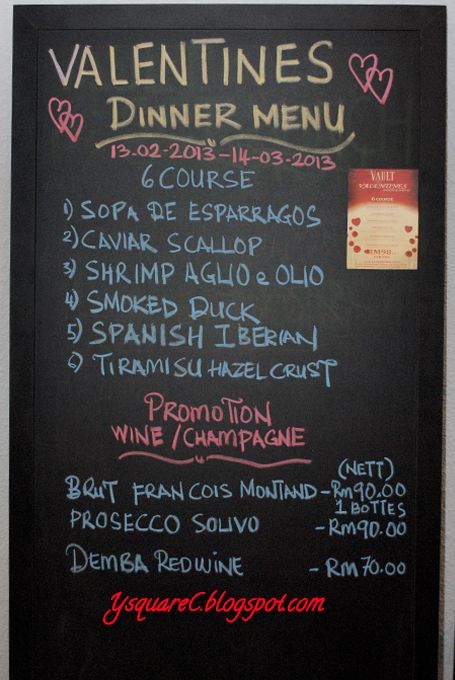 Since Valentine's Day is just around the corner, Vault has a 6 course dinner menu from 13th February to 14th February. The menu include Sopa De Esparragos, Caviar Scallop, Shrimp Aglio e Olio, Smoked Dusk, Spanish Iberian, and Tiramisu Hazel Crust with only RM98 per person.
On top of that, 3 wine/champagne are also selling at a promotion price,
| Wine/Champagne | |
| --- | --- |
| Brut Francois Montand | RM 90 |
| Prosecco Solivo | RM 90 |
| Demba Redwine | RM 70 |
I wish I'd have a Valentine to spend a night with me savouring the Valentines Day menu, but work is work. The manager have treat us a good meal indeed and I shouldn't be complaining.
Crispy Calamari,
RM 15
Our first tapas of the day. Calamari has very little flavor and tough texture when cooked. The dish's main attraction is on the batter. I'd say the herbs helped a lot.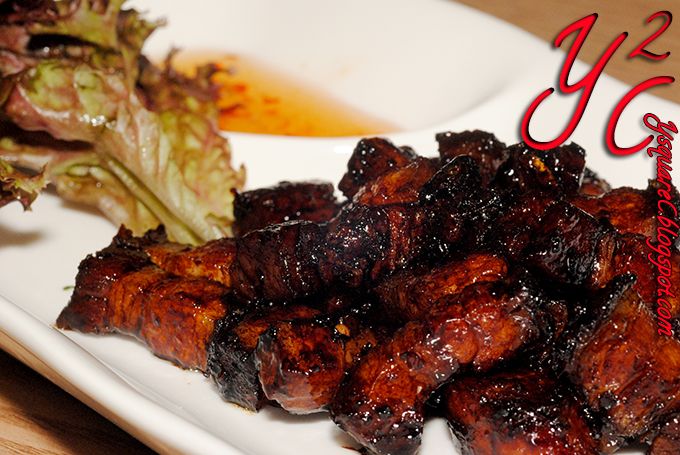 Roasted Pork Belly,
RM 16
Second tapas. I reminds me of a Chinese dish, soy sauce roast pork belly. I bet the preparation method is almost same, roasted pork chunks coated in sauce. This dish has a very distinct sweet and salty sauce. The thick and rich coating doesn't cover the crunchiness of the pork skin at all.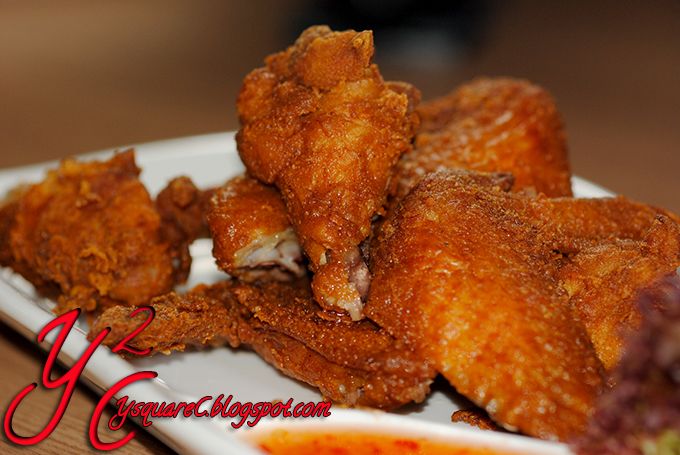 Fried Chicken Wing,
RM 16
If you were like " meh..." when you see the picture, think again. Fried chicken is a very popular delicacy in many cuisine, but to master it, it's not that easy. Oil's temperature, time to fried, batter, chicken's freshness, chicken's size, sauce etc. Vault made it crispy on the outside with abundant internal fats(oil) making it exceptionally juicy. The choice of wing is also brilliant, because for me wings has the most succulent meat with enough fats coasting each strand of muscles.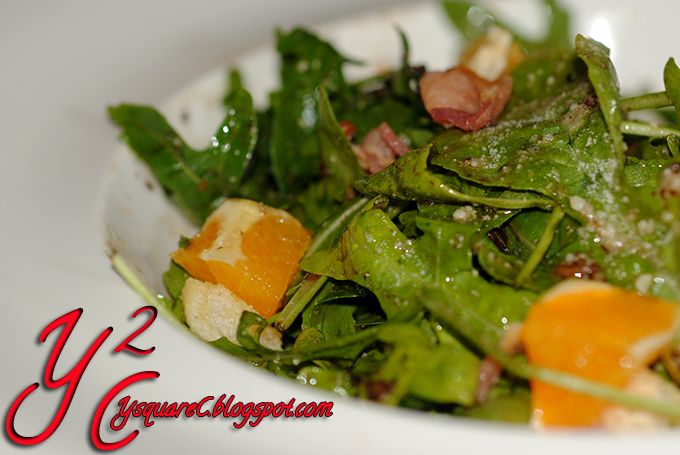 Arugula Salad,
RM 16
Another dish that surprises me with only simple ingredient.With only arugula, tomato, bacon bits and croutons, then maybe a splash of, I don't know garlic infused extra virgin olive oil, coarse salt and pepper and maybe a few other secret ingredient, the salad will really blow your mind. Even if you are not a very big fan of veggies and salad, you might start to fall in love with your greens again.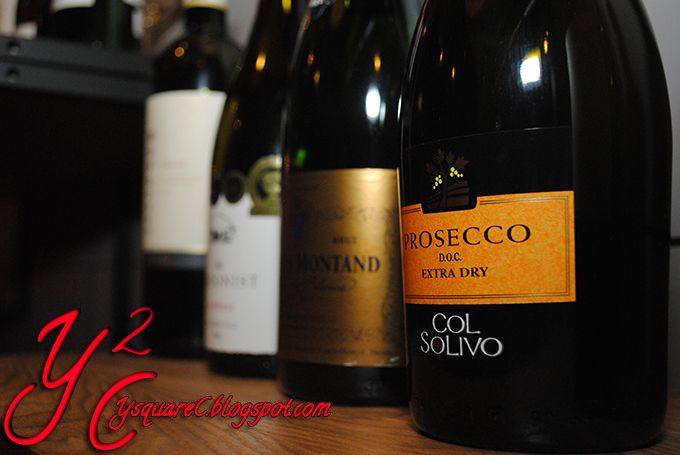 While we are waiting for our main course, I had one and a half glass of Col Solivo Prosecco Extra Dry champagne. Usually: RM 100, promotion price: RM 90
You see, if a guy is eyeing for a girl instead of trying to enjoying a good meal, most guy will choose to have champagne rather than red wine or white wine. Girl are usually more award of red and white wine intake due to the strong alcohol smell and the bitter after taste. However, champagne is a total different story. Champagnes are generally sweet with very little bitter after taste. Girls that are not aware, can end up drink more and got drunk. As for Col Solivo Prosecco, it is very fruity and aromatic. I almost feel like drinking cider minus the intense sourness, due to it's apple sweetness.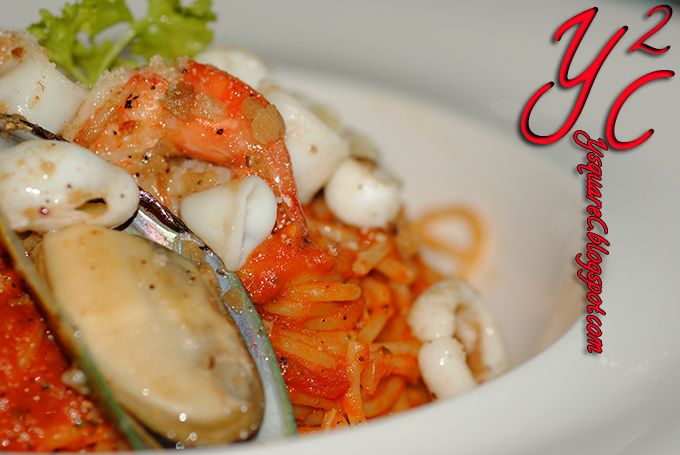 Seafood Marinara, RM 28
I guess this is the only disappointment of the night. In contrary to how it looks, the pasta was slightly over done. The tomato puree sauce was sour with very little taste of herb. Sorry to say that the sauce is worse than those canned pasta sauce.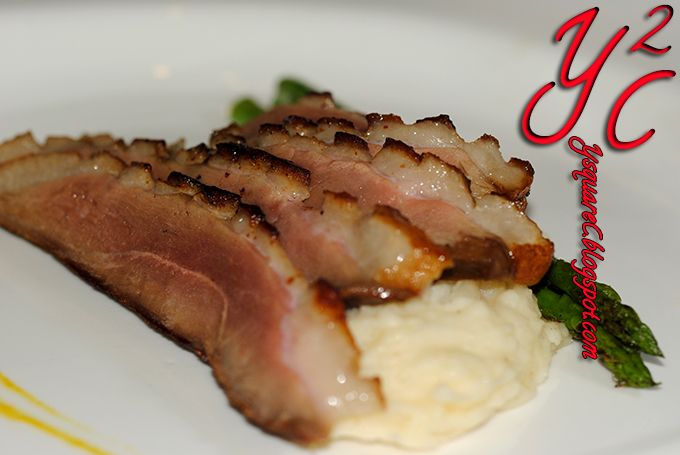 Smoked Duck (Daily Special)
This is not from the Ala Carte menu. Do you see the glossy fats under the skin? No, it's not greasy at all! The duck slices was cook long enough to evaporate the fats, leaving away firm collagen. It's very different from Chinese's roast duck whether the skin are crisp and meat are moist. If I really have to critic, I would comment that the meat is too dry to my liking. It took my some effort to cut it.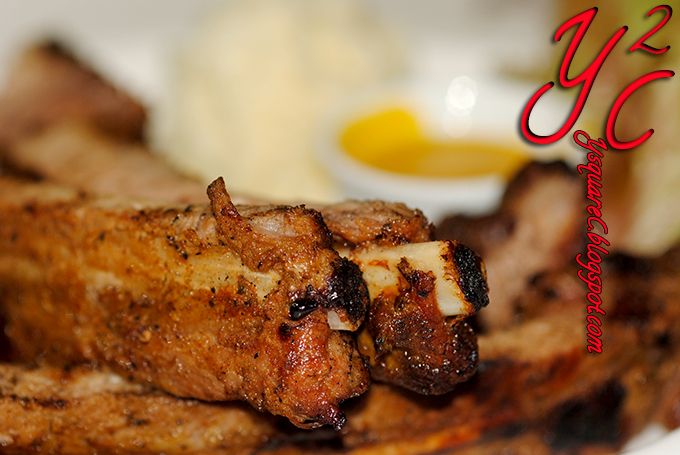 Marinated Pork Rib, RM 48
Other guest on the table don't like the ribs so much. In contrary to them, I think this is how I like my ribs to be. When I pierce my knives beside the bones, oils gush out. Tendons are firm but not tough, slightly chewy but not unbreakable.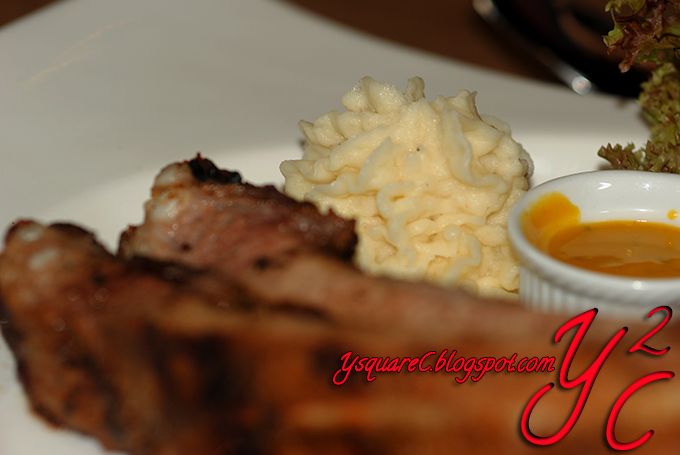 It goes great with mash potato and honey mustard sauce.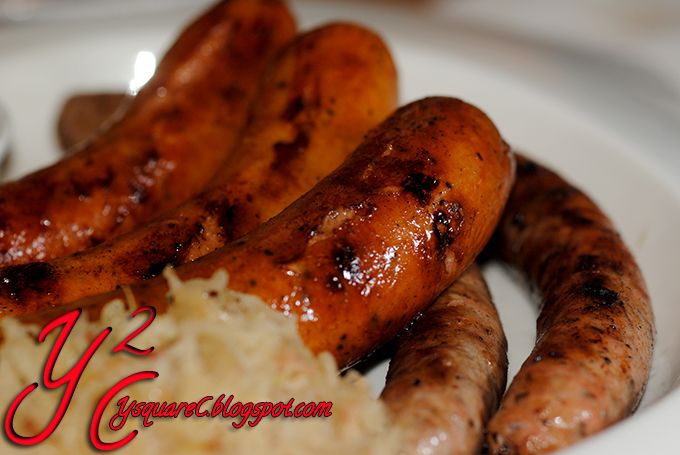 Mix Sausage platter, RM 48
Pardon me, there were 5 types of sauge on the plate and it was share across tables within 11 person. I barely know what I ate, I don't even know how to comment on this.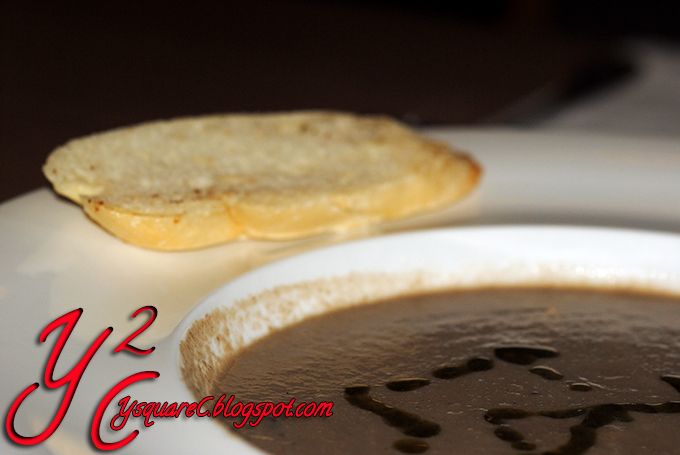 Trio Mushroom soup, RM 12
I'd love to comment how it's taste like, EVEN IF I ONLY HAVE ONE SIP OF IT!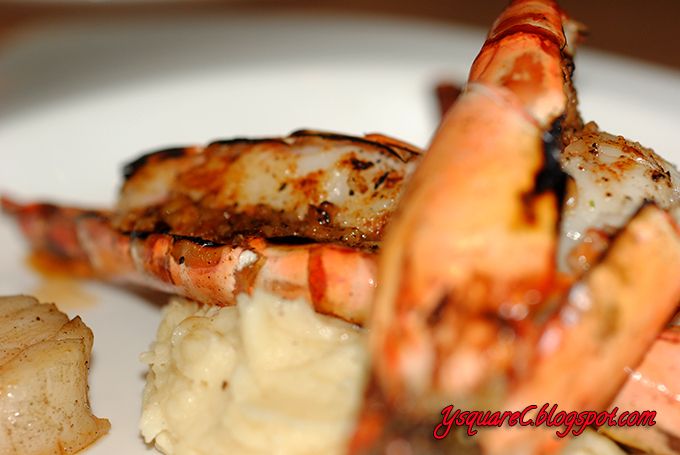 Prawn and Scallop Aioli, RM 38
Consist of 2 prawn, 4 scallop and a scope of mash potato.
Look at the succulent scallop.
And the slightly browned prawn. Again, I would like to tell you how it tatse, IF I HAD ONE!
I assume they are so good that it finishes before reaching me T_T.
Overall: 8/10 [It's hard to find a proper European bistro in Malaysia. They are not like the most awesome one around but sure is doing pretty well.]
Taste bud indulgence: 8.5/10 [Very standard Europen style cuisine. Don't get me wrong, although I praise it a lot, but that doesn't mean they are superduper awesome. I praise them because not much bistro/cafe in Malaysia can prepare a standard European dish w/o infusion with Malaysian flavour]
Purse Saver: 6.5/10 [RM98 for valentine's dinner is way over my budget. Morever, it's RM 98 per person, not a table for two. I might be wrong because this session is not a food tasting session for valentine. Only a few dishes were review.]
Location: 9.5/10 [I like the decorations and ambient a lot. -0.5 for the hard to find new building and slightly warm environment.]
Service: 8/10
[Our PR and the manager admit that they are slow in serving. They claim that they are still new and findgin heir ways to adapt to a large a mount of customers on that night. I am slightly dismay when they told us they couldn't server us the dishes they promised due to transportation, logistic and custom constrain.]