I never know anything about coffee even when the Korean Drama "Coffee Prince" was a hit few years back.
I always though Coffe was a western thingy. So I was like, Meh.... Korean Coffee #bitchplease. When I know Coffea Coffee was a franchise from Korea, that has over 50 shops, including some of high class places, such as Gangnam, I was shock. Just like when you hear Japanese curry for the first time, you will laught at these arrogant Japanese, but once you tried, you can never stop. And Coffea Coffee might be the same case.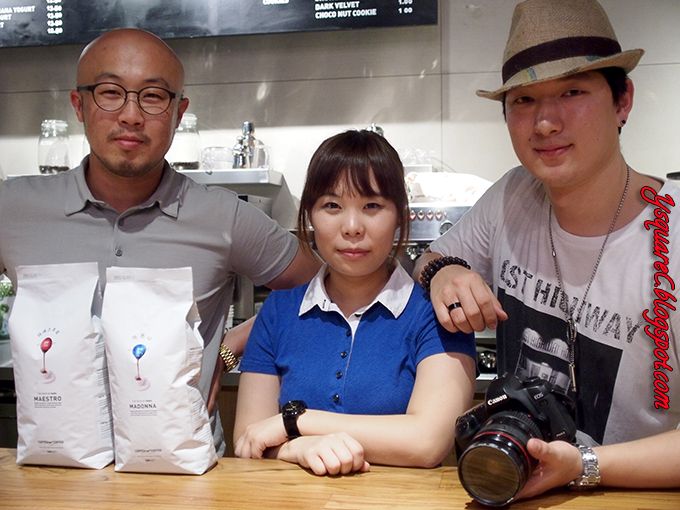 What's more is the barista that flied from Korean to make us coffee that night was some renowned award winning barista.
Left to right: Timothy, the founder of Coffea Coffee; Lisa, barista and translator, Sean barista.
Both Timothy and Sean won a few award, such as WLAC (World Latte Art Champion), WBC (World Barista Championship), KLAC (Korean Latte Art Championship), KBC (Korean Barista World Championship), Korean Aeropress Championship etc.
They have a wide variety of drink, ranging from their signature coffees, tea, smoothies and many other kind of beverages.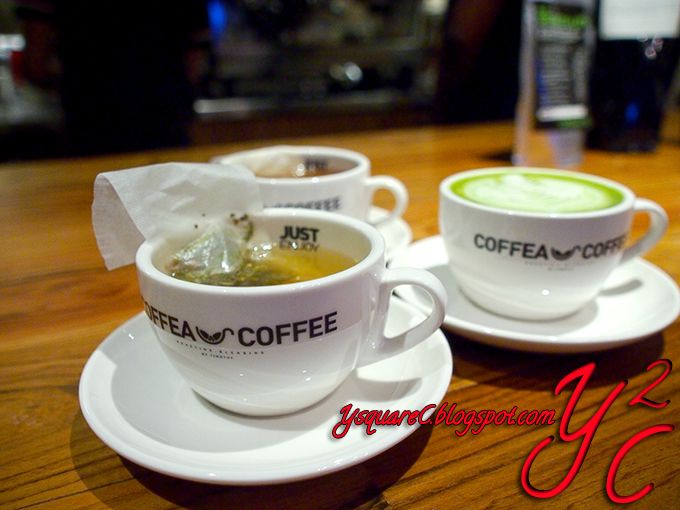 I am a tea person, rather than coffee, so my favourite of the night would be the teas.
Lemon Grass Tea
(front),
Earl Grey Tea
(back left) &
Green Tea Latte
(back right)
While this
peanut butter beverage
is my most memorable drink of the night. The smooth, frothy, bubbly, silky texture was really deeply imprint into my memory. Though it's a bit sweet & the peanut butter flavor is slightly, I don't know how to critic already. IT's prefect for me. Even people who doesn't like peanut butter can easily accept it's mild taste and fall in love for it!
People who knows me understand that I am a green tea addict. I must have a cup of green in the office before I do anything. No email, no meeting, no training until I drank my green tea. However this Green Tea Latte, literally isn't my cup of tea. It's powder is too coarse. I am not sure whether it's was not stir/mix well or it was design to be like that. The matcha powder are gather on top of the latte on the bubble layer while the lower layer has very inconsistent flavor on every sip.

As for the coffee, Ruben, the manager and founder of Malaysia first Coffea Coffee franchise/ flag-ship store honor us with his COE (Cup Of Excellent) brew.

According to Cofea Coffee's Malaysia Facebook Page:
" The Cup of Excellence (COE) is the most esteemed award given out for top coffees. These awards come from a strict competition that selects the very best coffee produced in that country for that particular year. These winning coffees are chosen by a select group of national and international cuppers and are cupped at least five different times during the competition process. Only coffees that continuously score high enough are allowed to move forward in the competition. The final winners are awarded the prestigious Cup of Excellence® and sold to the highest bidder during an internet auction. "
2012 Honduras COE
Both Rwanda and Honduras can a acidic after taste. Rwanda is mild on the start of the sip. After you swallow, the acidic and bitter after taste will slowly emerged. As for Honduras, the strong acidic taste can be feel on the moment your toungue touch the liquid. As you swallow, the after taste become lesser and lesser.
On the other hand, Ruben also, introduce a few other coffee for us.
Maestro
Madonna

I might not know coffee as much as I know about gourmet, but like the description said, Maestro is a classic american style coffee that is strong with high roasted blend. It has a full body, sweet dark chocolate taste with a rich aroma.
As for Madonna, it is a rich aroma and slightly acid blend. It is an authentic European style coffee that some what has a fresh acidity like a wine and sweet fruit scent.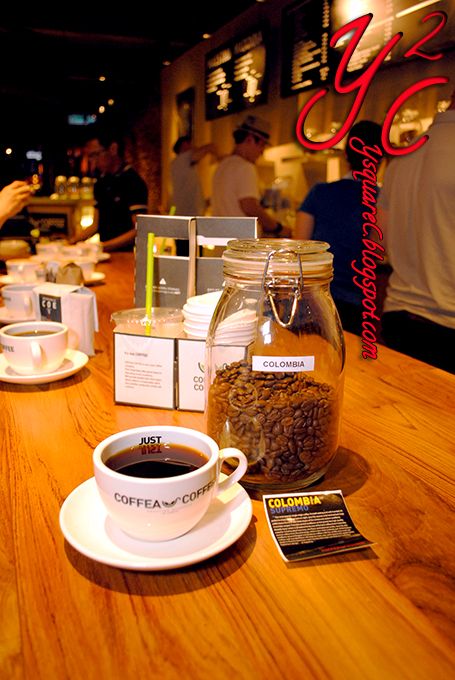 Colombian Supremo
Thought Coffee might be a game of taste back in the day, today coffee is more like a life style. The cup of coffee and the place you drink your coffee some how reflect your social status, education background and your inner cultivation. It might be a kind of stereotype, but nobody wish to jump out from this frame. So, the environment of the shop is also a attentive issue for Ruben.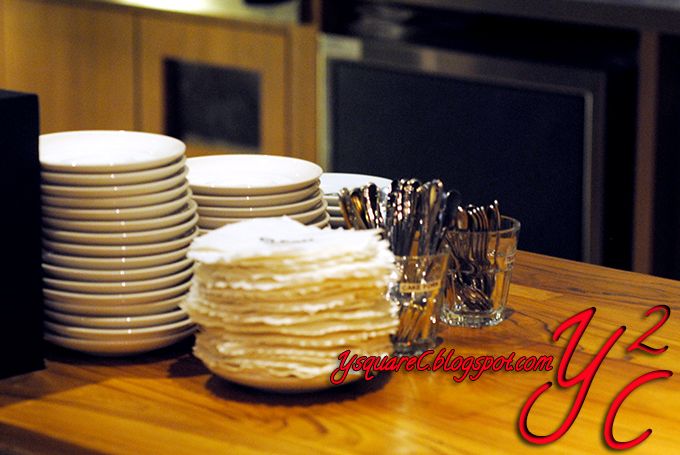 You may notice that the counter is always clean
and everything is so tidy.


The ambient is pretty relaxing.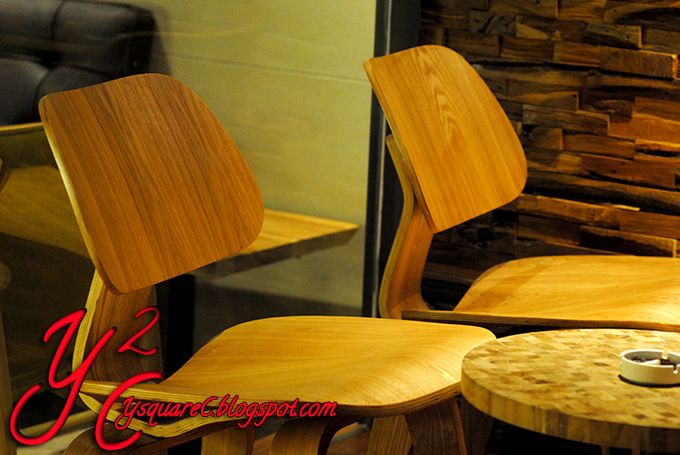 Have you realise, most of the furniture in Coffea Coffee was made by wood. The chairs, table tops, even the walls are recycled from scratched wood. So, don't be surprise to see some of these woods still have paint attached to it.
In a nut shell, my experience with Coffea Coffee is pretty amazing. Imaging have a cuppa on a quite evening,


Watching the barista's fine art of on preparing coffees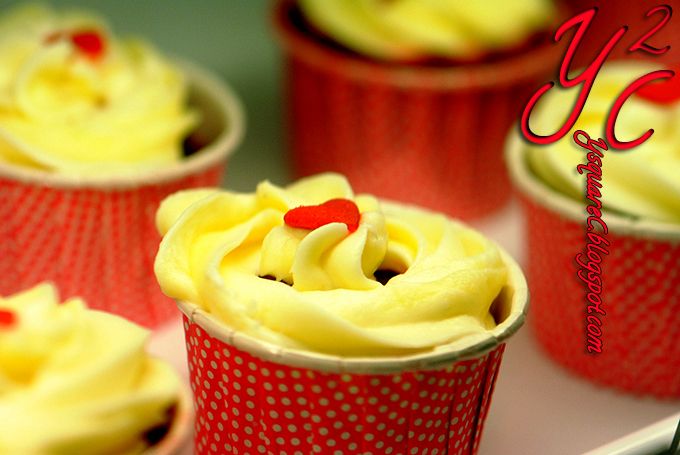 While munching on a few pieces of cupcakes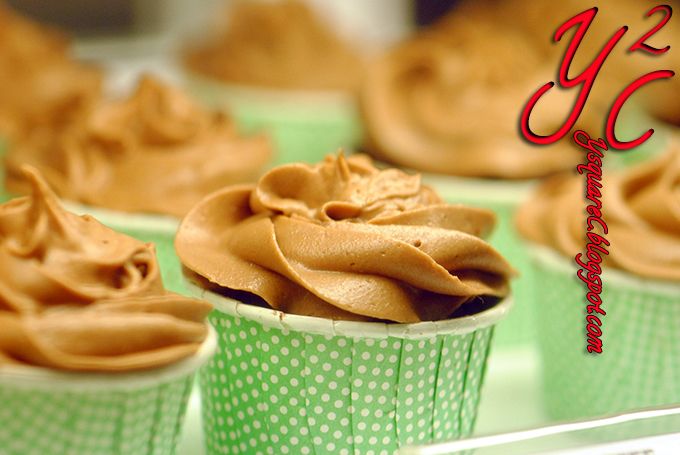 and a variety of cookie.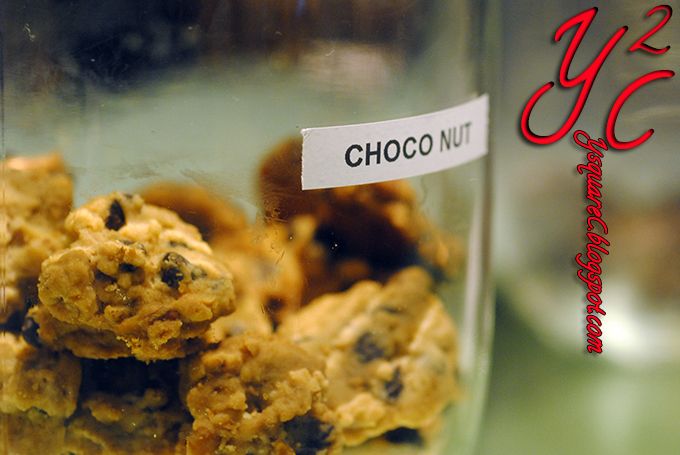 No 8, Jalan Telawi 2, Bangsar, 59000 Kuala Lumpur, Malaysia
03-2201 3338
coffeakl@yahoo.com
http://www.coffea.my
http://www.facebook.com/pages/Coffea-Coffee-Malaysia/296416570478095
View Larger Map