"I set fire to the rain~ Watch it pour as I touched your face...."
*cough cough* * odd sound from the bottom*
Don't you feel most potong steam (let down/frustrated) when you sing till so high then came to realize you are hungry. To make it worse, you are are so thirty from all the singing but too stingy to order any liquid from the karaoke bar coz it's too expensive?
(shhh.. does it sound like you? coz this is only me describing myself XD)
Courtesy to Red Box Ria and
The Big Small Boy, Rayyan Harries
for the Food tasting and launch opportunity. I can describe more about the event it self and the launch, but I know why you are here. You are here (my blog *cough) for ZE FOoooooOD~
Months before, I read an article on fruits. We should take fruits , 1 to 2 hours prior to our actual dinning time, not after meal. F**k science, not scientific explanation for it....
Oh well, let's start!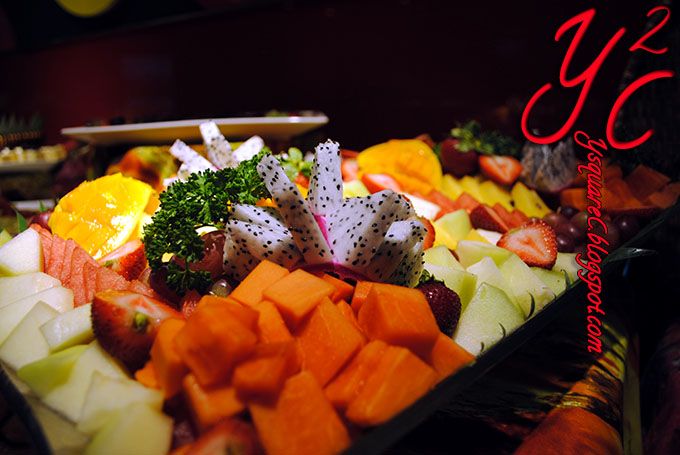 I don't think I need to act like a kindergarten teacher to tell you which is which.
Should I take your hand, point it to the picture and pronounce papaya, strawberry, mongo, grapes dragon fruit?
Next on the list,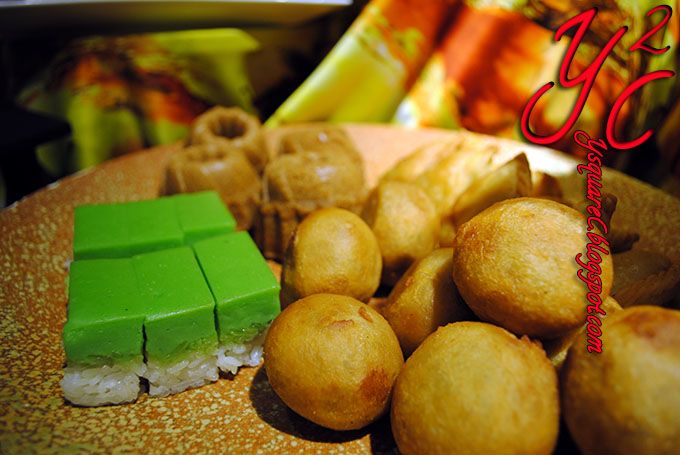 assorted kuih melayu. I didn't gave much expectations on side dishes during buffet coz I know they are not the stars and have the chef's least attention. However, they are up to standard. Those fry kuih are crispy with all oil well drained out, kuih pulut are sweet and soft while karipap are crispy on the outside and moist inside.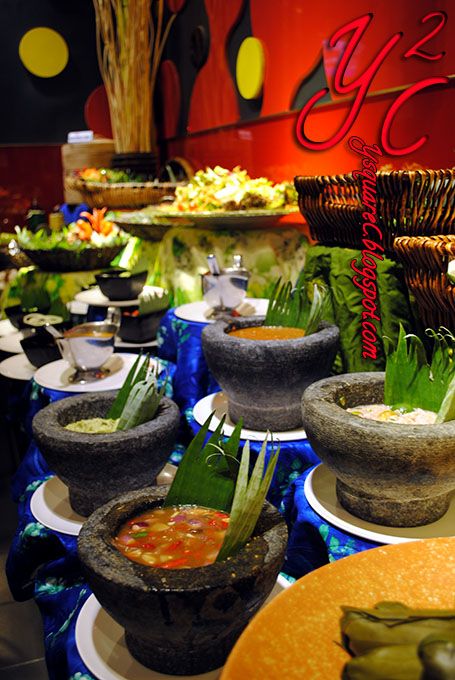 I don't know how to describe this... sauce bar? salad bar?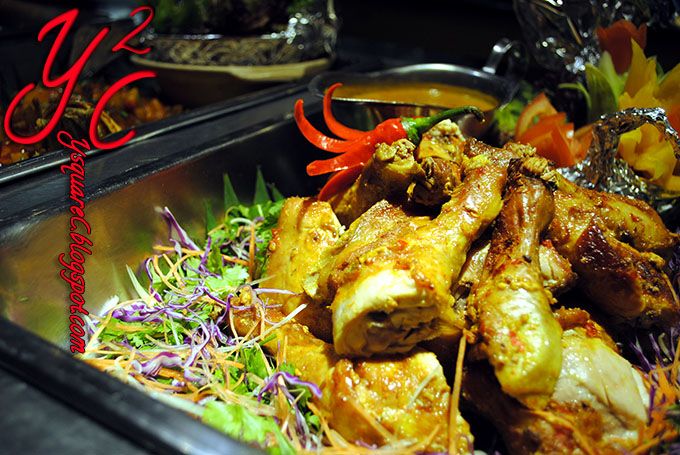 Peha Ayam Panggang dengan Sos Kunyit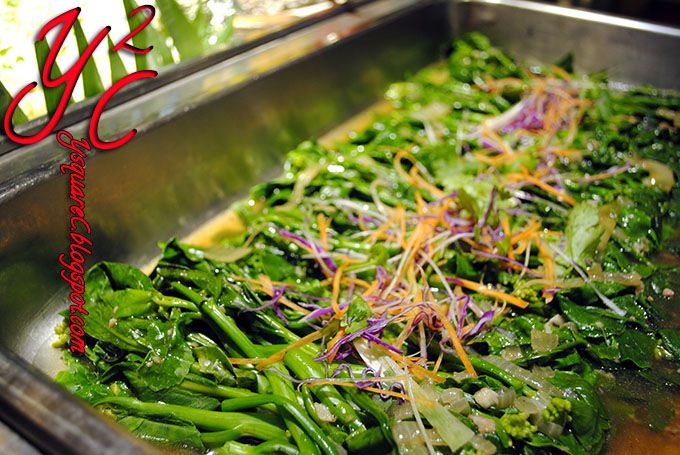 Kailan Ikan Masin
Siakap Tiga Rasa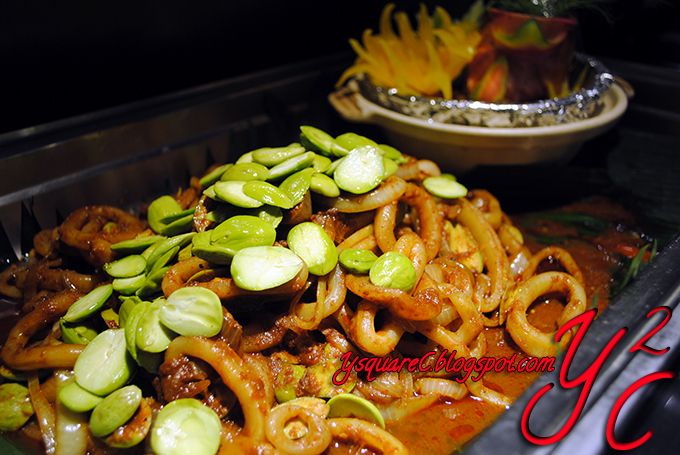 Sotong Sambal Petai


Rendang Daging


Salmon Panggang Dengan Sos Kream
Kway Teow Goreng


Tulang Rusuk Kambing Dengan Karuman Kurma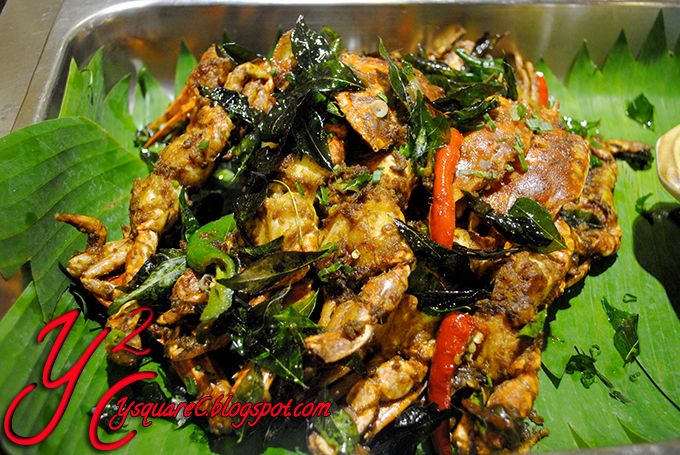 Ketam Tumis Udang Kering

Actually there are more, but I only manage to snap a few, whenever the tray are empty,chefs will replace with other stuff, so there are more in their list that I have no chance to try it out yet.
oh yeah, they have laksa and spaghetti too!
There are not the best but it is relatively good in Kuala Lumpur area. You can't expect some place to have everything to expert in everything, can't you?
The seafood and poultry are really fresh. I personally likes the crab a lot.


The mussels are great too. It was properly clean and no undesirable fishy smell.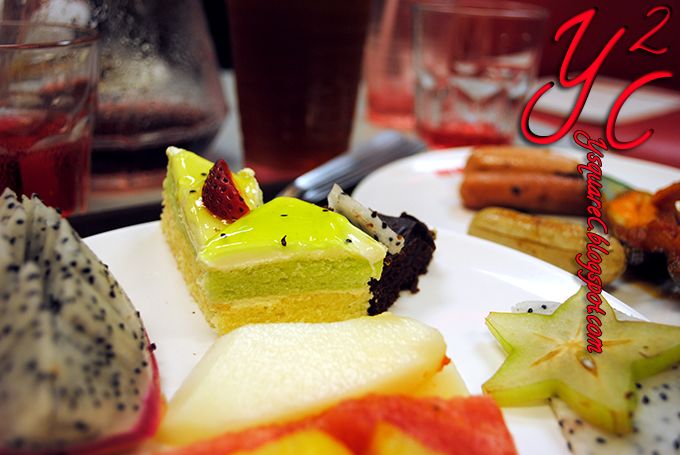 aww... they have put so much effort in every dish even the dessert are so cute <3
Last but no least, thanks to t
he big small bo
y for the invitation.
Overall: 9/10 [Their buffet are only available during Buka Puasa period. They have it last year and this year, they might have it next year again since the response are quite good!]
Taste bud indulgence: 9/10 [This is far beyond my expectation. People came here to sing, not to eat. Yet, they put every effort that they can in making things great.Freshness, taste, color, variety, they have it all]
Purse Saver: -/10 [It was a event and review, so I didn't pay for it.]
Location: 9/10 [Upon sogo, very easy to reach by public transport, either taxi, bus or LRT train.However, the parking is limited and the building is quite old. I don't feel safe parking here]
Service: 9/10 [The food tray was changed very fast, good job]