Previously, there is a much discussed burger place in Kuala Lumpur that you need to wait 3 hours to get it.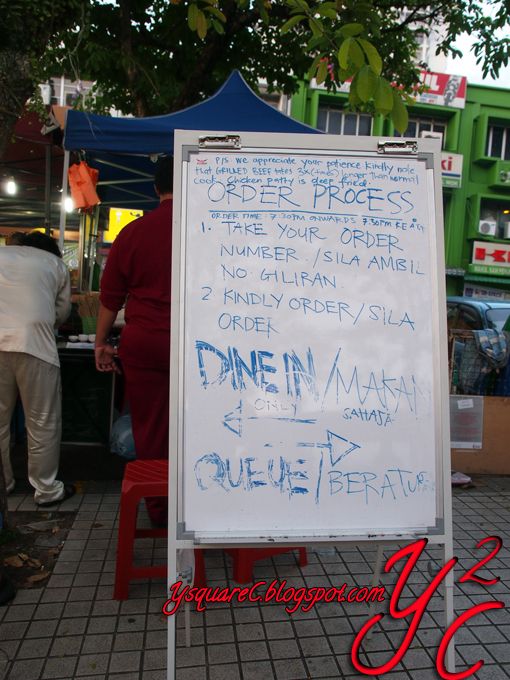 Pissed off on the confusing direction.
Basically, this is what I did.
(i) Queue at the end of the muadafakkar long line.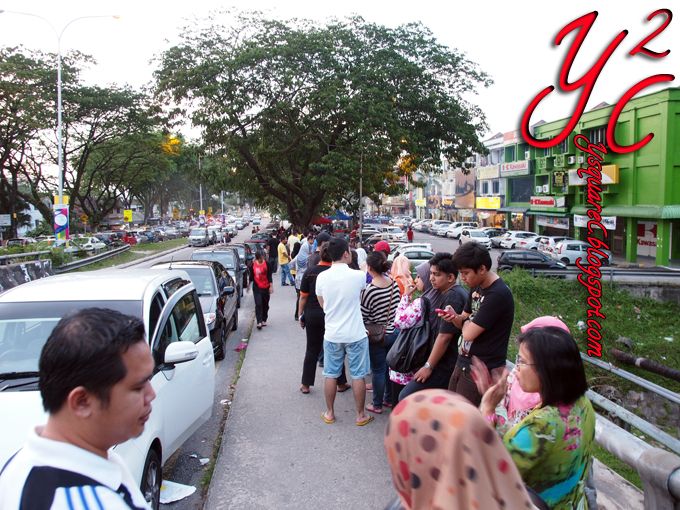 (note: the burger stall is the red and blue canopy under the tree @.@)
(ii) Wait for the guy to distribute numbers.
(iii) Wait for the guy that distribute numbers to come back to take your order once your number is called.
(note: queue till sky turn dark only get to order)
(iv) Wait for another hour before your food is served.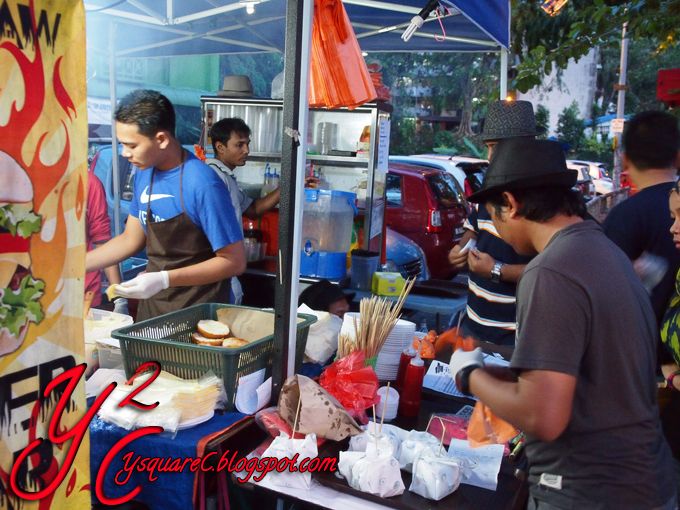 While waiting, let see...
the burger patties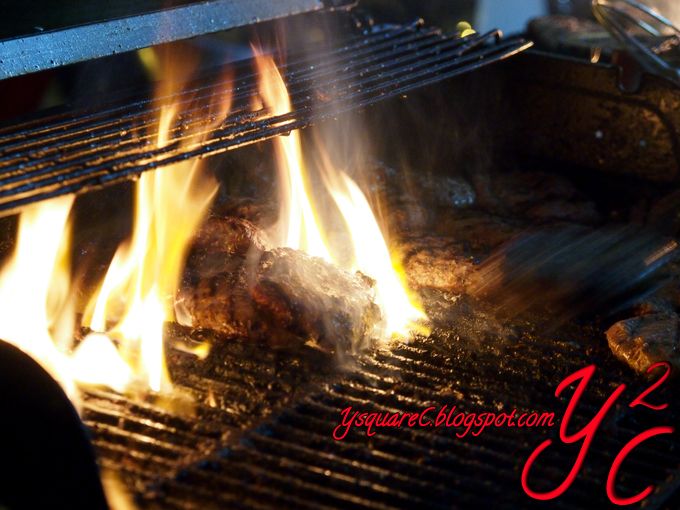 it aint' joking when they say its burger bakar (burn burger).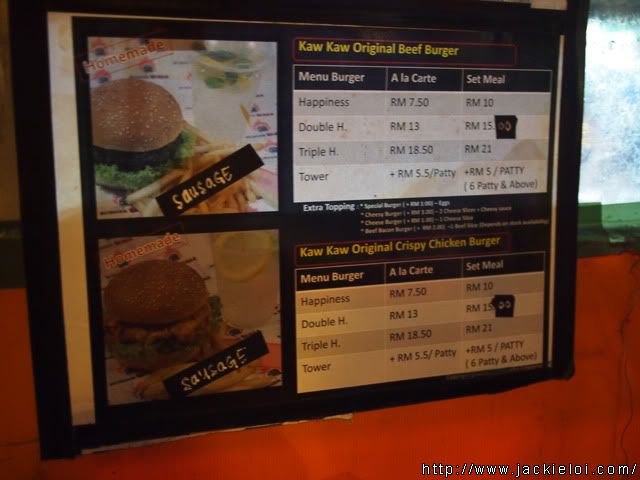 Kaw Kaw burger menu and rate:
Original Beef Original Crispy Chicken
Layer
Ala Carte
Set Meal
Happiness (1 slice)
RM 7.50
RM 10.00
Double H. (2 slice)
RM 13.00
RM 15.00
Triple H. (3 slice)
RM 18.50
RM 21.00
Tower
+RM 5.50
/patty
+RM 5.00
/patty

Layer
Ala Carte
Set Meal
Happiness (1 piece)
RM 7.50
RM 10.00
Double H. (2 piece)
RM 13.00
RM 15.00
Triple H. (3 piece)
RM 18.50
RM 21.00
Tower
+RM 5.50
/piece
+RM 5.00
/piece
Extra topping such as egg, cheese, black pepper, RM1.00 per layer.


(v) Go back to the canopy to check your order every 15mins until your burger is ready.
(You can skip this step if you are not hungry =.=)
And the BURGERs!
Original Triple H. Beef Burger
Ouuuuu~ Can you see the cheese and mayo oozing out?
The patty is really thick. Not just thick with some bullshit stuff like R@mly, it is filled with real beef, a lot of them. Although I only have a few bites, I can conclude that it was well marinated, spices just enough to make the patty flavorful while not covering the beef's original juice.
Original double H. Crispy Chicken Burger
OMAIKOT!
The chicken aren't patties.
I repeat, ARE NOT PATTIES!
It's like having a KFC in your burger or like Zinger or Mc Deluxe,
ONLY BETTER!
Too bad, Kaw Kaw don't have hot and spicy chicken burger, else Zinger and Mc. Deluxe might be down from the menu soon XD. Even with only original flavor, I still prefer Kaw Kaw's chicken over KFC.
I just can't get the word to describe how crunchy the skin was, how juicy the meat was, how perfect the seasoning on those 2 pieces of chicken tight. I got the tight part, might differ from yours.
I am 100% confirm that they did marinate the chicken in butter milk which produce the succulent result after frying.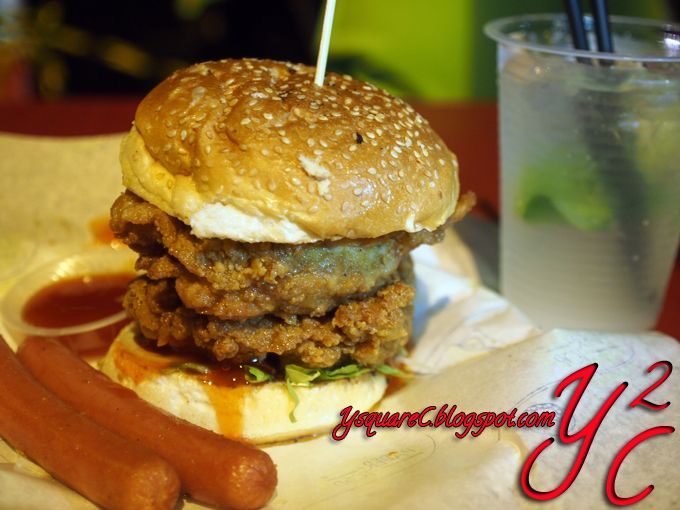 I ordered Set, so it comes with 2 sausages and a drink.
I don't think the set meal worth as much as Ala Carte unless you are ordering Tower (more than 3 layer) because each layer in set cost RM5 while Ala Carte cost RM5.50.
Overall: 9.5/10 [The Best burger in my life so far. Will be perfect if I don't have to wait so much time for it.]
Taste bud indulgence: 10/10 [Words can't describe, you have to try it yourself]
Purse Saver: 10/10 [Not the cheapest burger but the most money worth burger around.]
Location: 8/10 [I was told that there is another branch in Puchong and the Wangsa Maju branch is the 2nd 1?]
Service: 8/10 [Waited for a long time, but the service is still very friendly]