If you are not my classmate, you probably don't know that I am a vegetarian back in Melaka. Althought I do lots of food review which more of 'em are non vegan food or some are even non halal.
Most of you that come to Melaka are for the food. Top of the list would be Satay celup. One of the famous satay celup located in Jalan Ong Kim.
Most of the time, we don't travel alone, but how if someone in our travel group is vegetarian? That would be some awkward~
However, finding a vegeterian shop in Melaka is not hard, even if are not a full time pure vegetarian, Malaccan(Melakan) have habits to dine in Vegetarian restaurant once in a while.
So, now I am introducing a new restaurant, probably not the best the Melaka but provide convenient vegetarian meal to tourist.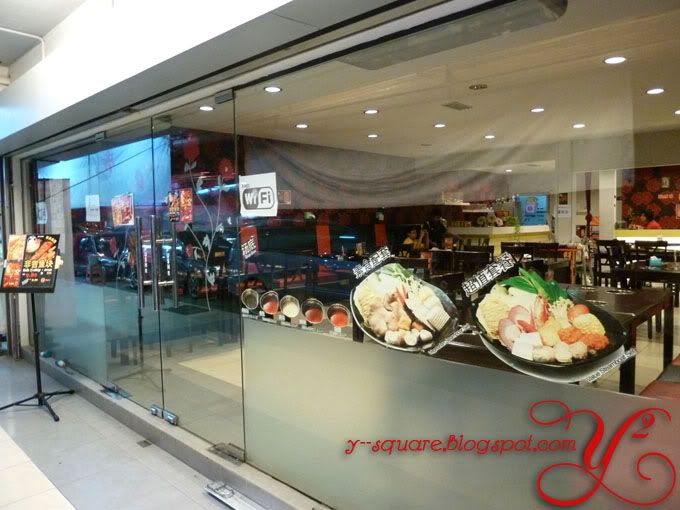 There are quite an amount of Taiwanese snacks selling here, but thats not my point~
See the 2 big plates on the right?(as in the opposite of left, not asking you questions~)
There are 2 sets of steamboat that you can pick of, which is vegetarian steamboat and seafood steamboat, both RM13.90.
On top of that, you can choose any of the 6 soup bases, excluding vegetarian which only 2 of the soup base is vegan~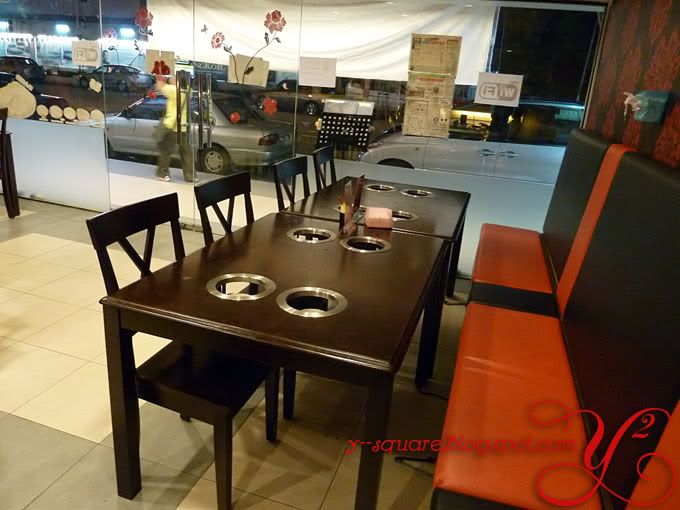 Interior
This is not my 1st time in the restaurant, but this is the 1st time I see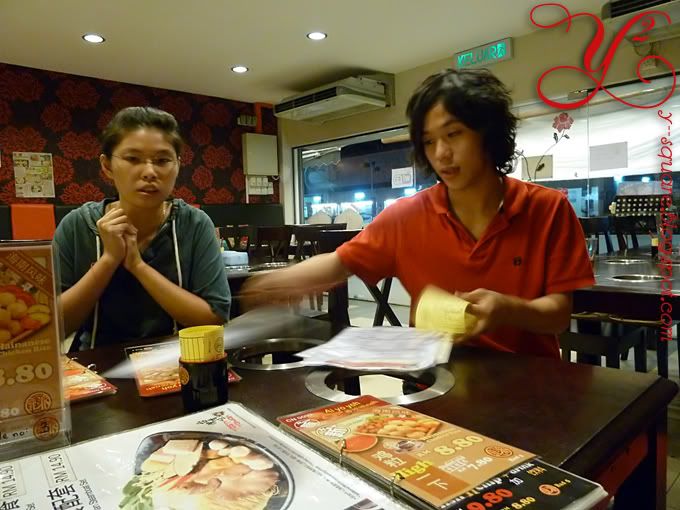 a "handsome" waiter that sit down to take our orders! Pretty cool... I never see a restaurant like THAT before!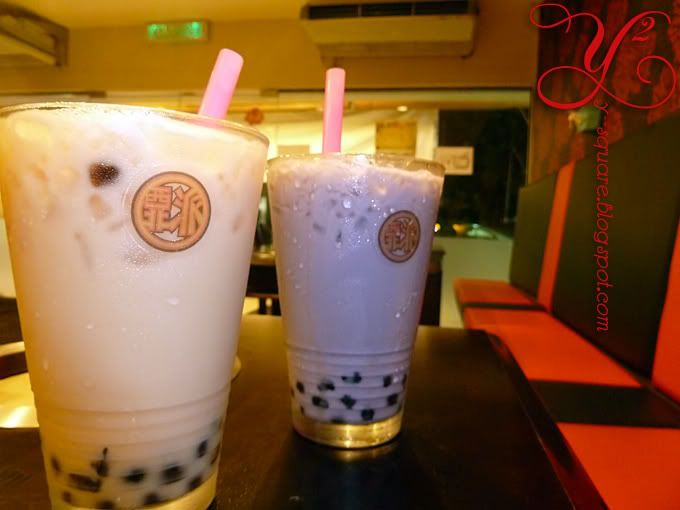 I order original bubble milk tea while my housiemie ordered yam bubble milk tea.
Apple juice with something (Roselle? Hubby can't even tell me what she order after she ordered =.=)
My portion of raw plate of vegetarian steamboat.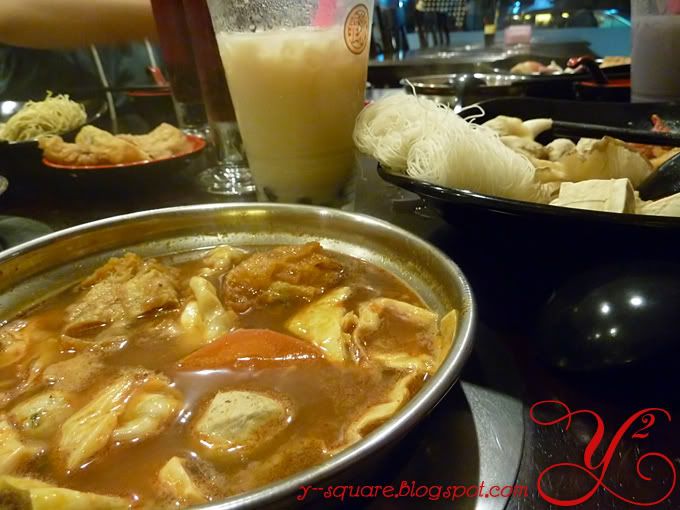 Since, it's vegetarian, no shabu-shabu =(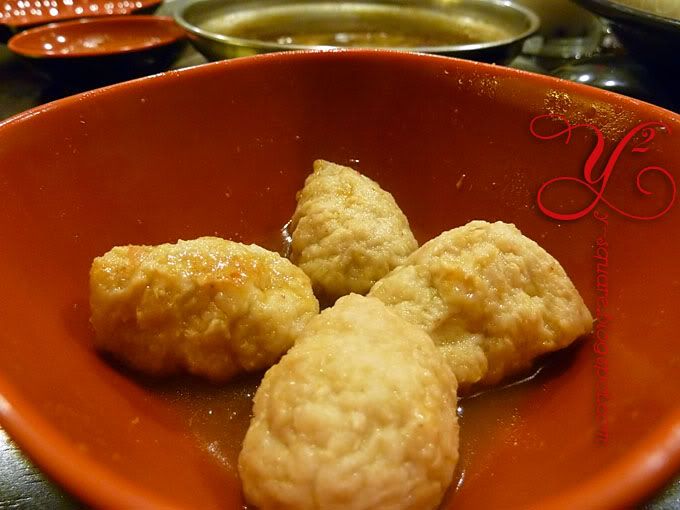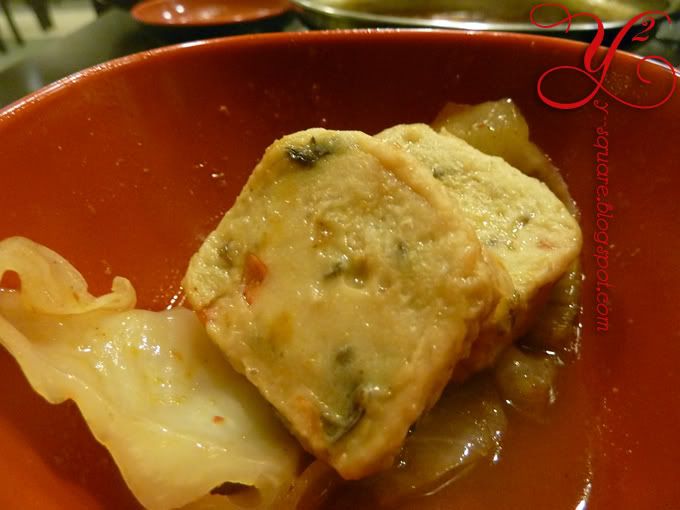 Vegetarian seafood toufu (海鲜豆腐),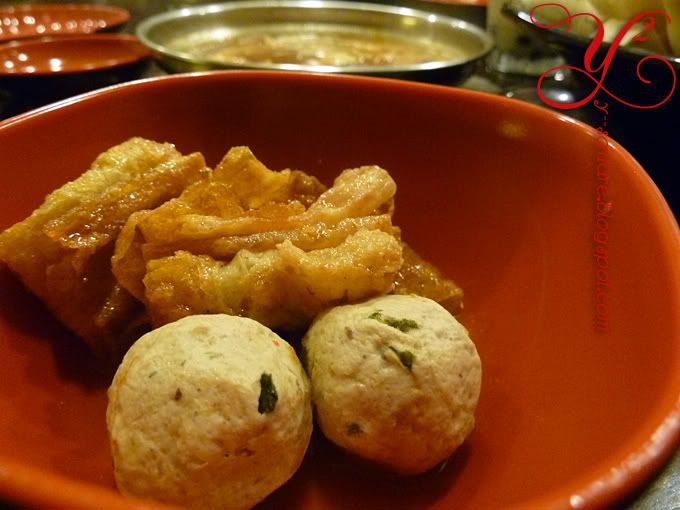 Vegetarian squid ball and fuhzhu(腐竹),
Vegetarian cha siu (叉烧) with vermicelli(米粉)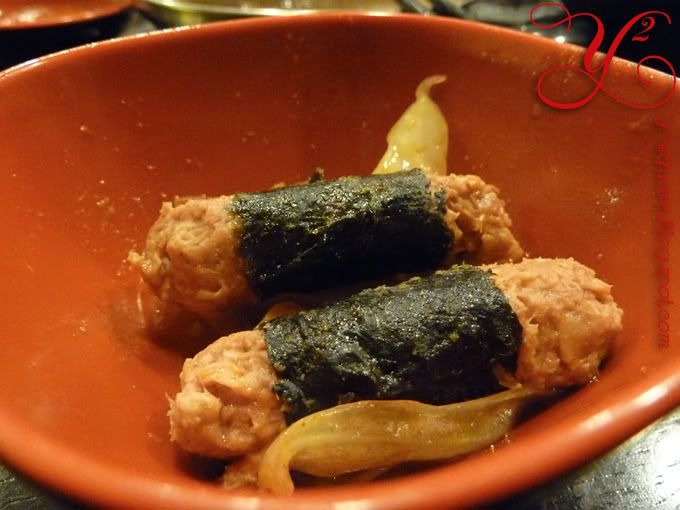 Vegetarian ...blah... whatever it is...it's vegetarian, what will you expect anyway =.=
At the end of the day, I learn something important:
Appearance is important, if you don't those food aren't going to look as delicious as it is now! XD
Overall: 5/10 (I don't know why I blog about this, I don't recommend this place. Just another options for the vegetarian....)
Taste bud indulgence: 5/10 (Not really good vegetarian food, I can easily find better in Melaka.)
Purse saver: 6/10 (If in K.L, this price will be cheap, but a vegetarian steamboat in Melak? Neh....)
Atmosphere: 6/10 (Modern orient style. Very cold inside... I can't imagine myself if I wren't ordering steamboat~ )