If you have been following my blog for some time, you must have know that I won myself a 2 weeks review of HTC Sensation earlier last month on the Digi Buka Puasa Event in The Bee, Jaya One.
Of course, really appreciate the chance of the review, non of these happen if it wasn't Nuffnang, Digi and HTC.
Like what I mention in my earlier post about the HTC Sensation Review, the sensation is a combination of fun and easy connecting device plus a more than usual quality camera. You can connect with your friends and family (even strangers too =.=) any where in the world, sending them message, share pictures, voice or video calls. However, non of this can happen without a marvelous telco provider that can "follow" you whether you are call in local or roaming from overseas.
To be honest, I am a Digi user since I own my first phone. I have since then "stick" to Digi because no other prepaid or postpaid plan from other telco can suits me more well than I personally know. Digi's forever updated features and attractive plan really shine in the comparison table.
Everybody knows I am a huge Android fan. I think Digi thinks the same too, that why they recently introduce a Smart Plan that help you (I mean me XD) to own a HTC Sensation without burning a hole in your (my) pocket!
Ranging from RM1149 and above, Digi now offers you (me) with a all-in-one Internet and Call plan plus cheaper phone! How cool is that?!
Afraid of commitments? No worried, you can choose to sign up for either 1 or 2 year plan. If you are still not satisfy with the price, fred not, HTC Sensation Digi Smart Plan offers Easy Payment with just installments as low as RM119.95 per month (click on the picture above for more information), so hows that sound to you har? XD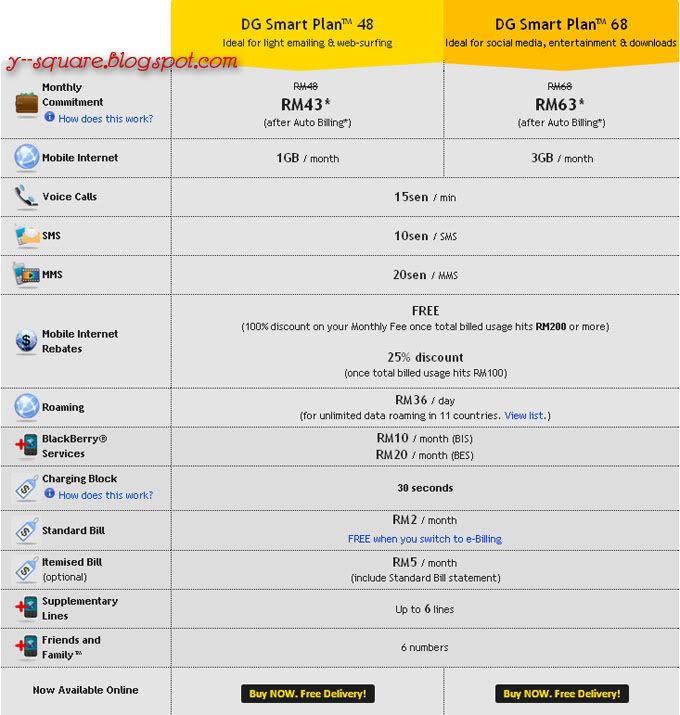 (For more information about the DG Smart Plan 48 and DG Smart Plan 68, please click the image above)
That's no the best part yet!
The best part is, with HTC Sensation feature's, USB tethering and internet pass-through, you can actually share the connection with your other devices, namely laptops or PCs.
Look in this way,
2
devices
,
1
internet connection
,
1
bill
at the end of the month, isn't that alluring enough?
If you subscribe your internet connection specially for your PC, either it has Wifi or not, you can't bring it to any where just like you bring your phone. But with Digi HTC Sensation Smart plan, you are bring your internet connection whenever and wherever go you (literally with your phone) and plug it into any devices as you wish to share the internet connection via USB tethering or Wifi Hotshpot.
I wanna control but I really can't resit to say this:
Digi Always the Smarter Choice!
Footnote:
Courtesy to Digi, Nuffnang and HTC,
I am very please to get a HTC Sensation Demo Set to review for 2 weeks. To read more of my Review about this HTC Sensation, please visit: