Since I own a smart phone I realize how stupid I was >.< I feel myself kidda like the aborigines that still lives on the trees coz I didn't know these technology actually exist!
One of the few features that I am amazed with in my new HTC Sensation is the call function.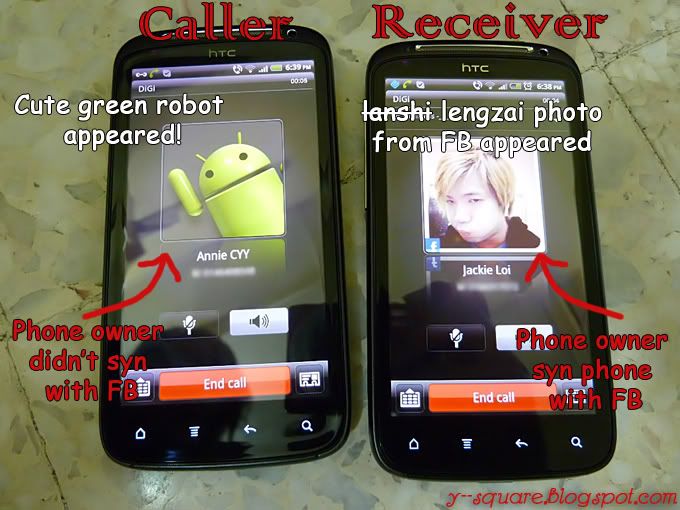 When you synchronize (syn) your phone with other application such as Facebook and Twitter, your contact will be link together. If the caller/receiver has put their photo on these social networks, their photo will appear when you are calling them or receiving call from them. This doesn't only appear more trendy, it actually helps the gifted or elder people to recognize the caller/receiver with less effort.
Talking about trendy, we usually need to tap on the screen or click on the physical button to answer calls. But with new HTC Sence 3.0 integrated into HTC Sensation, the phone answering action is now changed to swipe. Have you ever missed a call or answered an unwanted call because you accidentally tap/click the phone when you take out your phone from the bag or pocket? I myself encounter this problem ALL THE TIME. When the answering phone mechanism changed to swipe, my problem has reduced.
That's not all, not like iPhone that only show application, Android phone has several home screen for user to apply widget or application short cut. With these widget, you can get updates without accessing the application.
Facebook, Foursquare and YouTube Widget.
That is not the best part yet!
Now you can have both phone and voice nagivation GPS in the same body without chiping out another few hundred to dedicate it to GPS! Oh God, I feel so cool with my new HTC Sensation! >.< Can I don't return this review set back, please?
Footnote:
Courtesy to Digi, Nuffnang and HTC,
I am very please to get a HTC Sensation Demo Set to review for 2 weeks. To read more of my Review about this HTC Sensation, please visit:
6.
No Sensation, Not Cool [HTC Sensation Review]