Courtesy to Nuffnang and Frames Cafe, I had a wonderful sharing session with some famous and awesome blogger last weekend.

FRAMES Cafe
Lot OB.K4N, Oasis Boulevard
Sunway Pyramid
3 Jalan PJS 11/15
Bandar Sunway
46150 Petaling Jaya
Selangor
Telephone: 03 5631 9989 | Fax: 03 5631 9986
E-Mail: contact@framescafe.com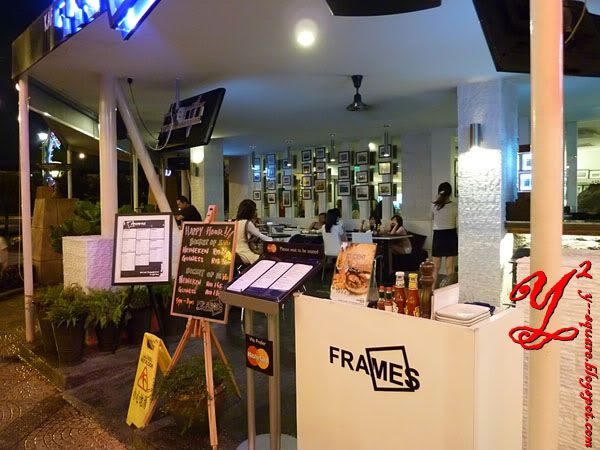 Located just beside the Sunway Pyramid main Entrance,
the cafe is eye-catching by their overwhelm frames every where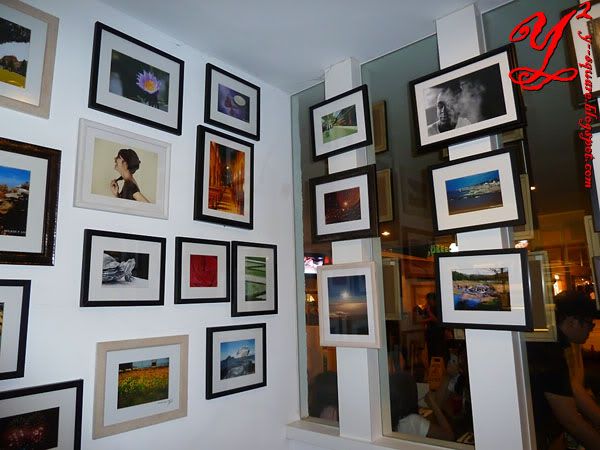 and any where as you could see -__-
This happens because Frames Cafe is the
Intermediaries for photo buyers and selling with only printing and frames fees charged if both the item was
not provided by the seller.
Now, get on to what I expert the most!
~FOOD~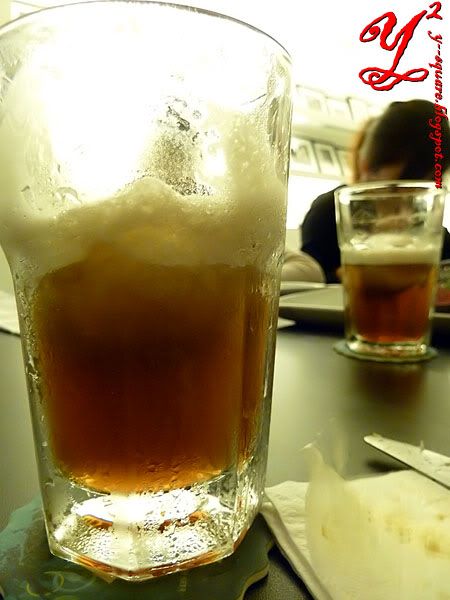 -It's not beer-
Frosty Lemon tea
RM8.90
Not sure it is refillable or not. It's very rare I drink such a smooth blended. I rally can't identify what it is by its colour. Definitely a new thing for me.
Appetizer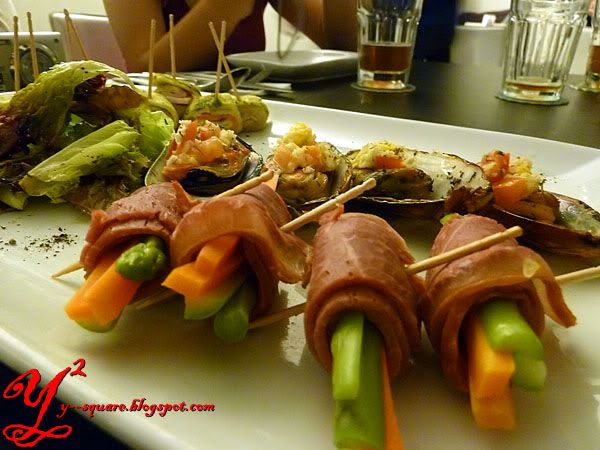 Consist of
Beef and vege rolls
I don't eat beef so yeah... can't comment
Ham 'n' Cheese
I just know it is a layer of bread wrapping some ham and cheese inside. Some olive oil and herbs were spread on it before it was cut and serve.
Not really a surprised combination (to be honest, the combination is not a successful one). The texture and flavors are so-so. Maybe they want to take the flavors only on the main dish?
Cherry tomatoes with olive oil and herbs
I believe there is other more appropriate name for it.
Yeah, it's just 1 words "oily"
And maybe another 1 "tasteless"
Mussel
I don't eat mussel that frequent. Although it doesn't smell fishy, but the texture can't lie that it's not fresh. Or over cooked I suppose.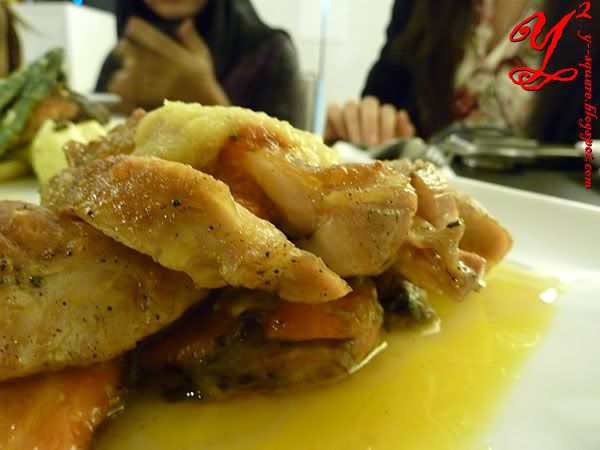 Nutty Chicken
Grill/roast chicken with walnut oil.
with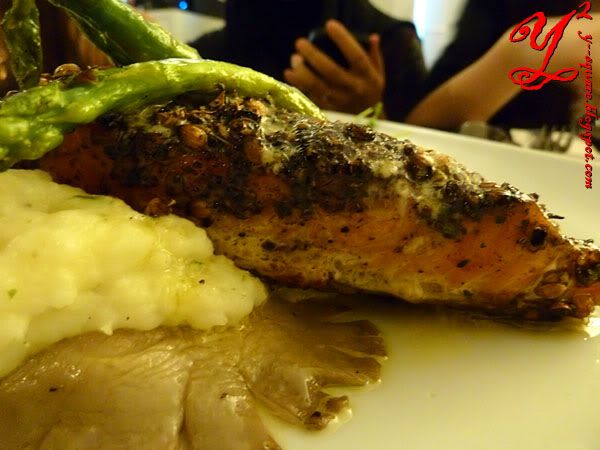 Crusted Salmon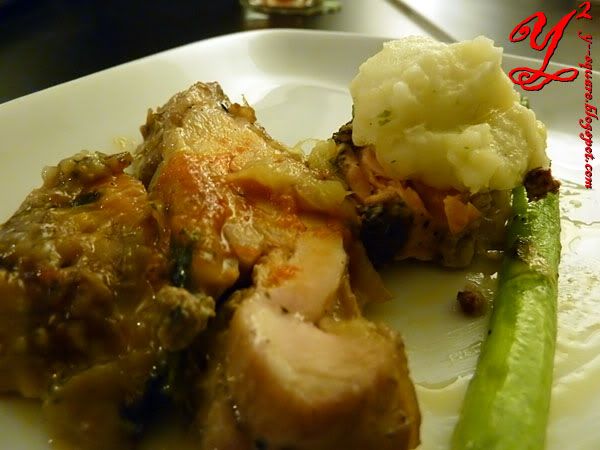 (left)

Nutty Chicken would be my favorite dish of the night.
The breast was not really tender but the way they prepare it makes it alive. I like how they grill/roast the chicken skin to slightly crispy serve it with the walnut oil as sauce. Another perfect way to saute frozen chicken.
(right)

I dont' know why the salmon is so dry. It was not full cook but still very dry inside. This rarely happen on my salmon. Bu the abalone mushroom and Parmesan mash potatoes are pretty good though.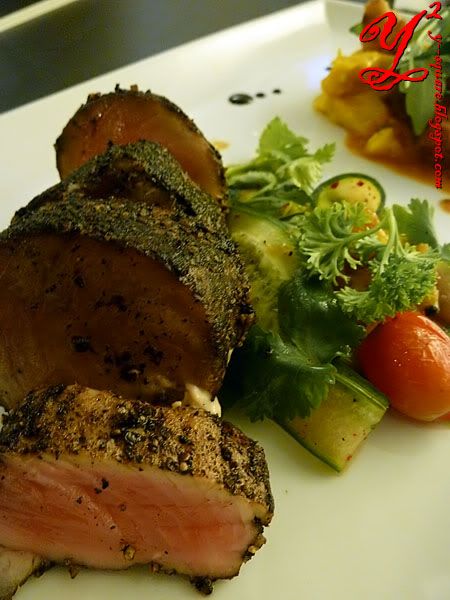 Grilled Ahi Tuna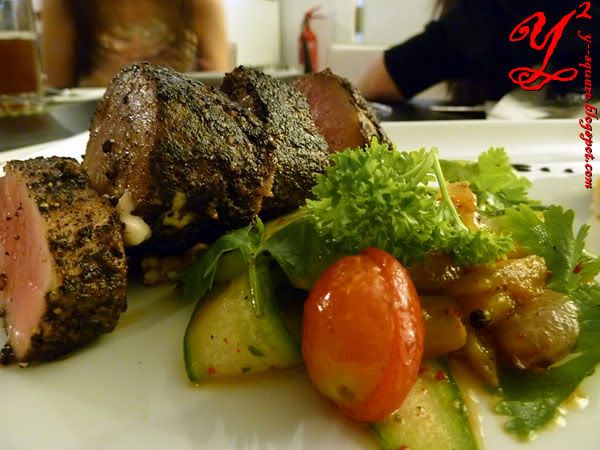 It looked so pretty on the outside that I have no choice but to post 2 photo instead.
As I said, beautiful from the outside

ONLY

. Just like a vast. It was the worse seafood combination they could ever made. The pepper on the outer layer was kindda spicy and hard because it comes in big grain. While the worst part is still the fish.It's so hard and dry that I almost feel like I am eating some salted fish except the tuna has no taste at all.
However, the salad is pretty good tough(second time I praise the side dish).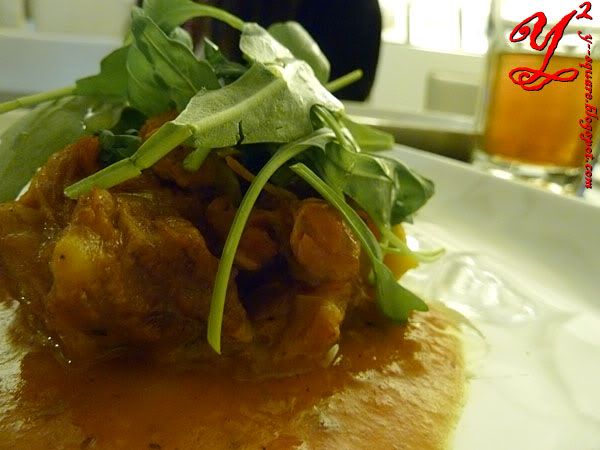 Lamb Concasse
The mutton is very worth trying. I don't take mutton usually, but its so soft, tender and juicy that I will be regret for not trying it. The pumpkin puree (as stated in the menu, thought that it's curry mutton) is a very new and interesting match. Loves it a lot.
Spicy Seafood Cabonara
Pasta
Was brain wash by bloggers around me on how good the pasta was and how must we try it.
Not really impressive, a bit concentrated and sticky. Not really hating it but don't really favors it too much. I think it can be better with more oily and less creamy and sticky.
Overall:
7/10 (New idea, need to work on the menu!)
Taste bud indulgence:
6/10 (Some food are good but some are just awful, side dish are even better than main!)
Purse saver:
-not applicable, sponsored event-
Atmosphere:
8/10 (A very relax place to chill. Loves the frame idea a lot. )
*note: no photo blog for tonight since a "proper" blog post is posted XP*