It has been a while since I blog anything about Melaka. This is not really a Melaka post because what I am going to introduce today has branches all over Malaysia, that is: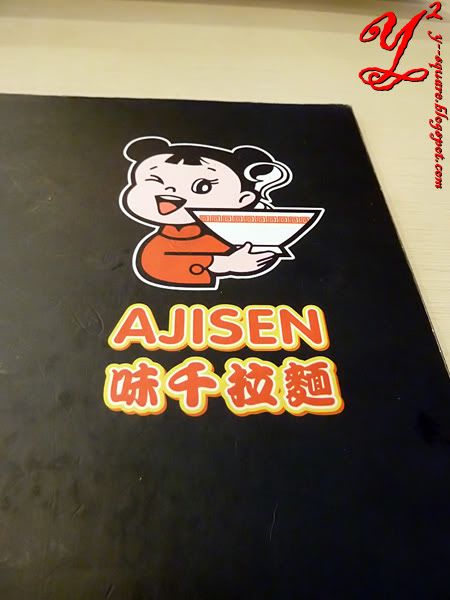 Ajisen Ramen Japanese Restaurant
I went to the Aeon Bandaraya Melaka branch.
The external of the shop is not really attractive. I barely know it is a franchise.
No particular Japanese decoration, except some Japanese words(日本語)and some red lanterns.
While the internal, you really can't differentiate what kind of restaurant it is if I didn't tell you the name Ajisen and if I cheat you it's an western, you wouldn't know too, right? (-__-|||)
First, the menu. No tax, but 10% service charge.
Large variety of food, ranging from Ramen, rice, set, side dish, dessert and drinks.
As usual, I like some

green tea(お茶)

during meal. Typical Japanese style cup.
RM0.80/person
Chicken Teriyaki and rice set
Rm14.80
As you can see, it consist of (12 o'clock clock wise) chicken terriyaki, salad, carrot pickles, soup and steam rice.
No no no...
you don't need to control your saliva, just let it flow...
Hubby choose

Vegetable Curry Ramen
RM14.80
Although its vegetarian. it is great in value too, you can see the sweet corn, mushrooms and all kinds of agro. Great for vegetarian but for those who is no diet ;)
Like what we expect the curry is rather sweet than spicy, typical Japanese spicy limit towards curry.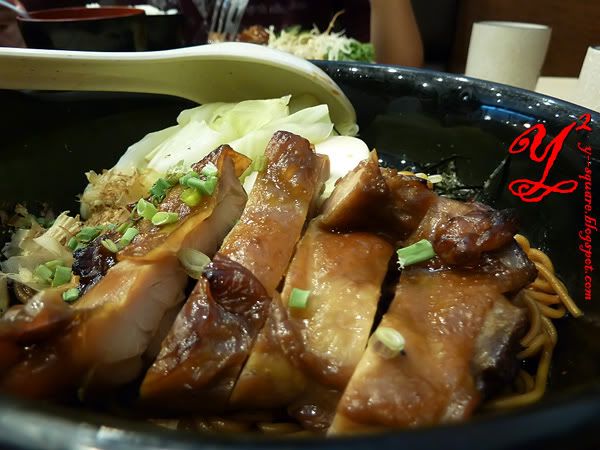 As for me, I took Chicken Teriyaki Ramen
RM16.80

(when I was paying I was like -__-||| how could it be more expensive than set?!)
The Chicken is not very tender but well marinated. Perhaps it took too much time to marinate, the texture loose it original tenderness. But that is what I hate hate most.
What I hate most is the burned garlic.
I hate garlic.
I hate it so far and will hate it for the rest of my life.
And when it is burn some more! Can you imagine how I feel? *>.<* Perhaps instead of spicy sigh, all the restaurant should have garlic sign too to indicate garlic-ed dish *XD* Oklah, they have something to be praise too. Their Ramen is extremely filling. It might looks very little at first, but when you much on it, you can feel the solidity of the noodles. I was over Ramen overdose that day...
Japanese Deep Fried Tofu
Rm5.50/3 pcs
Hubby ordered it. The skin is very crisp but the inner is very soft. Hubby claim that it has nothing special, but I personally think that its great.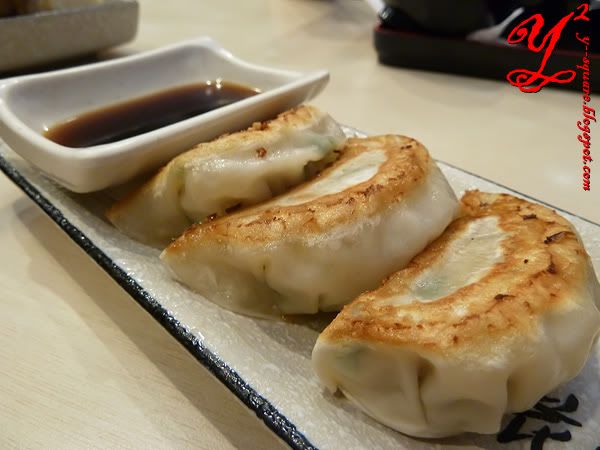 Japanese Dumpling (gyoza)
Rm6.50/3pcs
OMG *>.<* this is the best Japanese Gyoza that I ever taste. Most unprofessional gyoza turn out to be very yucky, even in some highly rate restaurant. But this is really out of my mind! The soup has very high savoury taste, so are the soya sauce. I really didn't expect it will turn out to be an enjoyfull buy. But the best gyoza in my life so far is still Chinse gyoza, made by Esquire Kitchen before they change their style to fast food chain restaurant.
Overall:
7/10 (Not much to praise but it has also noting much to be complain)
Taste bud indulgence:
8/10 (A lil bit unexpected, but some are good some are just so so)
Purse saver:
7/10 (I can't believe eating set is cheaper than eating Ramen itself 0.0 )
Atmosphere:
6/10 (More like a western restaurant, but the overall service is quite decent.)