After going to a few wrong turn, I finally make my mind to burn cores instead of trying to get free core from junk which is impossible which also testify the idioms:
No free lunch.
So, I go to this transformer which was told by the uncle in few previous post.
This is the only transformer shop that I can find in Jalan Pasar, KL.
Address:
No1, Jalan Beruang,
Off Jalan Pasar,
Pudu, 55100,
Kuala Lumpur
03-2213533
03-2233163
(in case you don't know, Jalan Pasar in so call the electronic 1 stop center in KL)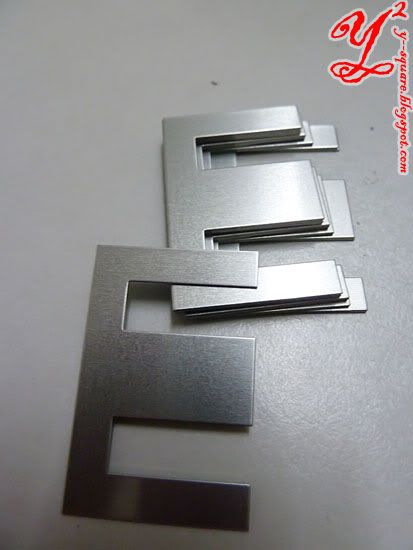 This is it, this is the E core I kept mentioning in my MSN.
The core's shape looks just like an capital letter E.
I bought 9 sets of them. RM35 per set of 1.31cm.
Should have get 11.7cm, but they gave we 14cm.
Well, the more the better

(thought I am not gonna use so much anyway)

.
Other than core, I will also need some copper wires. The Insulated one, but not those for house wiring.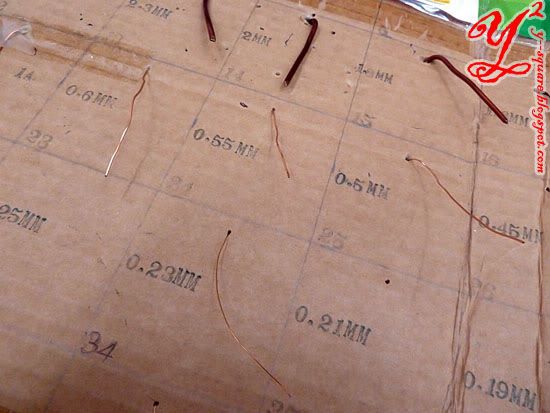 Got confuse but all the numbers and measurement, so just simply pick one.
As long as not so thick and not so thin (later I found that it's a very wrong decision to simply pick the diameter)
Bought 1 kg or them.
I also can't imagine how much I need so I just bought the smallest portion possible.
(Later on I regret, coz I think I just use less than 2 % of the whole role)
I got some left out after the project, wanna sell it to other group that doing different title.
Took a picture of the wires. They taught the bobbin is as small as a thread.
Let me show you the really size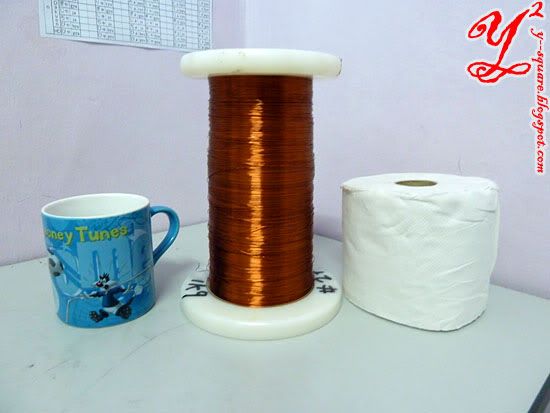 Are you gonna call him tiny again?