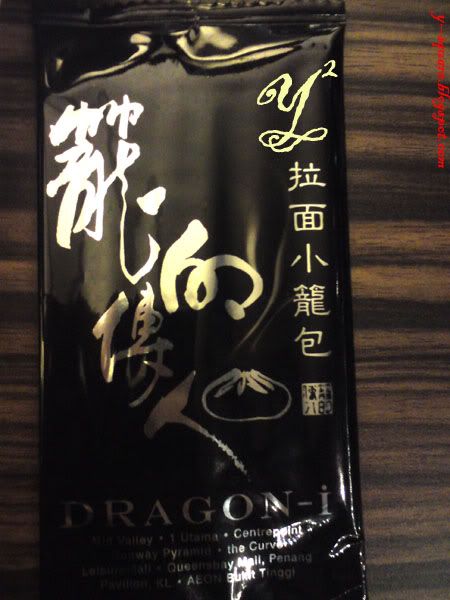 This reminds me of Movie: Me No Stupid, 小孩不笨.
In the movie, a Caucasian that do not know about Chinese tradition are hired to repackage and promote a dry meat (肉干)and he comes out with the idea of pakaging them like the above package, black (which is unlucky both Chinese tradition) and square (looks like pads)

Anyway, that is not the point of the blog post.
What I wanted to do was introduce Dragon-i Restaurant i.e. 龙的传人.
As you can see above, they have lots of branches which located at Mid Valley, 1-Utama, Centrepoint, Sunway Pyramid, The Curve, Pavilion and etc...
I went to the Pavilion branch:
Lot 1.18, Lvl 1, Pavilion Kuala Lumpur,
168, Jalan Bukit Bintang, 50200,
Kuala Lumpur
Tel: 603-21437688
Fax : 603-21437588
They are a Shang Hai style Restaurant, so their dish setting are following the Shang Hai style: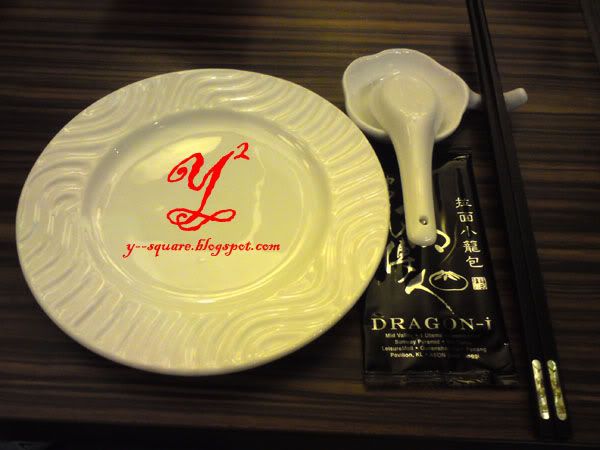 However, it is not exactly Shang Hai style because Shang Hai style have thier sauce plate and chopstick rack separated.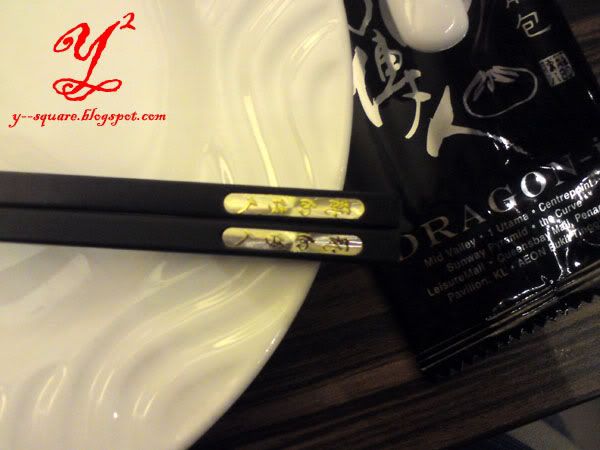 What I amazed about them is their chopsticks have the Restaurant name on it. The name is crave on a piece of iron materiel, probably copper or stainless-steel that are gold plated.
While for the atmosphere,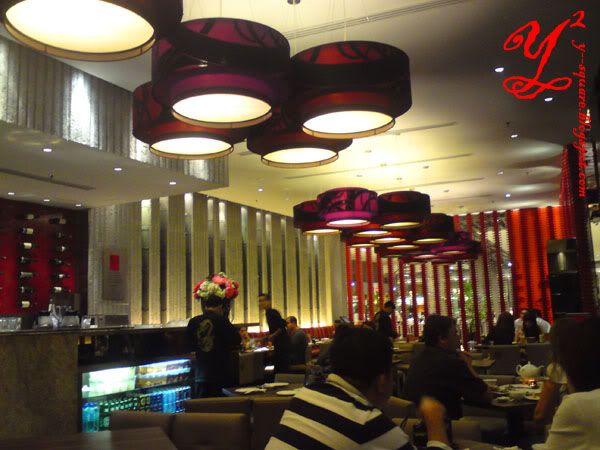 I should give them my applause. I can see that they make lots of effort to make the restaurant looks Chinese and feel Chinese. However, I am sure the designer have no throughout understand on Chinese histories(My GOD, the lamp is so over use, it is everywhere lah). La mian(拉面) are mostly consume by the poor and average families only. Rich and the Royalty never look at this kind of food. The interior designer of this restaurant makes the atmosphere so grand that we feel our self(customer) as the higher standard of the community. However, I should give credits to his/her creativity in blending the East and the West culture together, which looks absolutely fantastic. Though the Chinese tradition are not so visible, it might be another reason why it attracts other races to indulge their taste buds.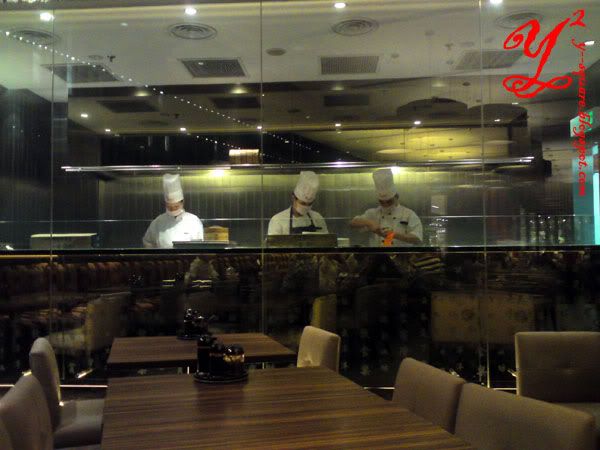 Note: Sifu in the display window (like zoo) showing the process in making dumpling i.e. famous Xiu Long Pau (小龙包)
Fun facts: Since Xiu Long Pau is small and flat, it(this word) is also use to tease girl without breast.
OK, after judging the cover, now look at its contain.
Tidbits(小食):

Peanut(花生)
Price

: RM2.00
Comment:

Stew peanuts is one of the common (may be the most common) tidbits in Chinese restaurant, especially Shang Hai style restaurant. Nothing special as I believe it is canned food. They way they warm it without changing the peanut texture is an add on points to the tidbits while filling the empty stomach when waiting for the food.
Chinese tea:

Jasmine Tea (香片)
Price

: RM 5 per person.
Comment:

I just don't understand why I am so adicted to Jasmine smell. This Jasmine tea smell so nice and unique. I just don't understand why it takes so nice. Plus, the jasmine looks a lil different from those Jasmine sold India aunty in pasar. So nice yet so unique, not to mention the nice art on the pot. A bunch of kids in chinese traditional attires playing kites.
note: the pot can only be close when the kite's cord matched, amazing *o*
Dumpling:

Crab Meat dumpling(蟹肉小笼包)
Price:

RM12.00
Comment:

This is not ordinary dumpling you eat 4 for RM3 at pasar malam. It's soup (juice) is not some MSG with some frozen meat. The meat is quite fresh and the soup is boiled by crabs and other seafood, which enhance the taste of the dumpling. Not to mention its skinny-winny skin。 OMG.... I want more!!!!
Dumpling:

Shang Hai Bumpling (锅贴)
Price:

RM9.00
Comment:

There are too much different between these these 2 dumpling. I don't mean the spelling aduh..... I mean the taste, the testure, the freshness. It can't fight at all, not from the same category. The meat are so soft (lembik in BM), not chewable, no texture,no tatse, not crunchy.... in a nut shell, not taste good and not nice. One word to discribe "sucks".
It might look very nice, coz my photoshop skill is good mah... wakakakakka.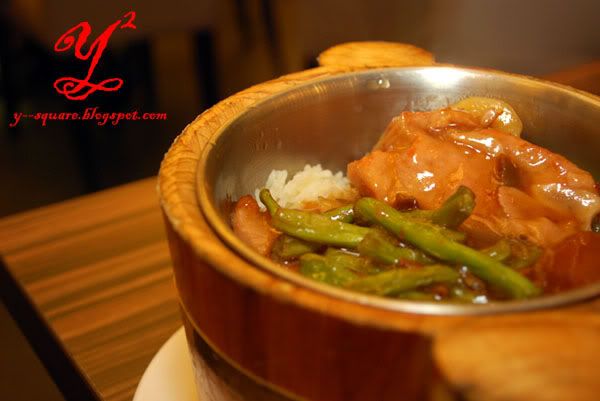 Main:

Pork and Rice (薯仔焖猪扒蒸饭)
Price: RM15.00
Comment:

Well, I didn't try this one. I was stuffed by my own portion of 拉面. But according to Jloi, it is good. And how good is that? You have to ask him =.=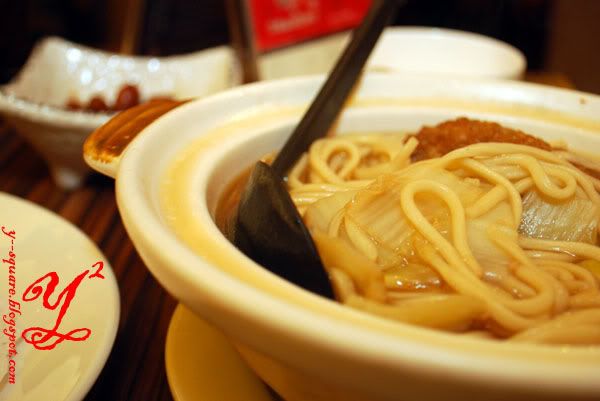 Main:

Stew La Mian (狮子头煨面)
Price:

RM 18.00
Comment:

Nothing special on the soup, neither on la mian (拉面). The lamain taste like pasta, a bit better than the usual la mian. The mian focus on the dish is on the meat ball but Jloi is shooting out of focus, but he still didn't admit it. =.= nvm, try it yourself and you will understand. Though the meat ball is enourmous, but the taste and texture is so so only.
Prices are subject to 10% service charge
and 5% government tax.