Yes you heard me!!! You gonna see lotsss of food here.
My Birthday was kick start on the day my Birthday itself with a bunch of my society's member. They treat us (the September baby) cake.
Next, was my Birthday celebration with all family, which happens one week after my Birthday. I was having Hari Raya Holiday, so my parent invite all my relatives and some of my friends to come.
On the big day, Mummy prepare lots of dishes:
Hmmm... why this pic reminds me of Mr. Bean huh?
Erm... You know what I mean....

Wakakakaka... I missed Mr. Bean.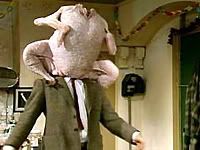 That was most of the dish my mom serve that day, next is desert: